The Presidential candidate of the All People's Congress (APC), Dr Hassan Ayariga has intimated that, his party when voted into power will build a National Database different from the National Identification Authority (NIA), to collate the data of every person living in the country, going beyond demographics to income, property and wealth.
Addressing traders in Ashaiman as part of his campaign tour of the Greater Accra region, he explained that, this development will help create a platform for other state agencies to have access to information of citizens and foreigners, including the DVLA, BNI and the National Security.
"We are unable to give accurate information about our country. We will come with a National Data System to capture the details and the information of every Ghanaian and everybody living in Ghana. That data system will capture fingerprints, facial recognition, identity, home address, work address and property."
According to Mr. Ayariga, all other institutions will feed on this data his government will build adding that, the NIA is just a document to show that you are holding an ID card, but does not give the full details.
"When you have ten houses and the data shows that your income is ¢10,000 and you have a house worth ¢1 million, we will compare."
Touching on unemployment, he posited that, Ghanaians deserve better and he is ready to provide that through unemployment benefits.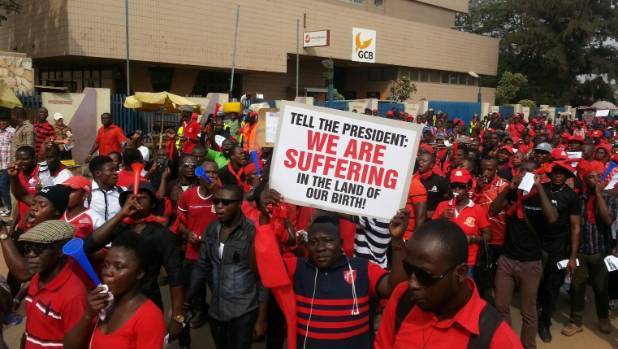 Mr. Ayariga said, his government will compile data on all jobless Ghanaians and give them unemployment benefits.
"I was trained in Germany and over there if you don't work, it is the government that will take care of you. I am bringing the same policy to Ghana if you vote for me on December 7.
"My APC Government will give you unemployment benefits at the end of every month."
The APC flagbearer said he believes that, for Ghana to move on, it needs to have an inclusive governance system which he says is the only way we can have all brains on board.
He noted that, the APC does not believe in the winner takes it all kind of politics, describing it as a military regime in disguise.
"What we need is the best out of the best to manage our affairs not because you voted for me or you voted against me but because you deserve the position to transform our nation. Because you are qualified to do the job because you have the requisite talent and skills to transform our country."
Dr Ayariga speaking on the issue of job creation stressed that, students and citizens in the country face difficulty with regards to finding jobs and as a matter of fact young girls have become victims of rape, misuse, abuse just because they're looking for jobs.
"The Job Centres will be linked with businesses, public sector, a private sector so that when you are looking for jobs, vacancies from various institutions will be keyed into the job centres."