Israeli Energy Minister, Israel Katz asserted on Thursday, October 12, 2023, that no basic resources, including electricity and fuel, or humanitarian aid will be allowed into Gaza until Hamas releases all captives it seized during its surprise weekend attack.
"Humanitarian aid to Gaza? No electric switch will be turned on, no water tap will be opened and no fuel truck will enter until the Israeli abductees are returned home," he said on X.
"Humanitarianism for humanitarianism. And no one will preach us morality," he added.
According to Israeli officials, about 150 Israelis, foreigners and dual nationals were taken to the Gaza Strip by Hamas fighters as part of the Saturday attack that has killed more than 1,200 people in Israel.
Israeli President, Isaac Herzog said during a press briefing in Jerusalem, that Israel is preparing for an extensive military campaign against Hamas in the Gaza Strip.
"It will be a long and drawn-out campaign against Hamas," Herzog said.
"My nation is grieving. This tragedy has inflicted almost every home in Israel," he added.
According to Daniel Hagari, Israel's top military spokesperson, the army was able to confirm the identities of 97 people taken captive by Hamas.
Speaking in a televised press briefing, Daniel Hagari also said the offensive Israel launched on Gaza was meant to eliminate the ability of Hamas to govern.
"The military is preparing for the next stage of the war," he said, adding that 222 soldiers have died since the start of the war.
On Wednesday, October 11, 2023, Israel's Prime Minister Benjamin Netanyahu and centrist opposition leader, Benny Gantz agreed to form an emergency unity government.
As part of the arrangement, they agreed to form a war cabinet comprising Netanyahu, Gantz and Defence Minister, Yoav Gallant.
It was revealed in a statement that the unity government will not promote any unrelated policy or laws except those related to the ongoing fighting with Hamas in Gaza.
Later on Wednesday, standing alongside his partners in Israel's newly announced war cabinet, Gallant pledged to annihilate the Hamas militant group.
"We will wipe out this thing called Hamas. Hamas — the Islamic State of Gaza — will be wiped from the face of the earth. It will not continue to exist. There will be no situation in which Israeli children are murdered and we all go about our business."

Yoav Gallant
Meanwhile on Thursdsay, a group of independent UN experts, while condemning violence against civilians in Israel, said that reprisal strikes against Gaza amount to "collective punishment."
While condemning the "horrific crimes committed by Hamas", the group said that Israel had resorted to "indiscriminate military attacks against the already exhausted Palestinian people of Gaza."
"They [Gazans] have lived under unlawful blockade for 16 years, and already gone through five major brutal wars, which remain unaccounted for," the group said.
"This amounts to collective punishment. There is no justification for violence that indiscriminately targets innocent civilians, whether by Hamas or Israeli forces. This is absolutely prohibited under international law and amounts to a war crime."

UN experts
Blinken Arrives In Israel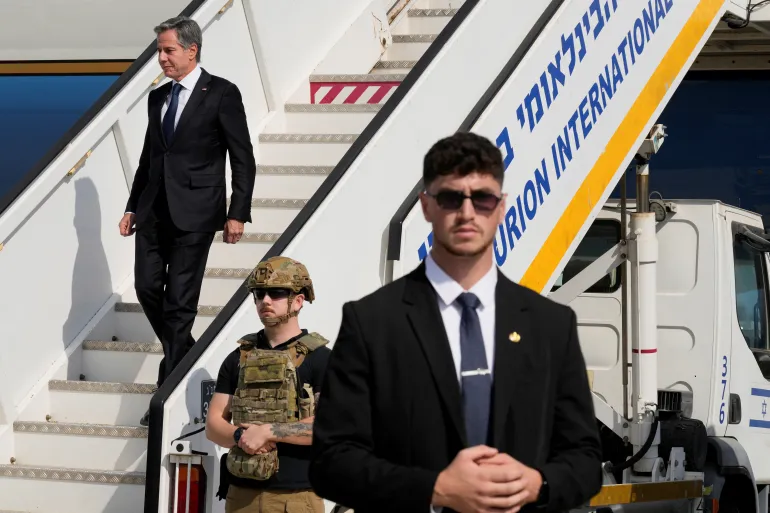 Also on Thursday, U.S Secretary of State, Antony Blinken landed in Israel.
"I'm going with a very simple and clear message … that the United States has Israel's back," Blinken told reporters before boarding the plane bound for Israel.
He is due to meet senior Israeli officials in a show of solidarity for Israel.
Blinken is expected to pledge further support to Israel, discuss and secure the release of captives taken by Hamas, some of whom are Americans.
It is also expected that he will advance talks with Israelis and Egyptians on providing a safe passage of civilians out of the enclave before a possible Israeli ground invasion.
About 500 to 600 Palestinian Americans are Gaza residents.
After Israel, Blinken will head to Jordan, where he will meet King Abdullah and Palestinian Authority President, Mahmoud Abbas.
READ ALSO: Israeli-Hamas War Enters Sixth Day, 2,400 People Dead On Both Sides