According to eastern Libya's Health Minister, Othman Abduljaleel, rescuers have found more than 2,000 bodies as of Wednesday, September 13, 2023, morning.
He added that over half of them had been buried in mass graves in Derna.
The death toll from the floods, caused by Storm Daniel, has risen to 6,000, with thousands still missing, a unity government official disclosed.
The floods caused the greatest destruction in the town of Derna.
Libya's eastern administration disclosed that 5,300 bodies have been counted in Derna alone so far, with that number expected to rise and even double.
Presently, many people are lamenting the loss of lives at Derna. Some people lost entire generations of relatives.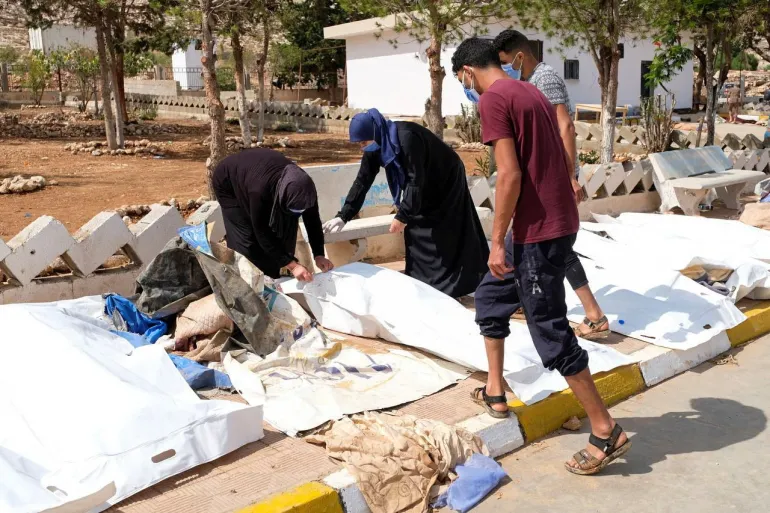 "We are not speaking about one or two people dead, but up to 10 members of each family dead," said Walid Abdulati, whose family in Tripoli heard that most of their relatives were dead or missing.
A survivor, named Mostafa Salem, said that he lost 30 of his relatives.
Raja Sassi also said that he survived with his wife and daughter but the rest of his family died.
"The situation is indescribable. Entire families dead in this disaster. Some were washed away to the sea," Ahmed Abdalla, a survivor who joined the search and rescue effort, divulged.
Additionally, Hichem Chkiouat, the Minister of civil aviation in the administration that runs eastern Libya, stated that the sea at Derna is "constantly dumping dozens of bodies."
He appealed for international help, saying Libya does not have the experience to deal with a disaster of this magnitude.
Rami Elshaheibi, the Libyan National Communications Officer for the World Health Organization, said that the situation in Derna was "disastrous beyond comprehension."
At Least 30,000 People Displaced In Derna
Also, the International Organization for Migration (IOM) in Libya stated that at least 30,000 people have been displaced in Derna.
In a post on X, the IOM disclosed that 6,085 other people have been displaced in other storm-hit areas, including Benghazi, with the number of deaths still unverified.
"IOM & partners are immediately prepositioning NFIs [non-food items], medicines, search and rescue equipment and personnel to the affected areas," the UN agency noted.
Before the devastating storm struck the east of Libya, the area was already host to more than 46,000 internally displaced people as a result of the country's decades-long conflict.
Rula Amin, the spokeswoman for the UNHCR, said, "We are sending everything needed to complement and increase the supplies in the hub in Benghazi."
"The roads have been damaged, telecommunications in Derna is down, hospitals are in difficulties, also our local partners have been affected – it's a disaster situation," Amin added.
The floods damaged many access roads to Derna. Only two of seven roads leading to the city, are accessible.
According to the U.N.'s migration agency, Bridges that link Derna's eastern and western parts have also collapsed.
The destruction has hampered the arrival of international rescue teams and humanitarian assistance to tens of thousands of people whose homes were destroyed.
Meanwhile, the Islamic Relief announced that it will send aid to victims of the flood, committing an initial 100,000 pounds ($124,864 USD) to deliver supplies, including food, blankets and mattresses.
"North Africa has suffered two devastating disasters in just a few days following the earthquake in Morocco, where Islamic Relief has sent an emergency response team," the NGO noted in a press release.
Libya's neighbors, Egypt, Algeria and Tunisia, as well as Turkey and the United Arab Emirates, have also sent rescue teams and humanitarian aid. 
READ ALSO: African Union Iterates Plans To Launch Its Own Credit Rating Agency Next Year