Police operatives in Imo State have rescued nineteen Ad-Hoc staff of the Independent National Electoral Commission (INEC) who were abducted in the early hours of Saturday, March 18, 2023 in Imo State.
The development was confirmed by INEC authorities in the state.
According to officials, the 19 INEC Ad-Hoc staff were on their way to seven different polling units in Ugbelie ward 06 in Ideato South LGA of Imo state when they were kidnapped.
INEC Spokesperson, Chinenye Chijioke-Osuji, disclosed that the rescue took place after a distress call and information about the incident was made to the operatives who immediately swung into action.
The Spokesperson added that even though they were rescued, all the election materials which include BVAS and sensitive materials were not recovered.
Meanwhile, scores of traders in Yenagoa, the Bayelsa State capital, have shunned voting in the governorship and state assembly elections as they continued trading in the famous Tombia market in the state capital.
Some of the voters informed reporters that they do not believe in the electoral process, alleging that their votes did not count in the February 25 Presidential and National Assembly polls. The voter apathy led to low voter turnout in Saturday's polls in the South-South state.
The Bayelsa State Police Command confirmed the development and also condemned the destruction of electoral materials at Ogbia constituency 2 by thugs. A police team has also been directed to disperse the traders at Tombia market.
Lagos State Deputy Governor Commends Conduct Of Gubernatorial Elections
Nonetheless, the Lagos State Deputy Governor, Obafemi Hamzat, has commended the conduct of the governorship and state house of assembly elections, alluding to improvements from the February 25 presidential and National Assembly elections.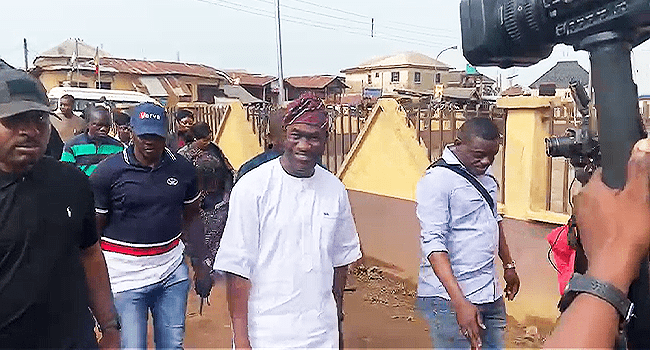 Speaking to journalists moments after casting his vote in the Epe area of the state, the Deputy Governor shared his experience with the Bimodal Voter Accreditation System (BVAS).
"It took me probably 10 seconds for BVAS to accredit me. It's seamless. So far, so good. We will know what happens in other units very soon," he said.
"With everything that I've heard so far, voting has started earlier than three weeks ago. So, I think it seems better as of this morning. But we'll find out later in the day.
"They [voters] are here early, which is better than last election. So, we must give them credit. It's getting better; it's a work in progress, so we'll see as the day moves on."

Lagos State Deputy Governor, Obafemi Hamzat
Asked about his expectations for the outcome of the elections, he replied, "That my party will win, that's my expectation."
On the voter turnout in comparison to the federal elections, Hamzat said that it was too early to say.
"A lot of people also gauge: 'Are they ready? Have they started?' So, it's a bit early to make those types of statements. We'll see during the day at 12, 1 [pm]; we will see what happens," he said.
The President of Women Arise, Dr. Josephine Okei-Odumakin, has also described the process as peaceful. Okei-Odumakin urged Nigerians to keep hope alive as the nation's democracy continues to grow.
"What we have noticed is that there is a significant improvement from what we had during the presidential [poll]. We have seen the presence of personnel, ad-hoc staff. There is hope, we must continue to keep hope alive and know that when there is an improvement, things will be better for us in Nigeria."

Dr. Joe Okei-Odumakin
The human rights activist called on everyone to shun acts that can disrupt the exercise.