World leaders have hailed a ceasefire agreement between the Israelis and the Hamas,;halting the 11-day war that caused widespread destruction in the Gaza Strip and left over 200 people dead.
The Ceasefire was;agreed upon by leaders of both sides late on Thursday, 20th May and has;taken hold from the early hours of 21st May, sparking celebrations especially in Palestine.
As such, several world leaders have welcomed the truce and vowed;to help rebuild Gaza after severe damage to critical infrastructure.
Speaking to reporters, the United Nations Secretary-General, Antonio Guterres urged Israel and Gaza's Hamas rulers to observe the ceasefire and called on global leaders to develop a reconstruction package "that supports the Palestinian people and strengthens their institutions".
He also stated that "Israeli and Palestinian leaders have a responsibility beyond the restoration of calm;to start a serious dialogue to address the root causes of the conflict."
The UN chief added that the UN was ready to work with Israel, the Palestinians, and others to return to "meaningful negotiations" on a two-state settlement based on territorial lines before the 1967 war.
Also, in a televised address from the White House, Joe Biden, vowed;to continue what he called "our quiet and relentless diplomacy" towards a long-term settlement.
He credited the Egyptian government for playing a crucial role in brokering the cease-fire and said he and top White House aides were intensely involved in an "hour by hour" effort to stop the bloodshed.
"I believe the Palestinians and Israelis equally deserve to live safely and securely;and enjoy equal measures of freedom, prosperity and democracy.
"My administration will continue our quiet, relentless diplomacy toward that. I believe we have a genuine opportunity to make progress."
'All sides must work to make ceasefire durable'
Egyptian President, Abdel Fattah Al-Sisi also welcomed the truce and thanked;Biden, adding that he shared the US president's emphasis on diplomacy for managing the Israeli-Palestinian conflict.
British Foreign Secretary, Dominic Raab also intimated that "All sides must work to make the ceasefire durable and end the unacceptable cycle of violence and loss of civilian life", adding that Britain supports "efforts to bring about peace".
In the early hours of Friday, celebrations were held in the streets of Gaza as cars filled the main streets with drivers honking and waving flags from the windows.
Mosque loudspeakers hailed a "victory", and men fired rifles into the air, while others set off noise bombs or firecrackers.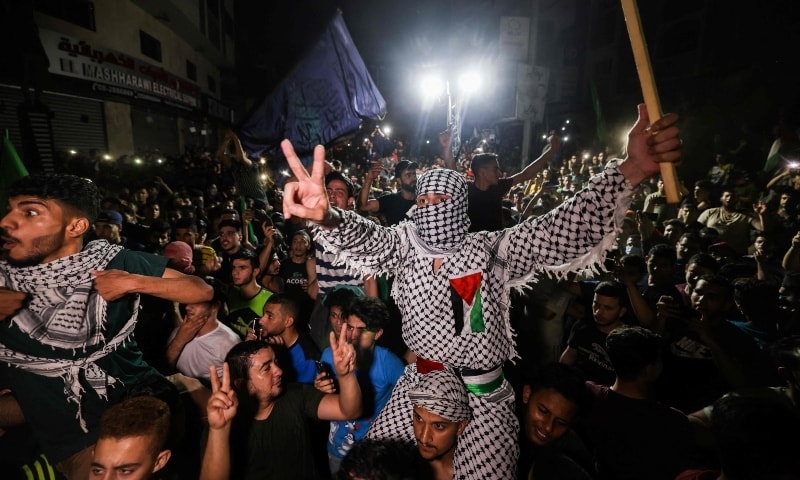 Analysts have posited that like the three previous wars between the bitter enemies, the latest round of fighting ended inconclusively. However, both sides have claimed victory in the 11-day war.
Netanyahu's office said his Security Cabinet had unanimously accepted an Egyptian cease-fire proposal after recommendations from Israel's military chief and other top security officials. The statement also boasted of "significant achievements in the operation, some of which are unprecedented."
In a televised speech Abu Ubaida, spokesman of the Hamas armed wing, also claimed that, "With the help of God, we were able to humiliate the enemy, its fragile entity and its savage army."