U.S Secretary of State, Antony Blinken has stated that Israel has the right to defend itself. However, he added a note of caution, saying, "How Israel does this matters."
He made these remarks during a press conference with Israel's Prime Minister, Benjamin Netanyahu in Tel Aviv.
It was an apparent reference to the Israeli airstrikes that are killing Palestinian civilians in Gaza.
Israeli forces continue to hit Gaza, which is deemed the Hamas stronghold, with air strikes.
The U.S Secretary of State said that democracies distinguish themselves from terrorists by holding themselves to different standards, holding themselves to account when they fall short.
"Our humanity, the value we place on human life and human dignity… is what makes us who we are," he said.
"That's why it is so important to take every possible precaution to avoid harming civilians and that's why we mourn the loss of every innocent life, civilians of every faith, every nationality that have been killed."

Antony Blinken
In the press conference, Blinken confirmed that at least 25 Americans had been killed in the attack by Hamas militants.
Blinken, whose parents are Jewish, noted that he understands the Hamas attacks "on a personal level."
"Anyone who wants peace and justice must condemn Hamas' reign of terror," Blinken said.
"Hamas has only one agenda – to destroy Israel and to murder Jews," he added.
Moreover, Blinken stated that more military support is on its way to Israel.
"The message that I bring to Israel is this: You may be strong enough on your own to defend yourself, but as long as America exists, you will never, ever have to. We will always be there by your side," Blinken said.
"That's the message that President Biden delivered to the Prime Minister from the moment this crisis began. It's the message that I and my other colleagues in the government have delivered to our Israeli counterparts on a daily, even an hourly basis.
"It's the message that I bring with me to our discussions today, and it's what I'll affirm, when I meet with the members of Israel's newly formed national emergency government. We welcome the government's creation and the unity and resolve that it reflects across Israel's society."

Antony Blinken
There is an "overwhelming" bipartisan support in Congress to assist more, he says before warning any state or non-state actors of taking advantage of the current situation to attack Israel.
Tangible Example Of America's Unequivocal Support For Israel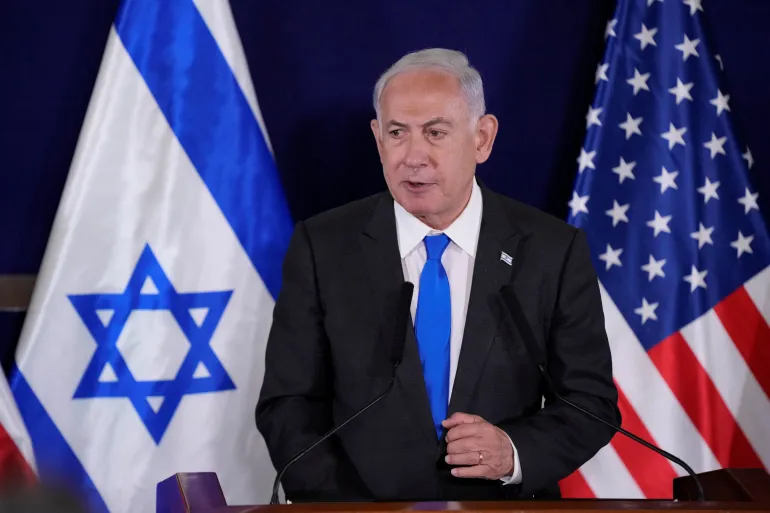 On his part, Israel's Prime Minister, Benjamin Netanyahu, described Blinken's visit as "another tangible example of America's unequivocal support for his country.
Netanyahu thanked the U.S for its "incredible support for Israel in our war against the barbarians of Hamas."
"The stories of horror say everything about them and the stories of bravery say everything about us and this bravery will win," Netanyahu averred.
He said that President Biden was correct when he called what Hamas did "sheer evil."
Netanyahu likened Hamas to the Islamic State, saying, "Hamas is ISIS [ISIL], and just as ISIS was crushed, so Hamas too will be crushed."
"Hamas should be treated exactly the way ISIS was treated. They should be spat out from the community of nations. No leader should meet them, no country should harbour them, and those that do should be sanctioned."
"This is a time that we must stand tall, united against evil. We are taking a stand. America is taking a stand."

Benjamin Netanyahu
Blinken agreed with Netanyahu in his comparison of Hamas to ISIS.
"This was just one of Hamas's countless acts of terror in a litany of brutality and inhumanity. That, yes, brings to mind the worst of ISIS," Blinken said.
"Babies slaughtered, bodies desecrated, young people burned alive, women raped, the parents executed in front of their children, children in front of their parents. How are we even to understand this?"

Antony Blinken
READ ALSO: Germany To Suspend All Development Aid To The Occupied Palestinian Territories