Former U.S. National Security Adviser and Secretary of State, Henry Kissinger has met the ruling Communist Party's diplomat, Wang Yi, in Beijing.
The U.S. State Department disclosed that Kissinger, who turned 100 in May, was in Beijing as a private citizen, not on behalf of the U.S. government.
Meanwhile, people on China's Twitter-like social media platform, Weibo, were astonished that the 100-year-old Henry Kissinger still has the stamina to go on international business trips.
Wang Yi told Kissinger during their meeting on Wednesday, July 19, 2023 that China's development has a strong endogenous momentum and inevitable historical logic, adding that "it is impossible to try to transform China, and it is even more impossible to encircle and contain China."
Wang praised Kissinger's "historic contributions to the ice-breaking development of China-US relations."
"China's policy towards the US maintains a high degree of continuity, and follows the fundamental guidelines proposed by President Xi Jinping, which are mutual respect, peaceful coexistence, and win-win cooperation.
"These three guidelines are fundamental and long-term, and they are also the right way for China and the US, two big countries, to get along with each other."

Wang Yi
"The US policy toward China needs Kissinger-style diplomatic wisdom and Nixon-style political courage," Wang added.
On Tuesday, July 18, 2023, Kissinger held talks with Chinese Defense Minister, Li Shangfu, who has been barred from visiting the U.S. over arms sales he oversaw with Russia.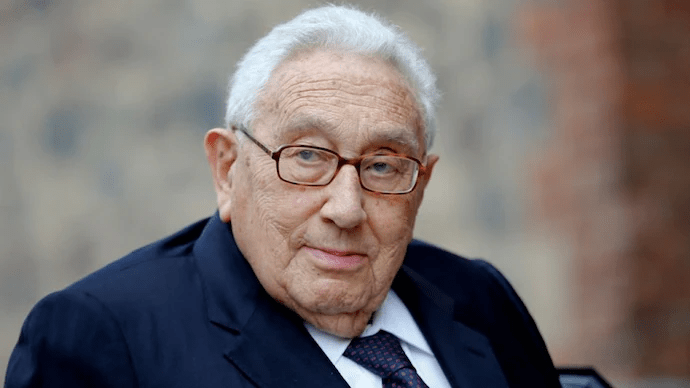 China's Defense Ministry quoted Li as praising the role Kissinger played in opening up China-U.S. relations in the early 1970s. Kissinger, then U.S National Security Adviser, secretly flew to Beijing in July 1971 on a mission to establish relations with communist China.
That trip set the stage for a landmark visit by President Richard Nixon, who sought both to shake up the Cold War and enlist help ending the Vietnam War.
Li said that bilateral ties had hit a low point because of "some people on the American side who are not willing to meet China halfway."
U.S. leaders say they have no such intentions, but seek only frank dialogue and fair competition in the economic sector.
China broke off some mid- and high-level contacts with the Biden administration last August, including over climate issues, to show its anger with then-House Speaker Nancy Pelosi's trip to Taiwan.
Contacts have only slowly been restored and China continues to refuse to restart dialogue between the People's Liberation Army, the party's military branch, and the U.S. Department of Defense.
Wang Expounds China's Position On Taiwan
Also on Wednesday, Wang expounded China's position on Taiwan, saying that one China is the fundamental status quo of the Taiwan question.
"Taiwan independence" is incompatible with peace across the Taiwan Strait, and the one-China principle set out in the Shanghai Communique must be strictly adhered to, Wang said.
"If the United States sincerely hopes for stability across the Taiwan Strait, it should clearly and openly oppose 'Taiwan independence' and draw a clear line with 'Taiwan independence' separatist activities."

Wang Yi
China claims Taiwan as its own territory to be brought under its control by force if necessary.
Chinese state news agency reported Kissinger as saying, "In today's world, challenges and opportunities coexist, and both the U.S and China should eliminate misunderstandings, coexist peacefully, and avoid confrontation."
"He expressed the hope that both sides will exert wisdom, make every effort to create positive outcomes for the development of bilateral relations, and safeguard world peace and stability," the news agency added.
Kissinger's visit coincides with that of Biden's top climate envoy, John Kerry, the third senior U.S official in recent weeks to travel to China.
The wave of U.S. diplomacy is yet to be reciprocated by China, which has its own list of concessions it wants from Washington. Serving U.S. officials, including Kerry, say they will not be offering any such deals to Beijing.