Medical Aid for Palestinians (MAP), a UK-based group has disclosed that hospitals in Gaza are facing a "catastrophic" shortage of medical supplies.
"Emergency, trauma and surgical supplies are rapidly running out at hospitals and health partners' warehouses, with the entry of humanitarian supplies still not possible," MAP's Advocacy and Campaigns Manager in the West Bank, Aseel Baidoun, disclosed.
"There is a shortage of blood. Medicine is in short supply," Baidoun said.
Baidoun added that there was also a shortage of healthcare workers, of whom several had been killed.
"The rest are exhausted not able to cope with the thousands of injuries they see every day. The Israeli air attacks have damaged 24 health facilities, including 16 hospitals and six other health facilities."

Aseel Baidoun
Israeli opposition politician, Avigdor Liberman opined that humanitarian aid should be allowed into Gaza only after the Red Cross can visit Hamas-held captives and "make sure they are kept in proper conditions as required by international law."
"It is forbidden to agree to the provision of unilateral aid only to the residents of Gaza. We are not allowed to abandon our hostages," Liberman said on X.
Earlier on Monday, Israel said that Hamas was holding 199 people captive.
Israeli military Spokesperson, Daniel Hagari said, "there is a top national priority effort for the issue of the abductees and we are focused on this effort as a national top priority."
He disclosed, "The IDF is working around the clock to return the abductees," adding that the IDF had notified the families of all 199.
Civil defense workers in Gaza have vowed to continue working amid Israel's blockade.
This came as the funeral of six civil defence workers killed in an Israeli air raid on Sunday, October 15, 2023, night was held in held in Gaza City.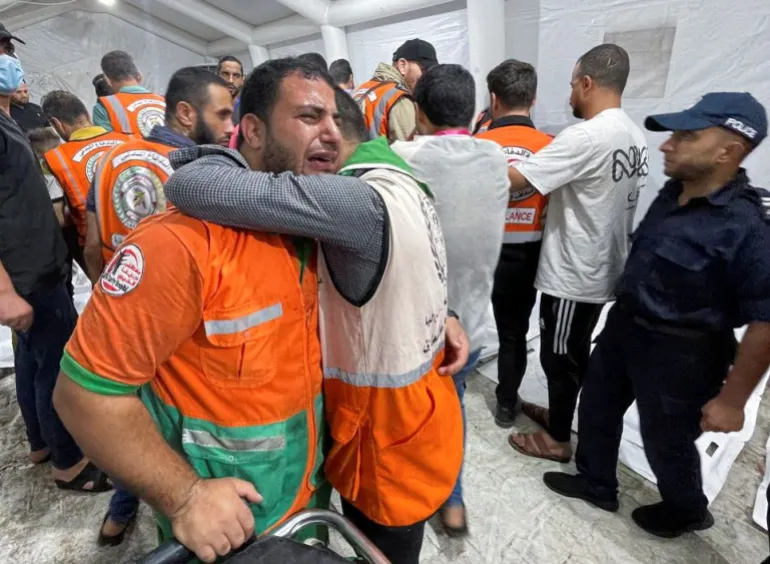 A member of the defence team said during the funeral proceedings, "These heroic martyrs sacrificed their blood, time and life to save the lives of their country's citizens."
"They pushed through the recent Israeli aggression and spent day and night in service of Palestinian people so they can save their lives," he added.
He stressed that the killings would not scare civil defence workers from doing their duty.
He said, "No matter what price we have to pay and no matter the sacrifices, we will continue to serve the people of this country, despite the lack of resources."
Arab League Chief Calls For Aid To Be Allowed Into Gaza
The Arab League Chief, Ahmed Aboul Gheit called for an immediate end to military operations in Gaza and for aid to be allowed into the besieged enclave.
"We demand the immediate end of military operations and the opening of safe corridors to bring aid to the population," Secretary-General Ahmed Aboul Gheit said during a meeting in Baghdad.
At Nasser Hospital, the largest in Khan Younis, ambulances continued to bring the injured, as well as those killed in Israeli bombardments.
The hospital has set up makeshift tents on its compound to accommodate the large number of injured patients.
Meanwhile, Gaza's Interior Ministry stated that contrary to Israeli claims, water services have not resumed in Gaza.
"The residents drink unhealthy water, posing a serious health crisis that threatens the lives of the citizens," spokesperson Eyad al-Bozom said.
"For the past 10 days, no clean water had been provided by Israel to any of the five governorates within the besieged enclave," al-Bozom added.
No water has reached the southern part of Gaza. The UN also confirmed this, and people are still struggling to find water to drink.
On Sunday, the U.S National Security Adviser, Jake Sullivan told a news agency,"I can tell you this morning that I have been in touch with my Israeli counterparts just within the last hour, who report to me that they have in fact turned the water pipe back on in southern Gaza."
READ ALSO:  Israel's Sting Follows Hamas' Strike