Cambodia's National Assembly has officially elected Hun Manet as the country's new Premier.
Hun Manet, 45, is the eldest son of outgoing Prime Minister Hun Sen, a long-time ruler who has held the position for 38 years.
The Cambodian King, Norodom Sihamoni, who holds a largely symbolic role, convened parliament on Monday, August 21, 2023, paving the way for lawmakers to elect Hun Manet, as Prime Minister on Tuesday, August 22, 2023, the second day of the inaugural session of the National Assembly's 7th legislative term.
Outgoing National Assembly President, Heng Samrin read the outcome of the vote, declaring that Manet was elected by all 123 members of Cambodia's lower house of parliament who were present for the vote on Tuesday.
"Today is a historical day for Cambodia," Hun Manet said after the vote.
The assembly also approved Hun Manet's new Cabinet. He and his new Cabinet are expected to officially take office later on Tuesday.
Hun Manet's new government includes a number of his relatives and several children of Hun Sen's allies in top jobs.
Hun Sen's youngest son, Hun Many, will become the Civil Service Minister and his nephew, Neth Savoeun, currently the powerful national police Chief, will be a Deputy Prime Minister.
The sons of the current Interior and Defense Ministers will take over their fathers' posts, according to a draft list of the new cabinet members seen by a group of reporters.
Hun Sen's Cambodian People's Party (CPP) won a sweeping victory in July polls that were widely denounced as a sham after the main opposition party was barred from running.
Days later, Hun Sen announced that he was stepping down and handing power to his son, Hun Manet, who contested in the election and won a parliamentary seat for the first time.
Hun Sen has pledged to remain in politics in other roles for at least a decade. He will remain head of the ruling Cambodian People's party (CPP), and has said he will become head of the Senate and of the Supreme Council of the King.
Hun Manet's First Months In Office To Be Keenly Monitored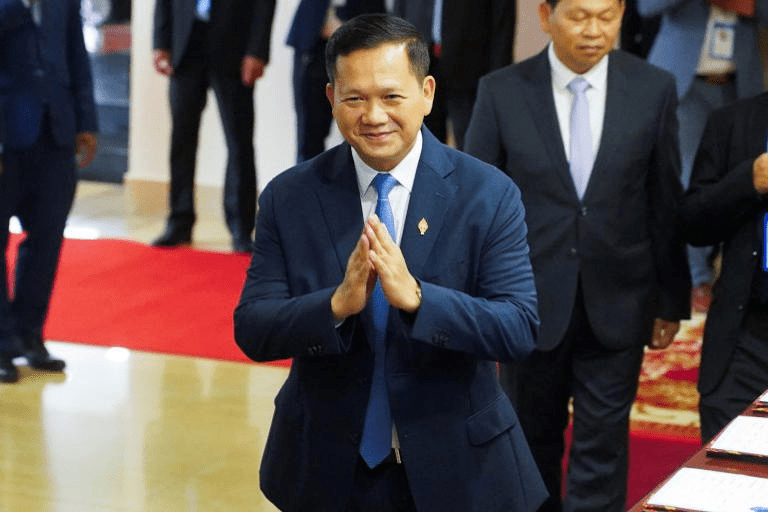 Little is known about Hun Manet's vision for Cambodia. As such, his first months in office will be watched by major powers for signs of whether he favours a more liberal approach and improvements in Cambodia's strained ties with the West, or plans to keep the authoritarian status quo of his father and remain in China's sphere of influence.
Unlike his father who had no formal education, Hun Manet is highly educated, with a masters degree from New York University and a doctorate from Britain's Bristol University, both in Economics.
A graduate of the West Point military academy in the U.S, Hun Manet rose quickly through the ranks of Cambodia's armed forces and has served as Head of counter-terrorism, Deputy Chief of his father's bodyguard unit, Army Chief and Deputy Military Commander.
Meanwhile, a political analyst in Phnom Penh told reporters on the condition of anonymity, that there is much unease and unhappiness, expressed privately, among party members that Hun Manet was elevated to the top job despite having no proven track record in Cambodian politics.
The analyst added that party members were finding it hard to imagine how more experienced and older ruling party members were expected to take instruction and direction from a leader who is relatively younger.
READ ALSO: Coal Miner Exxaro Plans to Build Cash Pile Close to $800 million to Widen Search for Critical Mineral Targets