Iran's Supreme leader, Ayatollah Ali Khamenei has asserted that Iran was not involved in the Hamas attack on Israel.
This was his first televised speech since the attack.
However, Khamenei lauded what he called Israel's "irreparable" military and intelligence defeat.
"We kiss the hands of those who planned the attack on the Zionist regime," Khamenei was reported as saying.
"This destructive earthquake has destroyed some critical structures which will not be repaired easily. The Zionist regime's own actions are to blame for this disaster," he added.
Khamenei said an attack on Gaza would "unleash a much heavier torrent of anger."
"The occupying regime seeks to portray itself as a victim to escalate its crimes further. This is a misguided calculation. It will result in even greater disaster."

Ayatollah Ali Khamenei
A journalist, Dorsa Jabbari opined that it is clear that Iran is "willing to provide" Palestine with help.
"It depends on what they will ask for. So far as we know, this will be in terms of humanitarian aid," Jabbari noted.
"Iran has denied providing financial or military support to the resistance movements in Palestine, but the supreme leader did make a point to say it is the duty of all Muslim nations to assist the Palestinians in whatever shape or form they require assistance for the time being."

Dorsa Jabbari
Meanwhile, Ismail Haniyeh, Head of Hamas's political bureau, pronounced in a statement that all Palestinians "must participate … in this battle."
"The destruction and brutality practised by the [Israeli] government against our people in Gaza reflects the resounding results caused by the strikes of Al-Qassam and the resistance factions," Haniyeh said.
"The enemy will pay a heavy price for its crimes and terrorism," he added.
The death toll for Palestinians has soared to at least 770.
In response to Khamenei's remarks, French President, Emmanuel Macron averred that Iran's praise of the Hamas attack on Israel was unacceptable.
Macron added that France was looking into to establish whether Iran was directly involved.
"I have no comment to make about the direct involvement of Iran for which we have no formal proof, but it's clear that the public comments by Iranian authorities were unacceptable. And that it is likely that Hamas was offered help," Macron was reported as saying.
"But I will remain careful on that point until we have stabilised intelligence," Macron added.
Volker Turk Condemns Israel's Siege On Gaza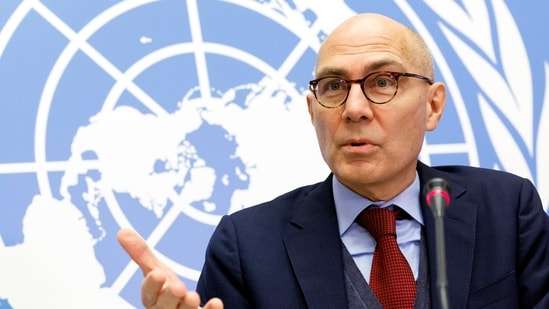 Also on Tuesday, October 10, 2023, the UN High Commissioner for Human Rights condemned Israel's decision to order a "full siege" on Gaza, including the ban on food and water.
Volker Turk added that sieges that hurt the lives of civilians are "prohibited under international humanitarian law."
"The world cannot afford more polarisation. We need to find solutions guided by the full respect for international humanitarian law and international human rights law," he said.
In a statement, Turk pleaded with states with influence to defuse the situation and stressed that international and humanitarian law must be upheld.
"We are faced with an explosive powder keg situation. We know how this plays out, time and time again – the loss of Israeli and Palestinian lives and incalculable suffering inflicted on both communities.
"All parties must respect international humanitarian law. They must immediately cease attacks targeting civilians and attacks expected to cause disproportionate death and injury of civilians or damage to civilian objects."

Volker Turk
In a statement issued earlier, Turk disclosed that Israeli air attacks on Gaza have struck residential buildings, including large tower blocks, as well as schools and UN buildings resulting in civilian casualties.
"International humanitarian law is clear: the obligation to take constant care to spare the civilian population and civilian objects remains applicable throughout the attacks," Turk said in the statement.
READ ALSO: Israeli Military Strikes More Than 200 Locations In Gaza Overnight