In a palace ceremony attended by royals and other VIPs from around the world, Jordan's Crown Prince Hussein married Rajwa Alseif, the descendant of a prominent Saudi family on Thursday, June 1, 2023.
The wedding of Crown Prince Hussein, 28, and Saudi architect, Rajwa Alseif, 29, attracted a star-studded guest list that included the British Prince William and his wife Kate as well as American First Lady Jill Biden.
A wide range of international aristocrats and dignitaries, including senior royals from Europe and Asia, as well as U.S. climate envoy John Kerry, were invited to the event in addition to the Prince and Princess of Wales.
The celebrations have great significance for the area because they highlight continuity in an Arab state that is admired for its protracted stability and restore the monarchy's reputation following a palace quarrel. It might even help Jordan, which lacks resources, and Saudi Arabia, its oil-rich neighbor, develop a strategic alliance.
Political Analyst Amer Sabaileh opined, "It's not just a marriage, it's the presentation of the future king of Jordan." "The issue of the Crown Prince has been closed," Sabaileh added.
The bride arrived at Zahran Palace in a 1968 Rolls-Royce Phantom V built especially for the late great grandmother of the Crown Prince. She was dressed in a stunning white gown by Lebanese designer Elie Saab. The Crown Prince arrived earlier, carrying a saber with a gilded hilt and wearing full ceremonial military garb.
Since King Abdullah II married Rania, who was born in Kuwait to Palestinian parents, on a similarly bright June day in 1993, there has not been as much fanfare at Zahran Palace in Amman, where the wedding was held. Years ago, Abdullah's father, the late King Hussein, and his second wife, British national Antoinette Gardiner, exchanged vows there.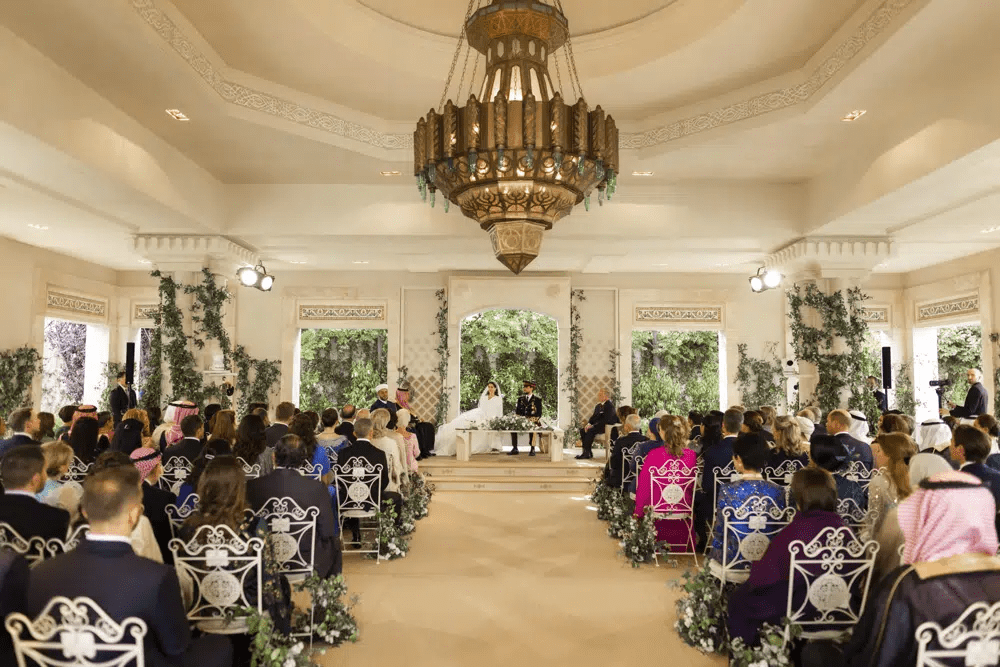 The newlyweds afterwards left the palace in a white bespoke Range Rover that was followed by a number of bright red Land Rovers, motorcyclists, and a military marching band, paying homage to the customary horse-mounted processions under the reign of the nation's founding monarch, King Abdullah I.
Happening a week after Jordan's 77th birthday, palace authorities had made the ceremony into a PR initiative. With a nod to both tradition and technology, the royal family unveiled a wedding hashtag (#Celebrating Al Hussein) and ubiquitous logo that combines the couple's initials with the Arabic phrase, "We rejoice."
Massive Crowds Gather To Celebrate New Power Couple
Jordan's capital turned into an open-air party as crowds gathered to celebrate the desert kingdom's first major royal wedding in years and enjoy the event's unmistakable demonstration of Jordan's influence and importance.
The marriage of Crown Prince Hussein and Saudi architect Rajwa Alseif caused Jordanians from all walks of life to temporarily put aside their differences and problems in a Mideast nation seen as a rare beacon of stability in a turbulent region.
Massive crowds thronged the capital's principal boulevards to see the royal couple's red Land Rover procession and horse guards pass across the city. They joyfully clapped, jostled, and sang.
The Kingdom declared Thursday a public holiday so crowds of people could gather to wave at the couple's motorcade amid a heavy security presence across the city.
The traditional Islamic wedding service lasted mere minutes, but Jordanians said the celebrations were sure to continue all night.
READ ALSO: Forex Bureaus Association of Ghana Predicts the Cedi to Appreciate Against the Dollar Due to Creditor assurance of $3bn IMF loan