Michael Ryan, the Executive Director of WHO's Health Emergencies Programme has stated that overcrowded Gaza shelters, a lack of access to food, as well as rain and colder temperatures in the enclave has created an "absolute recipe for large-scale epidemics" for people in Gaza.
Speaking to reporters, Ryan remarked, "As a public health risk, this will begin to approach the same level as the injury crisis that we have and the crisis in the hospitals."
"Our biggest fear at the moment is also a shift or another movement of patients – 1.7 million people have already been displaced," he said.
"There is a real risk that many of them will be displaced again, and the further concentration of people in ever smaller areas, pushing out to the west coast, is only increasing and increasing and increasing the risks to those populations – be it from injury, or more importantly, be it from the public health risks."

Michael Ryan
The situation at Gaza has worsened with recent rains. The rain is expected to continue with a noticeable temperature drop in the coming weeks.
About two-thirds of people in the south fled their houses and could not take essential items to protect themselves from the cold or the rain.
Meanwhile, Israel continued with its attack on the enclave. Israeli forces attacked the Indonesian hospital at Gaza. According to the Palestinian Health Ministry in Gaza, at least 12 Palestinians were killed in the artillery attack on the hospital.
Ismail Thawabta, spokesman for the Gaza government's media office, said that more than 13,300 people have been killed in the bombarded enclave.
That figure includes more than 5,600 children killed in Israeli attacks on the Gaza Strip, Thawabta told reporters.
The Palestinian Health Ministry in Gaza has not been able to regularly update its official death toll due to the collapse of the healthcare system, which collected the data.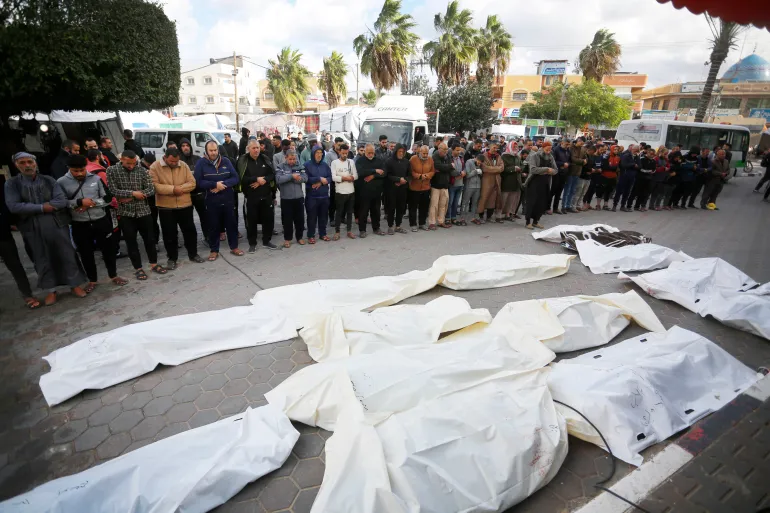 UN chief Antonio Guterres noted that the number of civilians killed in Israel's war on Gaza has been "unparalleled and unprecedented" since he took office in 2017.
On the other hand, the UN special rapporteur on the rights of people with disabilities, Heba Hagrass emphasised the importance of ensuring unconditional and unrestricted humanitarian aid access for people with disabilities.
"This region has increasing disability rates among the population because of exposure to repeated armed conflicts in addition to the current bombardment of the Gaza Strip," Hagrass said.
"People with disabilities have difficulty accessing safe places, and the denial of vital services such as electricity, water and food exposes [them] to heightened risks, including the risk of loss of life," Hagrass added.
AU Chair Calls For Pressure On Israel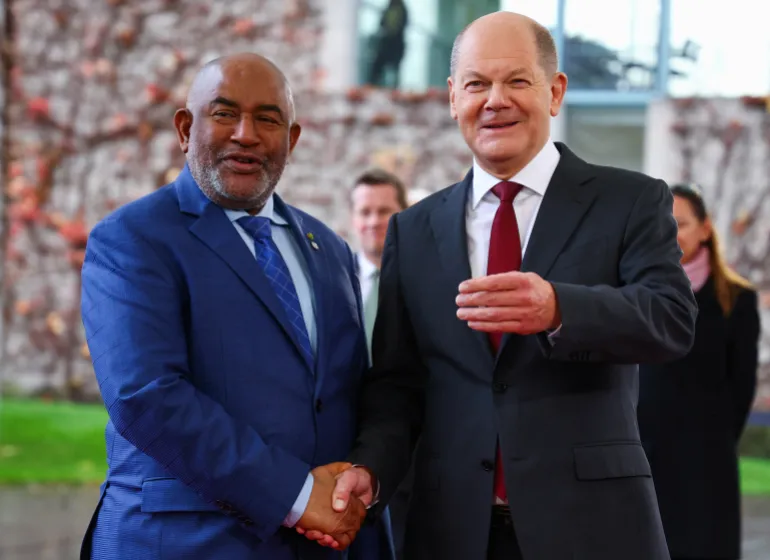 Also on Monday, November 20, 2023, Comoros President and current African Union Chair, Azali Assoumani called for greater diplomatic pressure on Israel to end its ongoing operations in Gaza.
Speaking during a news conference with German Prime Minister, Olaf Scholz as part of his visit to Berlin, Assoumani said, "What was carried out from Gaza [on October 7] is to be condemned, but the answer was not proportionate," Assoumani said.
He added, "We condemn all measures, all actions, everything that harms children, and that then leads to extremism when they experience something like that."
Representatives in the bloc have already decried Israel's "collective punishment" in Gaza and have called for a ceasefire.
Germany has been one of the staunchest defenders of Israel's policies since the October 7 Hamas attacks.
Assoumani stressed that there will be no peace in this region unless a two-state solution can be reached.
"We must all sit down at one table and affirm that people must live together in peace, and so everyone wins from it," he said.
"The world is a village, we are all partners, we all have a responsibility that we have to fulfill so that these hostilities would come to an end," Assoumani noted.
READ ALSO: Ofankor-Nsawam Road Expansion Project; Residents Issue President A 14-Day Ultimatum