Santiago Pena, the President-elect of Paraguay, has pledged to maintain diplomatic relations with Taiwan.
Pena is on a visit in Taiwan with members of his incoming government as well as his wife and daughter.
During a meeting with Taiwanese President, Tsai Ing-wen on Wednesday, July 12, 2023, Pena affirmed "our commitment as Paraguayans to stand with the people of Taiwan for the next five years."
Also, Paraguay's President-elect disclosed that he wanted to boost trade and investment ties with Taiwan.
"I will work for the next few years to convey to the people of Taiwan, mainly to the business community, that investing in Paraguay not only responds to a diplomatic interest but also responds to both nations' mutual economic benefit."

Santiago Pena
On her part, Tsai averred that Taiwan and Paraguay "helped each other to overcome the challenge of the epidemic."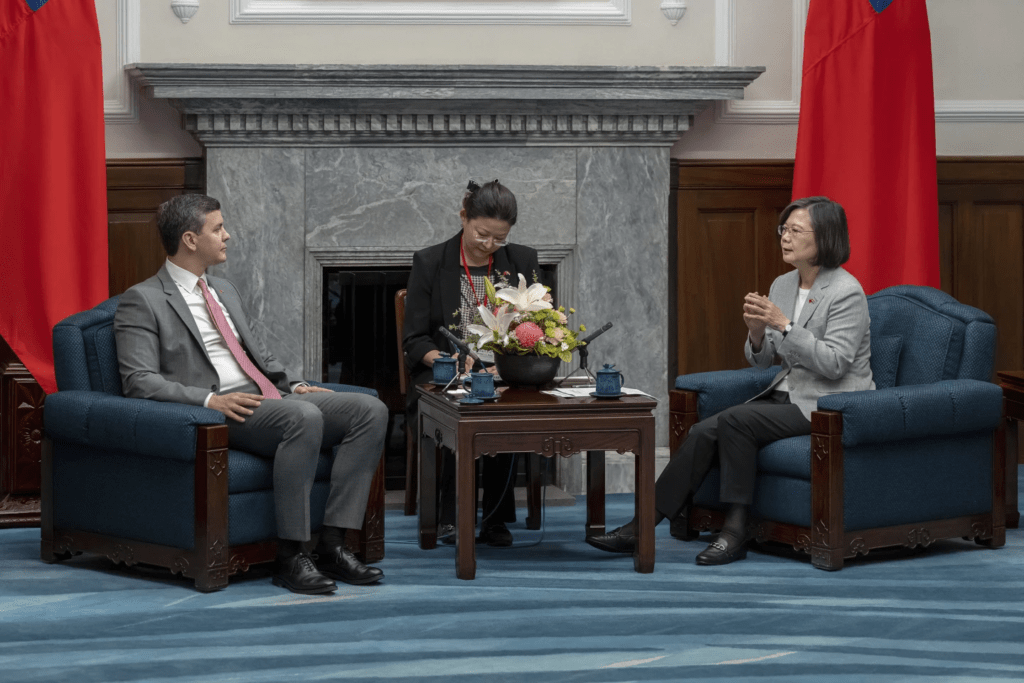 "In the face of the expansion of authoritarianism, we expect Taiwan and Paraguay to stand together on the frontline of free democracy and contribute to global stability and development."

Tsai Ing-wen
During his campaign, Pena promised to maintain ties with Taiwan, unlike his main opponent, Efrain Alegre, who had advocated switching allegiance to China.
Paraguay is one of only 13 countries in the world and the last remaining in South America that recognize Taiwan as a country and do not have diplomatic relations with China.
Beijing considers self-governed Taiwan a breakaway province and prohibits its diplomatic partners from having formal ties with it.
Taiwan's remaining diplomatic allies are generally smaller countries in Central America, the Caribbean and South Pacific, along with Eswatini in southern Africa and Vatican City.
Since Tsai took office in 2016, China has intensified its efforts to win over Taiwan's diplomatic allies, in part by offering infrastructure investments to developing countries.
It recently succeeded in swaying Honduras, which broke ties with Taiwan and opened an embassy in Beijing.
Pena was to also meet with Taiwanese Vice President William Lai, who is the governing Democratic Progressive Party's candidate in the January presidential election.
China Sends Navy Ships And Warplanes Toward Taiwan
In other developments, Taiwan's defense ministry disclosed on Wednesday that China sent navy ships and a large group of warplanes, such as fighter jets and bombers, toward Taiwan over two days.
The Chinese People's Liberation Army sent 38 warplanes and 9 navy vessels around Taiwan, between 6 a.m. on Tuesday, July 11, 2023 to Wednesday 6 a.m.
The army flew another 30 planes, which included J-10 and J-16 fighters from Wednesday morning until noon time.
32 of the planes crossed the midline of the Taiwan Strait, an unofficial boundary that had been considered a buffer between the island and mainland. Later on Wednesday, another 23 planes crossed the midline.
In Tuesday and Wednesday's maneuvers, the Chinese army also flew H-6 bombers in a large loop to the south of Taiwan, traveling past the island before looping back towards China's southern coast.
These come before Taiwan's annual military exercises aimed at defending itself against a possible invasion.
Later this month, Taiwan is scheduled to hold the annual Han Guang exercise, in which its military will hold combat readiness drills against preventing an invasion.
It will also conduct the annual Wan'an exercises aimed at preparing civilians for natural disasters and practicing evacuations in case of an air raid.
China claims self-ruled Taiwan as its own territory and in recent years has shown its displeasure at political activities in Taiwan by stepping up the number of military planes sent toward Taiwan.
READ ALSO: NPP Presidential Primaries: Flagbearer Should Be One Who Worked For Party Since Establishment- Kwabena Agyapong