Russian President Vladimir Putin has arrived in Beijing.
President Xi Jinping invited Putin to China's third Belt and Road Initiative (BRI) forum where the leaders of 130 countries will discuss one of Xi's signature international projects.
Putin will be among the highest profile guests at the gathering which marks the 10th anniversary of Xi's announcement of the BRI project.
Putin's plane was met by an honor guard.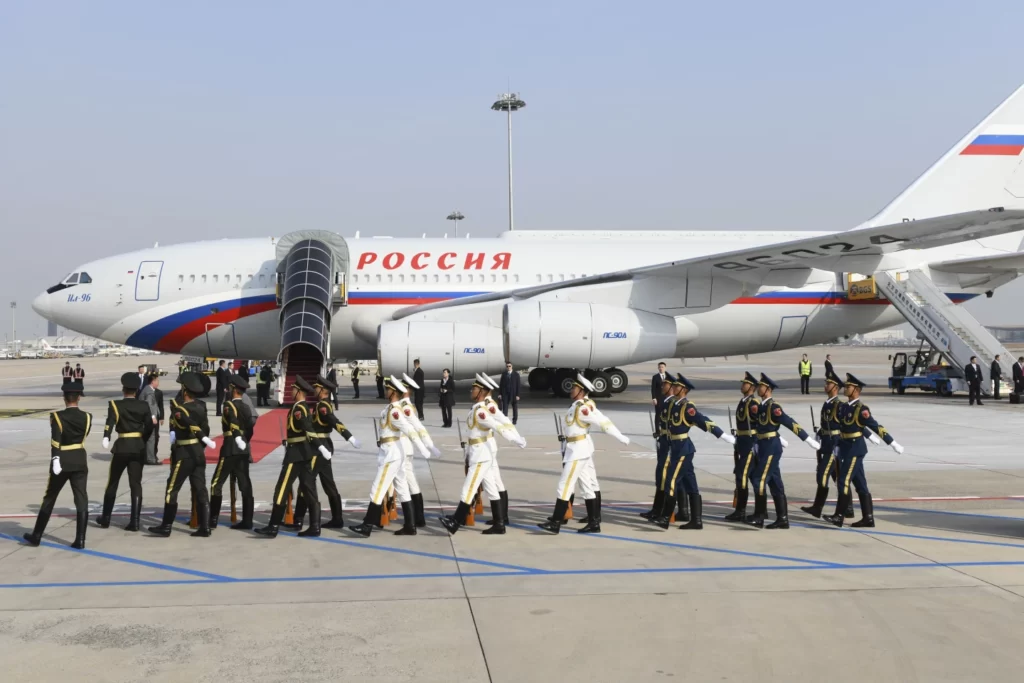 Putin's visit underscores China's support for Moscow during its war in Ukraine as well as Russian backing for China's bid to expand its economic and diplomatic influence abroad.
It is the third time the Russian President has attended the Belt and Road Initiative forum. He attended the two previous meetings in 2017 and 2019.
The forum continues until Wednesday, October 18, 2023.
Speaking to reporters ahead of his trip, Putin disclosed that his visit would encompass talks on Belt and Road-related projects.
He said that Moscow wants to link the projects with efforts by an economic alliance of former Soviet Union nations mostly located in Central Asia to "achieve common development goals."
Putin added that he and Xi would also discuss growing economic ties between Moscow and Beijing in energy, high-tech and financial industries.
China is one of the countries Putin has visited since the International Criminal Court (ICC) issued an arrest warrant against him in March.
The court has accused the Russian leader of illegally deporting children from Ukraine.
China is not one of the 123 countries that are members of the ICC, so it is not obliged to transfer Putin to The Hague for trial.
Earlier this month, Putin visited Kyrgyzstan. However, China is the first outside of former Soviet Republic countries that Putin has visited this year. Kyrgyzstan is also not an ICC member.
Russia's top diplomat, Sergey Lavrov arrived in Beijing ahead of Putin and held talks with China's Foreign Minister, Wang Yi on Monday, October 16, 2023.
Xi and Putin last met in Russia in March, 2023.
Putin last visited China for the Beijing Winter Olympics in February 2022 when Russia and China released a sweeping 5,000-word statement reaffirming their no-limits relationship– days before the Russian president sent tens of thousands of troops into Ukraine.
Putin has also accepted an invitation from leader Kim Jong Un to visit North Korea after the two Presidents met in Russia last month.
Russia's foreign ministry has already confirmed that Lavrov will visit Pyongyang after leaving Beijing.
Gabuev Says Russia Views China As Its Lifeline
Alexander Gabuev, Director of the Carnegie Russia Eurasia Center, said that from China's view, "Russia is a safe neighbor that is friendly, that is a source of cheap raw materials, that's a support for Chinese initiatives on the global stage and that's also a source of military technologies, some of those that China doesn't have."
"For Russia, China is its lifeline, economic lifeline in its brutal repression against Ukraine," Gabuev told a news agency.
"It's the major market for Russian commodities, it's a country that provides its currency and payment system to settle Russia's trade with the outside world — with China itself, but also with many other countries, and is also the major source of sophisticated technological imports, including dual-use goods that go into the Russian military machine."

Alexander Gabuev
Gabuev said that while Moscow and Beijing will be unlikely to forge a full-fledged military alliance, their defense cooperation will grow.
"Both countries are self-sufficient in terms of security and they benefit from partnering, but neither really requires a security guarantee from the other and they preach strategic autonomy," he said.
READ ALSO: Investigation Into Hamas Surprise Attack To Be Carried Out