Israeli Prime Minister, Benjamin Netanyahu has declared in a televised address that his country is at war.
"We are at war. Not an 'operation,' not a 'round,' but at war," he pronounced.
Netanyahu's remarks follow after the ruling Hamas militant group in the Gaza Strip carried out an unprecedented attack on Israel at daybreak on Saturday, October 7, 2023.
The Hamas fired thousands of rockets as they infiltrated the heavily fortified border in at least seven locations by air, land and sea.
The attack caught Israel off guard.
"The enemy will pay an unprecedented price," Netanyahu added, promising that Israel would "return fire of a magnitude that the enemy has not known."
The Hamas disclosed that its surprise, large-scale military operation is in response to the desecration of Al-Aqsa Mosque and increased Israeli settler violence against Palestinians
Hamas spokesperson, Khaled Qadomi told a news agency that the group's military operation is in response to all the atrocities the Palestinians have faced over the decades.
"We want the international community to stop atrocities in Gaza, against Palestinian people, our holy sites like Al-Aqsa. All these things are the reason behind starting this battle," he said.
Ghazi Hamad, another Hamas spokesperson and former Deputy Foreign Minister for the government in Gaza, also told the news agency that the Palestinian operation is also a message to Arab countries who have been normalising relations with Israel.
"I think it is [shameful] for them. I ask all Arab countries to disconnect and cut relationships with Israel, because it is not a state which believes in peace, or coexistence, or believes in being a good neighbour," Hamad said.
"It is an enemy state and we have to stop them," Hamad added.
In a retaliatory move, the Israeli military struck targets in Gaza.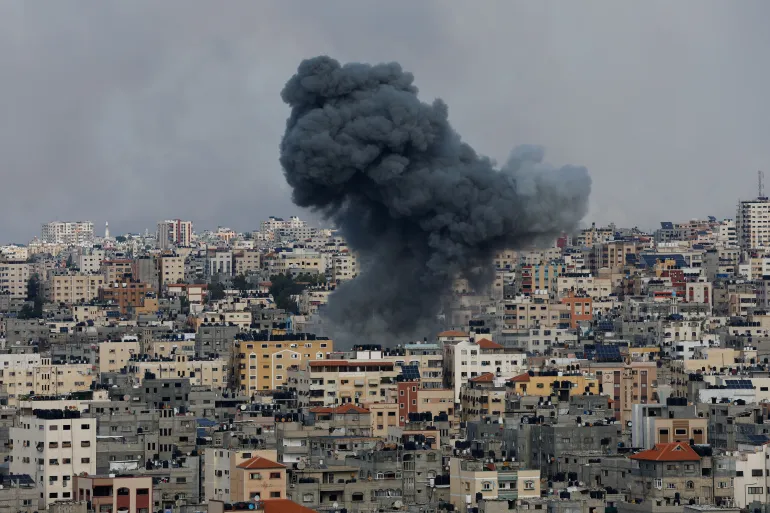 At a meeting of top security officials later on Saturday, Netanyahu said the first priority was to "cleanse the area" of enemy infiltrators, and then to "exact a huge price from the enemy."
Calling on all citizens of Israel to unite, Netanyahu added that Israel will also reinforce frontiers to deter any others from "making the mistake of joining this war."
Medical sources in Gaza have told a news agency that at least 160 Palestinians have been killed in Israel's attacks.
The number of wounded people has exceeded 1,000.
Israeli government confirmed that the number of Israelis killed was at least 40.
Meanwhile, Egypt warned of "grave consequences" from an escalation in tensions, according to a statement from the foreign ministry carried by the state news agency.
It called for "exercising maximum restraint and avoiding exposing civilians to further danger."
Turkish President, Recep Tayyip Erdogan also urged parties "to act with restraint … and to stay away from impulsive steps that will escalate tensions".
Qatar's Foreign Ministry issued a statement saying that Israel alone was responsible for the ongoing escalation of violence with the Palestinian people.
Nonetheless, it called on both sides to exercise utmost restraint and appealed to the international community to stop Israel from using these events as an excuse to launch a disproportionate war against Palestinian civilians in Gaza.
Czech Republic, Ukraine, amongst other countries condemned the attack launched by the Hamas group.
Guarantee For Peace
The Palestinian Ministry of Foreign Affairs said that ending the Israeli occupation of the Palestinian territory is the only guarantee for "security, stability and peace" in the region.
"We have repeatedly warned of the consequences of a deadlock in the political horizon and not granting the Palestinian people their legitimate right to self-determination and their state," the Foreign Ministry noted in a statement.
"We have also warned of the consequences of the daily provocations and attacks, the continued terrorism of settlers and occupation forces, and the raids on Al-Aqsa Mosque and the Christian and Islamic holy sites.
"What guarantees security, stability and peace in our region is ending the Israeli occupation of the land of the State of Palestine, with East Jerusalem as its capital, along the 1967 lines, and recognizing the people's right to independence and sovereignty."

Palestinian Ministry of Foreign Affairs
READ ALSO: Plan To Deport Illegal Migrants Not Aimed At Afghans Only- Pakistan's Foreign Ministry Spokesperson