U.S. Defense Secretary, Lloyd Austin has made an unannounced visit to Kyiv.
His visit signals a high-profile push to keep money and weapons flowing to Ukraine even as U.S. and international resources are stretched by the new global risks raised by the Israel-Hamas conflict.
The United States has been Ukraine's largest single backer in its defense against Russia, providing more than $40 billion in security aid.
Austin is scheduled to meet with President Volodymyr Zelenskyy, Defense Minister Rustem Umerov and Chief of Staff Gen. Valery Zaluzhny.
Arriving on an overnight train from Poland because Ukraine's airports remain shuttered by the war, Austin was greeted by Bridget Brink, Washington's Ambassador in Kyiv.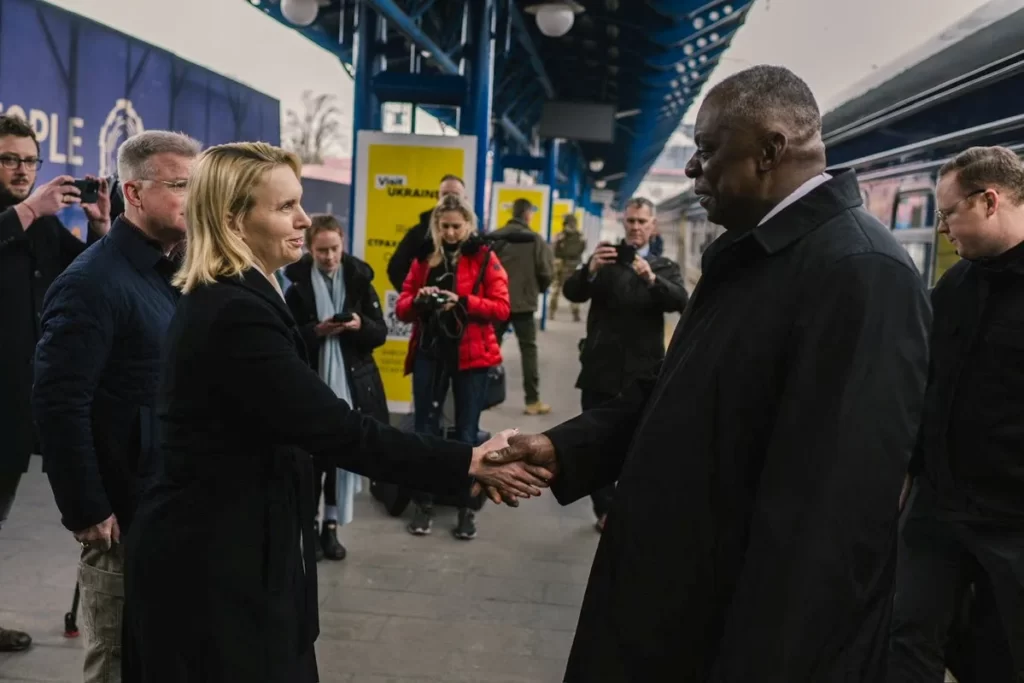 According to U.S. officials, Austin intended to tell Ukrainian officials that American support for efforts to defeat Russia's invasion is steadfast and will continue, even as the world's attention is drawn to the Middle East and signs of fatigue set in with the almost 21-month war.
The United States insists that it can provide assistance to both countries. 
"I'm here today to deliver an important message — the United States will continue to stand with Ukraine in their fight for freedom against Russia's aggression, both now and into the future," Austin posted on X.
The Department of Defense said that in Kyiv, Austin would "underscore the continued US commitment to providing Ukraine with the security assistance it needs to defend itself from Russian aggression, while also discussing a long-term vision for Ukraine's future force." 
He will look at "ensuring Ukraine's armed forces have the battlefield capabilities they need for both the winter and to defend their country against future Russian threats", it said. 
U.S. officials say that they expect Russia to use the winter to regroup its forces and conduct strikes on Ukrainian power plants and other civilian infrastructure, as it did last winter.
Later this week, Austin is due to host the 17th meeting of the Ukraine Defense Contact Group virtually from the Pentagon, with nearly 50 nations expected to take part.
Deputy Pentagon Press Secretary, Sabrina Singh said earlier this month that assistance packages "have been getting smaller because we have had to meter out our support for Ukraine."
In addition to domestic U.S political opposition to continued aid, the devastating conflict between Israel and Hamas and an accompanying spike in attacks on American forces in the Middle East, has drawn international attention away from Ukraine.
Some Republican lawmakers oppose continued aid, and new support for Ukraine was left out of a temporary deal passed by Congress last week to avert a US government shutdown.
Despite this, a senior U.S defence official told journalists that "we continue to believe that Congress will provide that support, and we are planning based on that conviction."
"On the issue of whether there is a competition or trade-off between U.S support for Ukraine's defence of its country and Israel's defence of its people, there is not," the senior U.S defence official said.
"There is some overlap but where there is overlap in certain kinds of ammunition … there is no reduction in the provision of capabilities to Ukraine," the official added.
Austin and Secretary of State Antony Blinken urged lawmakers during a hearing in October to sustain support for Ukraine, with the U.S defence Chief saying that "without our support, (Russian President Vladimir) Putin will be successful."
READ ALSO:  War Fatigue Plagues Ukrainian Ambitions