Greek Prime Minister, Kyriakos Mitsotakis has disclosed that his country is poised to repair relations with neighbour Turkey.
This comes as an attempt to overcome decades-old disputes between the two NATO members.
On Wednesday, July 12, 2023, Mitsotakis held an hourlong meeting with Turkish President, Recep Tayyip Erdogan on the sidelines of a NATO summit in Vilnius, Lithuania.
After the meeting, Mitsotakis told reporters that they had agreed to resume high-level contacts.
"Our problems have not been magically resolved but today's meeting confirmed my intention and that of President Erdogan to reset Greek-Turkish relations."

Kyriakos Mitsotakis
"We are cautiously optimistic that we can turn a new page," Mitsotakis added.
In identical but separate statements, offices of the two leaders noted, "It is to the benefit of both countries that the positive climate formed in bilateral relations over recent months has continuity and consistency."
"The two sides agreed to build on the positive momentum and activate multiple channels of communication between the two countries in the coming period," they said, adding that the two leaders look forward to "more frequent contact at all levels."
Also, Mitsotakis and Erdogan agreed that the next meeting of a High-Level Cooperation Council, a mechanism the two countries established in 2010 for their rapprochement, will be held in the northern Greek city of Thessalonki in the autumn.
Wednesday's discussions between Mitsotakis and Erdogan were held a day after Turkey dropped its objections to Sweden's membership in NATO and signaled further willingness to lower tension with Western nations, including Greece.
Turkey and Greece remain at odds over maritime boundaries in the eastern Mediterranean, a dispute that affects illegal migration into the European Union, mineral rights, and the projection of military power.
Both of them are seeking to upgrade their air forces with assistance from the United States; Ankara wants new and upgraded F-16 fighter jets, while Athens is eager to join the F-35 program.
Last year, Turkish President Tayyip Erdogan halted bilateral talks in a dispute over airspace violations and after accusing Greek Prime Minister Kyriakos Mitsotakis of pressuring the United States to block the sale of F-16 fighter jets to Turkey.
Nonetheless, relations improved when Greece became one of the first countries to send rescue workers to help pull survivors from the rubble after a devastating earthquake hit Turkey in February.
Defense Ministers Of Greece And Turkey Hold Separate Meeting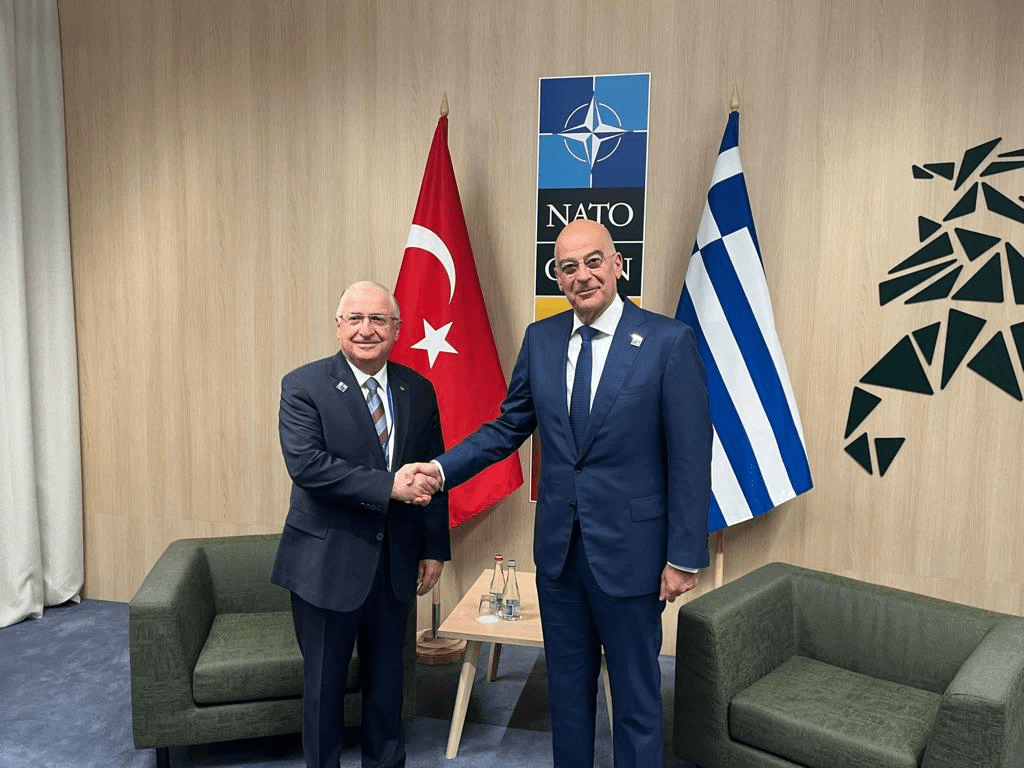 Also on Wednesday, the Defence Minister of Greece, Nikos Dendias and his Turkish counterpart, Yasar Guler, held a separate meeting in Vilnius.
According to the Turkish National Defense Ministry, Guler also had meetings with his Italian and Estonian counterparts.
Guler met with Italian Defence Chief, Guido Crosetto and Hanno Pevkur, the Defence Minister of Estonia, before meeting Dendias.
During the meeting, the importance of maintaining a positive agenda in Turkish-Greek relations and keeping dialogue channels open was stressed, the Turkish Defence ministry disclosed.
An agreement to resume confidence-building measures meetings between the countries was also confirmed.
Their meeting comes a week after the two Defence Ministers had a phone conversation in which they congratulated each other for assuming the position.
During that phone call, Guler and Dendias agreed to keep channels of dialogue open between Türkiye and Greece.
Guler, 68, served as Chief of General Staff since 2018 and was appointed to his new portfolio by President Recep Tayyip Erdogan following his May 28 election victory.
Former Foreign Minister, Nikos Dendias was appointed in Greece's new government led by Prime Minister Kyriakos Mitsotakis.
READ ALSO: NPP Presidential Primaries: Flagbearer Should Be One Who Worked For Party Since Establishment- Kwabena Agyapong