Belarusian President, Alexander Lukashenko has stated that demands by Poland and the Baltic states for the withdrawal of Wagner mercenary group from Belarus are "unreasonable and stupid."
Lukashenko made these comments at a Security Council meeting held on Thursday, August 31, 2023.
On August 28, 2023, the Interior Ministers of Poland, Latvia, Lithuania and Estonia, in a joint statement, demanded the immediate removal of Wagner Group mercenaries from Belarusian territory.
Polish Interior Minister, Mariusz Kamiński also stated on that day that Poland and the Baltic states will close their borders with Belarus entirely if a "critical incident" involving Wagner mercenaries occurs.
Following their short-lived mutiny in Russia on June 24, 2023, a number of Wagner mercenaries relocated to Belarus under a deal brokered by Lukashenko.
Poland and its neighbours see Wagner's presence in Belarus as a security threat, and in response, Poland has moved some of its own troops towards the Belarus border.
In his speech at the Security Council meeting, Lukashenko noted that the leaders of Poland and the Baltic states have accused his country of "some mythic aggressive intensions that we've never had and cannot have."
He stated that the leaders of these countries are also whipping up hysteria around the presence of Wagner troops on Belarus' territory.
"They went as far as to demand their immediate withdrawal from Belarus. At the same time, they themselves are increasing military budgets, amassing large military formations at our border," Lukashenko averred.
"Everything is simple: neither Poland, nor Lithuania or other Baltic countries should have a single foreign military officer or soldier on their territory.
"Only in this case they have the right to protest against the presence of the military from other countries here. Otherwise, these are unreasonable and stupid demands (not even requests and proposals, but demands)."

Alexander Lukashenko
Belarus said last month that Wagner forces had started training its special forces at a military range just a few miles from the border with Poland. Lukashenko has said that his army will benefit from being trained by Wagner.
Lukashenko says Belarus Is Poised To Restore Good Ties With Neighbours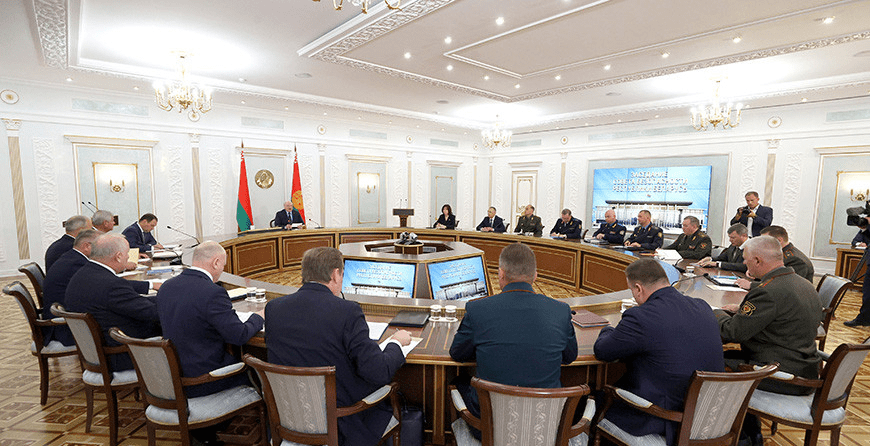 Also in his address, Lukashenko stated that Belarus is ready to restore good relations with its neighbours.
"However, in response to all our messages, we hear only accusations and threats. It means that they don't need any normalization at all," he noted.
Lukashenko pointed out that Belarus has invited Poland's representatives to observe the Collective Security Treaty Organization (CSTO) exercise Combat Brotherhood 2023, which will begin in Brest Oblast on Friday, September 1, 2023.
Earlier, Secretary of the Belarusian Security Council, Alexander Volfovich said that the upcoming exercises of the Collective Security Treaty Organization on the territory of Belarus are planned and open.
The joint training of the CSTO Troops is scheduled to take place from September 1 to September 6, 2023. The main purpose of the trainings is to improve coordination and coherence in the work of command and control bodies during the preparation and conduct of a joint operation.
The trainings also aim to improve the practical skills and abilities of commanders in leading military units and sub-units during combat and special operations.
In total, more than 2,500 military personnel and more than 500 units of weapons, military and special equipment have been said to participate in the trainings.
READ ALSO: U.S Deputy Secretary of Defense Highlights Innovation in Strategy to Counter Growing Size Of China's Military