In an address at Canada's Parliament, The President of Ukraine, Volodomyr Zelenskyy, averred that the ongoing war must end with Ukraine emerging victorious, "so that Russia will never bring back genocide to Ukraine and will never even try to do so."
He declared "Moscow must lose – once and for all. And it will lose!"
It was Zelenskyy's second address before the Parliament.
He had previously spoken to the Canadian legislature via video in March 2022, just weeks after Russia launched its full-scale invasion of his country.
Few other world leaders have had the opportunity to speak twice before Canada's Parliament.
Zelenskyy began his speech by recognising a monument in Edmonton, Alberta, that honours the victims of the Holodomor, sometimes called the Ukrainian Famine of 1932.
Zelenskyy noted that the monument was built to remember "the genocide against the Ukrainian people. The genocide ordered and perpetrated by Moscow."
"The first ever Holodomor monument in the world. At that time Ukraine did not yet have memorials commemorating the victims of genocide of Ukrainians. Because Ukraine was under Moscow's control back then."

Volodymyr Zelenskyy
He noted that coming Fall will mark the 40th anniversary of the monument in Edmonton.
"A lot has changed since then," he said, citing that Ukraine gained independence.
"But there is something that has not changed either in 40 years since the monument in Edmonton was built or in 90 years since the Holodomor," Zelenskyy averred.
"Moscow now as always is bent on controlling Ukraine and makes use of all available means to do that including genocide. It is genocide – what Russian occupiers are doing to Ukraine.
"And when we want to win, when we call-on the world to support us, it is not just about an ordinary conflict. It is about saving lives of millions of people."

Volodymyr Zelenskyy
He stressed that Russia's destruction of Ukrainian cities must not go unpunished.
"Life and justice must prevail – everywhere in Ukraine, for all Ukrainians," he added.
Also, Zelenskyy expressed his gratitude to Canada for its support to Ukraine.
Moreover, Zelenskyy asserted that Ukraine and Canada are the same, in the sense that both countries stand and fight for life. 
Ukraine, not genocide, will be victorious in this war. People will be the winners, not the Kremlin. Freedom will be the winner. Justice will be the winner.

Volodymyr Zelenskyy
Trudeau Pledges Aid To Ukraine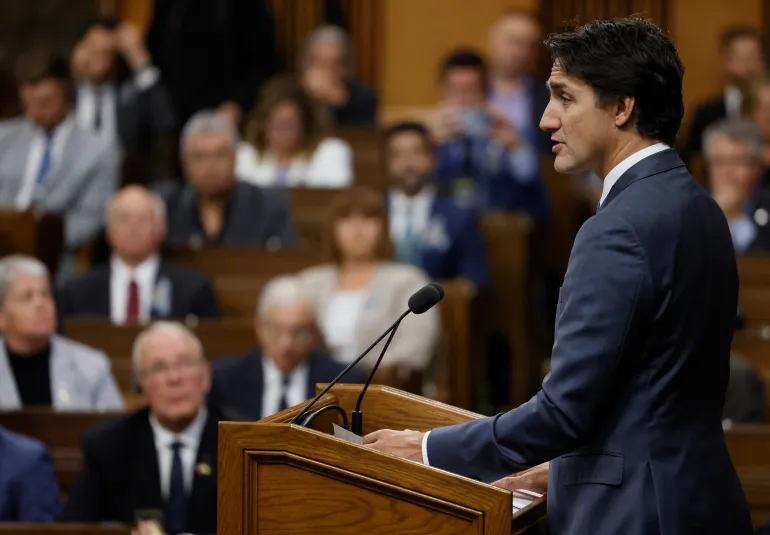 As Canadian Prime Minister, Justin Trudeau introduced Zelenskyy to address the Parliament, he pledged increased aid to Ukraine.
"Canada has provided nearly nine billion [Canadian] dollars in military, financial and humanitarian support to Ukraine since Putin began his war of aggression," Trudeau said.
"We are making a longer-term, multiyear commitment that provides predictable steady support to Ukraine. It will include 650 million [Canadian] dollars over three years for 50 armoured vehicles, including medical evacuation vehicles that will be built by Canadian workers in London, Ontario."

Justin Trudeau
Also, Trudeau announced funding for mental health initiatives led by Ukraine's First Lady, Olena Zelenska.
He stated, "The toll of this war on the mental health and wellbeing of Ukrainians is immeasurable."
Zelenska was in the audience, along with Ukrainian Defence Minister, Rustem Umerov and the family of a Canadian volunteer, Antony Ihnat, who was killed earlier this month during a Russian missile attack in Ukraine.
While much of the focus was on Russian aggression, Trudeau took a swipe at China as well in his introductory remarks.
"There are countries that are bending or breaking the rules," Trudeau said.
"In this era of uncertainty and resurgent great-power competition, rules are what will protect us. And it's not enough for them to be written down somewhere. We must advocate for them, stand up for them and live by them. History will judge us on how we defend democratic values."

Justin Trudeau
He called Ukraine "the tip of the spear" in that fight.
READ ALSO: Zelenskyy Meets Biden At The White House