North Korean leader, Kim Jong Un has met Russian President, Vladimir Putin at the Vostochny cosmodrome in Russia's far eastern Amur region.
For many, the meeting underscores how the two leaders' interests are aligning in the face of their separate, intensifying confrontations with the United States.
After Kim arrived at the cosmodrome by limousine, which was brought in his armored train from Pyongyang, Putin shook hands with him.
Russia state media quoted Kim as thanking Putin for the invitation to visit Russia, "despite being busy."
The two men began their meeting at the Vostochny Cosmodrome with a tour of a Soyuz-2 space rocket launch facility, at which Kim bombarded a Russian space official with questions about the rockets.
Vostochny Cosmodrome is Russia's most important domestic satellite launch center.
Following the tour, the two leaders headed a meeting of their delegations, and then had a one-on-one meeting.
In his opening remarks, Putin noted that he was very glad to see and welcome Kim again in Russia.
The North Korean leader's last visit to Russia was in 2019.
Putin asserted that their meeting was taking place at a very special time.
"Most recently, the Democratic People's Republic of Korea celebrated 75 years of its creation and foundation. Seventy-five years of establishment of diplomatic relations between our countries. Let me remind you that it was our country that was the first to recognise the sovereign independent state – the Democratic People's Republic of Korea."
"Then very soon we will celebrate the 70th anniversary of the end of the War of independence and the victory of the Korean people in this war. This is a landmark date, because our country also helped our friends in the Democratic People's Republic of Korea to fight for this independence."

Vladimir Putin
Also, Putin listed economic cooperation and humanitarian issues among the agenda items for their talks. "We have a lot of questions, " he said.
"I want to say that I am very glad to see you. Thank you for accepting the invitation and coming to Russia, " he told Kim.
Kim Promises To Support Putin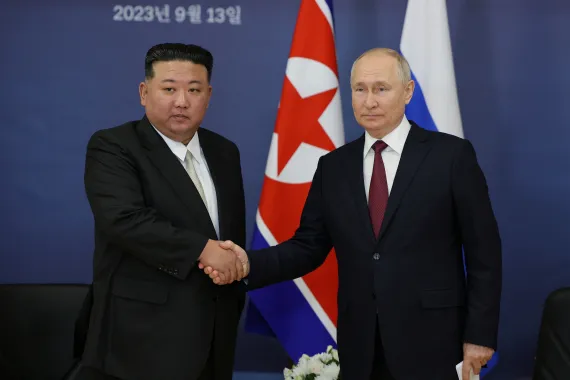 On his part, Kim Jong Un expressed his gratitude and support for Putin.
"Russia has risen to a sacred fight to protect its sovereignty and security … against the hegemonic forces. We will always support the decisions of President Putin and the Russian leadership … and we will be together in the fight against imperialism."

Kim Jong Un
Kim noted that the Soviet Union played a very big role in the liberation of North Korea.
"Our friendship has deep roots, and now relations with the Russian Federation are the first priority for our country. I am sure that our meeting will be the next step to take relations to a new level."

Kim Jong Un
Meanwhile, Kremlin Spokesperson, Dmitry Peskov was quoted by a Russian news agency as saying that Russia's position on the UN Security Council's sanctions against North Korea will not prevent the development of ties between Moscow and Pyongyang.
"Russia maintains its position in the United Nations, in the Security Council, but this cannot and should not, and will not be an obstacle to the further development of Russian-North Korean relations," the Kremlin spokesman said.
In 2017, as Kim accelerated his country's nuclear and missile tests, Russia supported stringent Security Council sanctions that included limiting oil supplies and cracking down on the country's labour exports.
READ ALSO: Kishida Set To Reshuffle Cabinet