In an apparent show of support, Yoon Suk Yeol, the President of South Korea, made a surprise visit to Ukraine on Saturday, July 15, 2023.
According to Yoon's office, he traveled to Ukraine with his wife, Kim Keon Hee, following trips to Lithuania for a NATO summit and to Poland.
Meanwhile, Yoon and his wife's visit came two days after Russia launched another barrage of Iranian-made drones at the Kyiv region. Ukrainian officials said that their air defenses intercepted the drones but that wreckage fell on four districts of the capital.
This is Yoon's first visit since Russia invaded Ukraine almost 17 months ago.
"The President first toured the Bucha city massacre site near the capital Kyiv and the city of Irpin, where missile attacks were concentrated on civilian residential areas," Yoon's office disclosed.
Yoon laid flowers at a monument to the country's war dead.
Yoon's Senior Adviser for press affairs, Kim Eun-hye, noted in a statement that the South Korean President was scheduled to have discussions with Ukrainian President, Volodymyr Zelenskyy later in the day.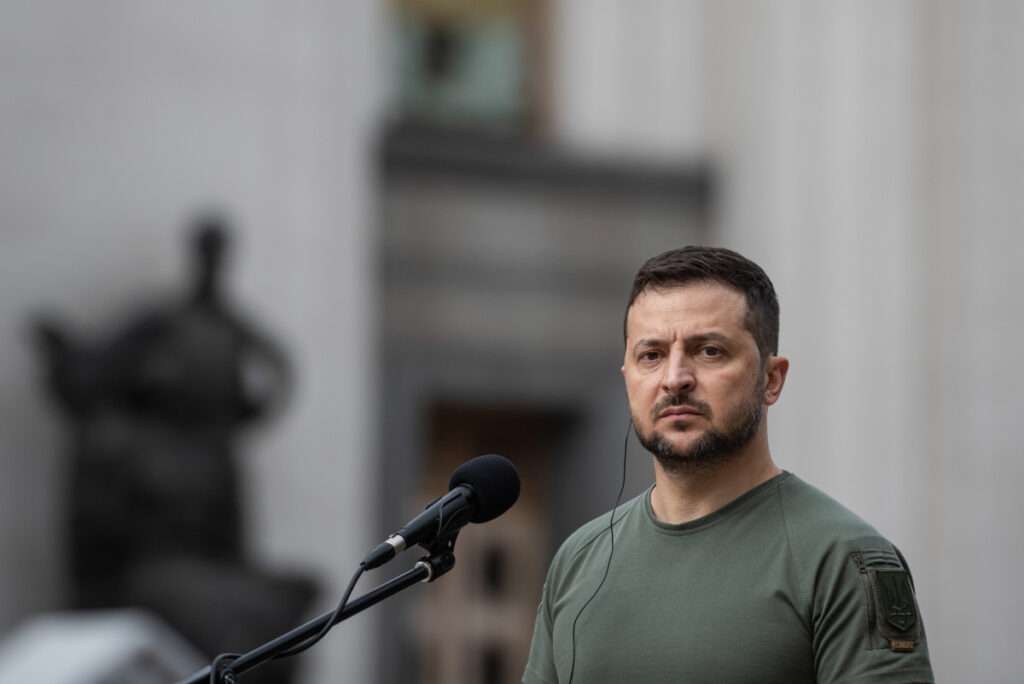 South Korea, an important U.S. ally in Asia, joined international sanctions against Russia and has provided Ukraine with humanitarian and financial support to Ukraine.
However, the Asian nation, a growing arms exporter, has not provided weapons to Ukraine. This is because of its long-standing policy of not supplying arms to countries actively engaged in conflict.
South Korea has faced renewed pressure to provide weapons to Ukraine. During a January visit to the country, NATO Secretary-General, Jens Stoltenberg called for Seoul to provide direct military support to Ukraine, saying that Kyiv was in urgent need of weapons to fight off the prolonged Russian invasion.
Nonetheless, Yoon announced this week that his administration was preparing to send de-mining equipment and ambulances, following a request from Ukraine, and will join NATO's trust fund for Ukraine.
Moreover, South Korea's Ministry of Land, Infrastructure and Transport disclosed on Friday, July 14, 2023, that it planned to support the reconstruction of Ukraine's infrastructure, such as transportation, energy and industry.
South Korean companies and companies in Ukraine and other countries also signed agreements on Friday to cooperate in the reconstruction of Ukraine, the ministry said in a statement.
A Very Significant Visit
Ramon Pacheco Pardo, the Korea Chair at the Brussels School of Governance, opined that although Yoon's visit was not entirely unexpected, it is "very significant" given that few other Asian leaders have visited Ukraine.
Pardo noted that whether Yoon's visit signals a shift in policy towards providing more support for Ukraine remains to be seen, but the trip suggests a stamp of approval from Kyiv for the aid that Seoul has sent so far.
Although Kyiv did not come under attack in the hours before the South Korean President's arrival, the Ukrainian air force reported on Saturday that their forces downed 10 Russian drones across the country on Friday as well as overnight.
In a Telegram post, the air force added that Moscow fired six Iranian-made Shahed drones at Ukraine's south and east during the night, four of which were shot down. It did not immediately give details of any casualties or damage.
Governor Yurii Malashka reported that in southern Ukraine's Zaporizhzhia province, where Ukraine has been engaged in a counteroffensive to take back occupied territory, there were 45 air and artillery attacks between Friday and Saturday.
Russian forces shelled neighboring Kherson province 70 times over the same period, using mortars, artillery, drones, tanks, aviation and multiple rocket launchers, Governor Oleksandr Prokudin disclosed on Saturday. No civilians were wounded, he added.
READ ALSO: NPP Flagbearer Race: Kwabena Agyepong Is The Only Person Who Has Impressed Me- Ablakwa