Report from officials suggests that dozens of people have died as a result of Russian missile strikes on Ukraine's second city, Kharkiv.
According to the Interior Ministry, in a Facebook post, it noted that "Kharkiv has just been massively fired upon by grads [rockets]. Dozens of dead and hundreds of wounded."
The attack came on the fifth day of the Russians invasion as negotiators from both parties hold talks in Belarus.
Videos circulating on social media showed rockets landing in Kharkiv, in what some defence analysts described as typical of a cluster munition strike on a dense urban area.
Meanwhile, Russia has already denied targeting residential areas.
Russia is attacking Ukraine on several fronts, but its advance has slowed down due to Ukrainian resistance.
According to the UK's Ministry of Defence, in Ukraine's capital, Kyiv, the Russian forces are about 30km (19 miles) outside the north of the city. But entry into the city has slowed as a result of fierce Ukrainian resistance.
Street-level fighting continues in several parts of the city. Despite the danger, a two-day curfew has been lifted, with residents emerging from underground shelters to buy food and gather supplies.
'Happy to stay alive'
Kasenya, one of the residents who spent more than 36 hours underground said she had managed to get home.
"I can't describe how I am feeling, I'm happy to stay alive and safe and just have the possibility to see my splendid and beautiful Kyiv."

Kasenya, one of the residents
Meanwhile, on the northern border with Belarus, Ukrainian and Russian officials are meeting for the first time to begin negotiations.
Hopes for a breakthrough are slim, but Ukrainian President, Volodymyr Zelensky, stated that there was a "small chance to end the war".
The UN human rights UNHCR Chief, Michelle Bachelet, averred millions of civilians are being forced to huddle in makeshift bomb shelters such as underground rail stations to escape explosions.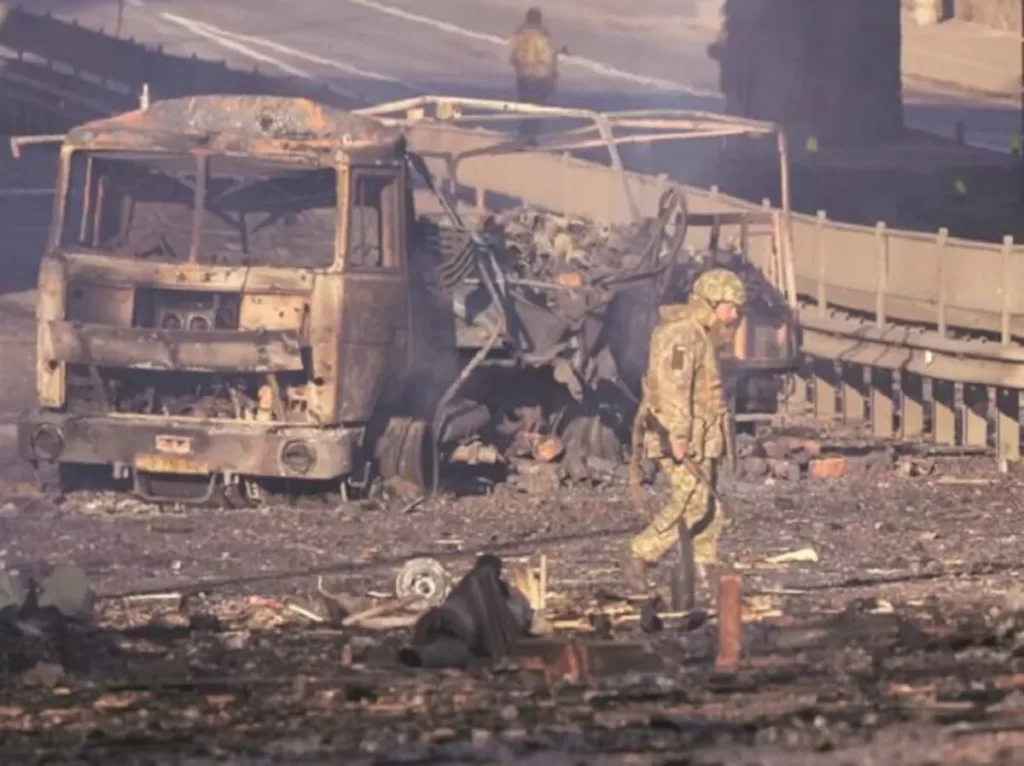 According to Bachelet, since the beginning of the invasion on Thursday, February 24, 2022, her office has recorded at least, 102 civilian deaths, including seven children, and more than 300 injured.
"The real figures are, I fear, considerably higher."

UNHCR Chief, Michelle Bachelet
To the north and northeast, Kharkiv and Chernihiv were bomb-shelled by Russian forces overnight but remain in Ukraine's control. Shells landed near a shopping centre in Kharkiv during the day, while fighting continued in the streets.
To the south, Russian forces are trying to take control of the key strategic port of Mariupol, near Russia's annexed Crimea. Ukraine has denied reports that Zaporizhzhia, home to Europe's largest nuclear power plant, has fallen into Russia's hands.
Human rights group, Amnesty International, also accused Russia of indiscriminate use of weaponry on populated areas, something it said could constitute a war crime.
On Monday, February 28, 2022, Lithuania's government said it would ask prosecutors at the International Criminal Court (ICC) in The Hague to investigate "war crimes and crimes against humanity" in Ukraine.
Other Developments
As a result of the war, Russia has more than doubled its interest rate to 20%. This is all in a bid to halt a slump in the value of its currency after the imposition of sanctions.
The UN General Assembly is holding a rare special session to discuss Russia's invasion, opening with a minute's silence for Ukraine. The UN also disclosed that more than half a million people have fled their homes to escape the war in Ukraine.
The Kremlin has disclosed that President Vladimir Putin, has put Russia's nuclear forces on high alert after comments by UK Foreign Secretary, Liz Truss among others.
Mr. Putin, in a telephone conversation with French President, Emmanuel Macron, has called for Moscow's legitimate security interests to be addressed.
Football's governing body, FIFA, has also suspended Russia until further notice. FIFA earlier ordered Russia to play matches without its flag and anthem at neutral venues, warning the country could be excluded from competitions if the situation in Ukraine does not improve.
READ ALSO: UTAG Strike: Government is determined to find a satisfactory solution – President Akufo-Addo