For the very first time in over a decade of a German led Angela Merkel Chancellorship, Germans will finally decide what post-Merkel Germany will look like.
Armin Laschet, Olaf Scholz and Annalena Baerbock are in the race of Germany's Chancellor hopefuls to replace Chancellor Angela Merkel in the upcoming Sunday 26th September 2021 elections.
The political race to succeed Chancellor Merkel has become relatively tight, as political analyst (observers) disclose may result in a delay for weeks to declare the ultimate winner after the polls close.
As disclosed by political analysts, whoever emerges victorious should be prepared to face a catalogue of challenges, both at home and internationally.
The Chemist turned political overlord, Chancellor Merkel, has been an epitome of sustained stability since she assumed the political role in 2005.
She has over the years of her leadership experienced and withstood "a wave of populism, a financial crisis, a pandemic and Brexit" to create an all-time impressive political legacy, as the world's most successful female leader, Rob Plcheta, a CNN reporter disclosed.
Despite these political and economic wealth of experiences, Merkel, now 67 years old, has agreed to step down pending the Sunday's elections outcome.
According to Pepijn Bergsen, a Research Fellow, who monitors the country for Chatham House, an international think tank, disclosed that, as compared to the 2013 and 2017 elections, there will be "much more chance of a significant shift in German politics and policy after the elections".
Merkel's exit and legacy
Chancellor Merkel's exit from active front lines of global politics has been long coming, since she first announced in 2018 that she would not be seeking for re-election at the end of her 4th term in office, in view of a series of setbacks in regional elections.
It is with no doubt her Chancellorship has outlived five (5) United Kingdom (UK) Prime Ministers, four (4) French Presidents, seven (7) Italian Prime Ministers and four (4) American commander-in-chief.
The Research Fellow, Pepijn Bergsen disclosed that her long-term leadership "worked well for her in Germany and on the world stage".
Bergsen revealed that "Germany has done very well over the last 15 years from an economic perspective. Germany didn't do that badly during the financial crisis".
Her term of leadership has been remarkably eventful, as her reputation over the years has earned an international reputation for "stability and level-headedness".
As part challenges Merkel faced in office were the European refugee crisis in the mid-2010's, which became a challenge to the Christian Democratic Union (CDU), Merkel's political party.
With regards to how Merkel handled the Covid-19 pandemic as compared to her European neighbours, political analysts disclosed, this has earned Merkel the respect of a majority of Germans.
Ben Schreer, from the International Institute for Strategic Studies' (IISS), disclosed that "she [Merkel] is seen very positively in Germany, because she is associated with stability – people who know what they are getting".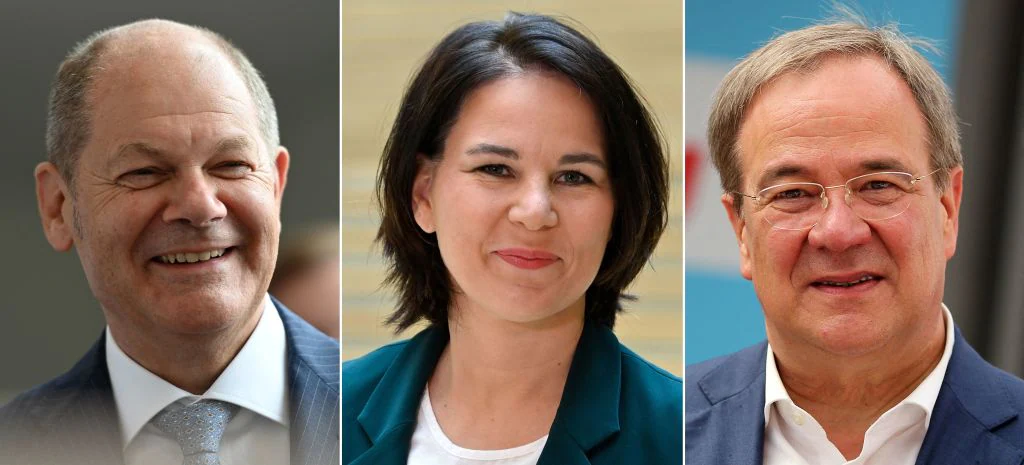 Chancellor aspirants' profile
Armin Laschet, a long-time ally of Merkel and CDU's Deputy Leader since 2012 is Chancellor Merkel's immediate successor at the helm of the CDU.
Laschet is a devout Catholic and has a background in law and journalism. He was first elected to the German Federal Parliament 'Bundestag' in 1994.
Laschet's topmost rival, Olaf Scholz, a member of the Social Democratic Party (SPD), has served as Merkel's Finance Minister and Vice Chancellor since 2018. This places him at a neutral advantage as a successor to Merkel than Laschet.
Annalena Baerbock, a former professional Trampolinist, and the Green Party Leader, who now stands in a political league dominated by men, has capitalized on voter's climate concerns to establish her group as a third party in the race.
In the meantime, German politics is dominated by two (2) parties, the centre-right CDU and the left-leaning SPD. Other political parties such as the Annalena Baerbock led Green Party, began to gain popularity during the last decade, as the CDU and SPD began to lose grounds.
READ ALSO: Make CBG a preferred digitally inclined SME Bank – Hon. Abena Osei Asare