President of Ukraine, Volodymyr Zelenskyy has addressed a large crowd outside Danish parliament.
His speech came after he and First Lady Olena Zelenska met with Queen Margrethe II of Denmark and members of the Royal Family, Crown Prince Frederik and Crown Princess Mary.
During the meeting, Zelenskyy highly commended the Royal Family's support for the humanitarian efforts of Danish and international organizations operating in Ukraine.
"The statements and actions of the Royal Family of Denmark in support of Ukraine and the Ukrainian people are very important to us," Zelenskyy noted.
In his address to the cheering crowd, Zelenskyy recalled Danish Prime Minister, Mette Frederiksen's visit to Kyiv on April 21, 2022, saying that "these were harsh days for Ukraine. For all our people, children, for everybody."
"Today, almost a year and a half after your visit to Ukraine, Madam Prime Minister, we can openly say that the majority of the world is like Denmark – now with us. We feel it. It's a great support for us."

Volodymyr Zelenskyy
Zelenskyy acknowledged that when the first Russian missiles hit Ukrainian cities, "the risk was simply insane."
"The risk that Europe will again lose itself, as it had already happened in our history," he averred.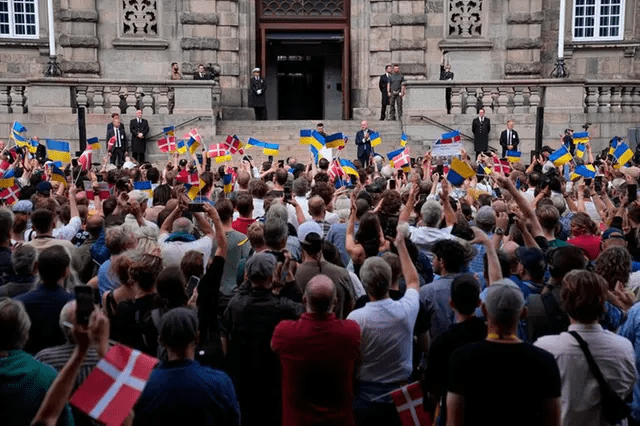 "It was a risk that tyranny would win again. It was a risk that the culture would lose again," he added.
"And the worst thing is that respect, which is the basis of our free and united Europe, could be destroyed. Respect for every nation, for every community, for every person.
"When Europe is not ruled by respect, dictatorships would dominate Europe. And we saved our Europe from this. Saved together!"

Volodymyr Zelenskyy
Also, Zelenskyy stressed, "We will never allow Ukraine or any other country to become the same territory of disrespect for people, life, and human diversity as the Russian state has become and wants to make other countries."
He added, "We have to always remember what stands against us. And until the victory comes, we have to act the way we do with you, Denmark!"
Additionally, he thanked I thank Denmark for "all the weapons you're giving to protect freedom and for F-16s we agreed on."
Zelenskyy Expresses Confidence In Russia Losing Ongoing War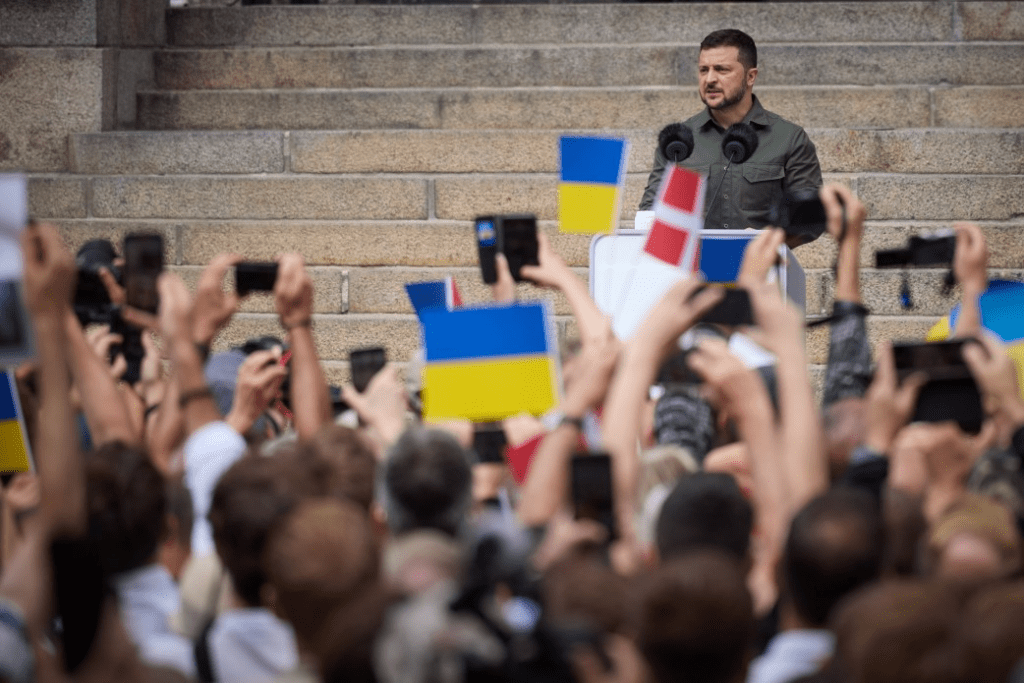 Moreover, Zelenskyy declared that he is "confident" Russia would lose the war in Ukraine.
"Today we are confident that Russia will lose this war… I'm sure that we will win because the truth is on our side," Zelenskyy said as the crowd cheered and waved Ukrainian flags.
"But this is not the only main thing. The main is what we prove with our victory, with our cooperation, what you prove supporting Ukraine.
"Together we prove that life is a value, that people matter, freedom matters, Europe matters. I'm sure it will be written in history also due to you, being with Ukraine."

Volodymyr Zelenskyy
He added, "I'm sure that we will win because truth is on our side. All our people are waiting for this moment."
"It will be a common victory of truth, of democracy, of our nations," he iterated.
"Thank you very much for your support! After the victory we'll come to you! Maybe, it's not traditional to hear it from the President but I want to say it. Yes, we will come to you, sit together somewhere and we'll say "Skål."

Volodymyr Zelenskyy
He concluded his speech by saying "Slava Ukraini" which means "Glory to Ukraine."
READ ALSO: Coal Miner Exxaro Plans to Build Cash Pile Close to $800 million to Widen Search for Critical Mineral Targets