Ukrainian President, Volodymyr Zelenskyy has made a trip to Greece for discussions with the country's leadership and to attend an informal meeting of Balkan leaders with top European Union officials.
This visit marks Zelenskyy's first official visit to Greece, and the first since the Russian invasion of Ukraine making it particularly significant.
Greece's Prime Minister, Kyriakos Mitsotakis, welcomed Zelenskyy at the Maximos Mansion in Athens.
As part of his itinerary, Zelenskyy held talks with the Greek Prime Minister and was also scheduled to later meet with President Katerina Sakellaropoulou.
Before landing in the Greek capital, Athens, Zelenskyy announced that the discussions would be wide-ranging. He noted on the X social media platform, formerly known as Twitter that aside from "substantive negotiations" with Mitsotakis, the two leaders would be discussing Ukraine's bid to join the EU.
"The agenda is all that we can do together to protect human life and freedom in our common European home," Zelenskyy noted.
"The Ukraine-Balkans Summit: a joint meeting with Balkan leaders, coordination of European and Euro-Atlantic integration, defence cooperation, security. Also, separate talks on bilateral issues. A meeting with President of the European Commission Ursula von der Leyen.
"Every day we add strength to our state, our soldiers and our cooperation with partners."

Volodymyr Zelenskyy
Zelenskyy and Mitsotakis also signed a joint declaration on Greece supporting Ukraine's NATO accession, "when allies agree and conditions are met."
"The Hellenic Republic is is committed to participate together with international organizations, allies and partners in the recovery and reconstruction of Ukraine after the war," the joint declaration read.
At a press conference with Zelenskyy, Mitsotakis criticized Russia's aggression in Ukraine, saying that war crimes that have taken place in the country "must be punished under international law."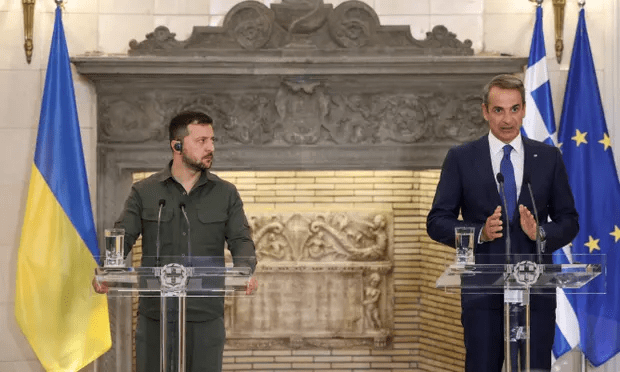 Mitsotakis added that his country had not only supported sanctions against Moscow despite their negative impact on its economy but had actively championed its EU integration with delegations in Athens signing an agreement outlining Ukraine's Euro-Atlantic perspectives.
He pledged to "stay on the side of the government and the heroic people" of Ukraine, "however much time may be required to achieve that sacred target."
He also said that Greece would participate in the "titanic" reconstruction project in Ukraine when the fighting is over.
Greece To Participate in Training of Ukrainian Pilots
Meanwhile, Ukrainian President, Volodymyr Zelenskyy announced that Greece will take part in training of Ukrainian air force pilots for F-16 jets.
"Today, we have the important result for aviation coalition. Greece will participate in training of our pilots for F-16. I am grateful for this proposal," Zelenskyy said during the joint press conference.
He did not provide details of the training programme. Officials from a coalition of 11 nations have said F-16 training will take place in Denmark and Romania.
Zelenskyy disclosed that he outlined to the Greek Prime Minister Kyiv's priorities in the war and highlighted the contribution of Greek shipping companies to Ukrainian grain exports.
Mitsotakis' government has stood by Kyiv since Moscow launched its full-scale invasion last February.
According to Mitsotakis's office, Zelenskyy is to join an informal dinner organised by Mitsotakis for top officials from nine Balkan nations, European Commission President Ursula von der Leyen and European Council head Charles Michel in the evening.
Dinner guests are scheduled to discuss the Western Balkans region's future in the EU, which many countries have already joined and others are struggling to enter.
READ ALSO: Coal Miner Exxaro Plans to Build Cash Pile Close to $800 million to Widen Search for Critical Mineral Targets