The President of the Republic of Haiti was assassinated in a barbaric attack at his home, and now his wife has yielded to bullet injuries at a hospital.
President Jovenel Moïse was killed at his private home in the Caribbean country. It was first reported that, First Lady, Martine Moïse sustained severe injuries after being hit by a bullet during the attack and was rushed to hospital. However shortly after her arrival, she also died.
Speaking on a local radio station, Prime Minister, Claude Joseph confirmed President Moïse, had been killed, claiming that the attack was carried out by an "armed commando group" that included foreigners.
According to some reports and videos published, Moïse's killers had claimed to be members of the US Drug Enforcement Administration (DEA) as they entered his guarded residence.
In videos circulating on social media, a man with an American accent is heard saying in English over a megaphone: "DEA operation. Everybody stand down. DEA operation. Everybody back up, stand down".
A high-ranking Haitian government official said: "These were mercenaries".
That notwithstanding, residents also reported hearing gunshots and seeing men dressed in black running through the neighborhood.
The attack took place at Moïse's house in the Pelerin 5 district of Pétionville. According to reports, "it is a wealthy area with, substantial and leafy villas in the hills above the capital, Port-au-Prince, with a reputation for being safe".
Prime Minister Joseph said in a statement quoted in the media:
"Around one o'clock in the morning, during the night of Tuesday 6 to Wednesday 7 July 2021, a group of unidentified individuals, including some speaking Spanish, attacked the private residence of the President and fatally injured the head of state".
Prime Minister Joseph sought to reassure Haitians, saying the security situation in the country remained calm.
He further condemned that the act, emphasizing that it is "odious, inhuman and barbaric"
This tragic incident happened barely 24 hours after Moïse had named a new Prime minister, Ariel Henry, to take charge as head of the government and prepare the country for presidential elections in the next two months.
Meanwhile, some leaders and heads of state have sent condolences to the family of the assassinated President.
Boris Johnson, the UK prime minister, after learning of the attack said: "I am shocked and saddened at the death of President Moise. Our condolences are with his family and the people of Haiti. This is an abhorrent act and I call for calm at this time".
That notwithstanding, the assassination is likely to plunge the Caribbean nation into further turmoil after several years marked by political unrest and violence. The US embassy said it would be closed on Wednesday due to the "ongoing security situation" while the White House said the president, Joe Biden, was due to be briefed on the attack. Haiti. Haiti. Haiti. Haiti
The White House press secretary, Jen Psaki, said on MSNBC "We're still gathering information. We're still assessing right now".
"It's a horrific crime. We stand ready and stand by them to provide any assistance that's needed".
As details of the assassination emerged, the Colombian president, Iván Duque, also called on the Organization of American States to send an urgent mission to "protect the democratic order in Haiti". Haiti
President Moïse's time in office had been marked by an increase in political instability, allegations of corruption, and a long-running dispute about when his period in office should end. He had been ruling by decree for more than a year after the country failed to hold legislative elections and wanted to push through controversial constitutional changes.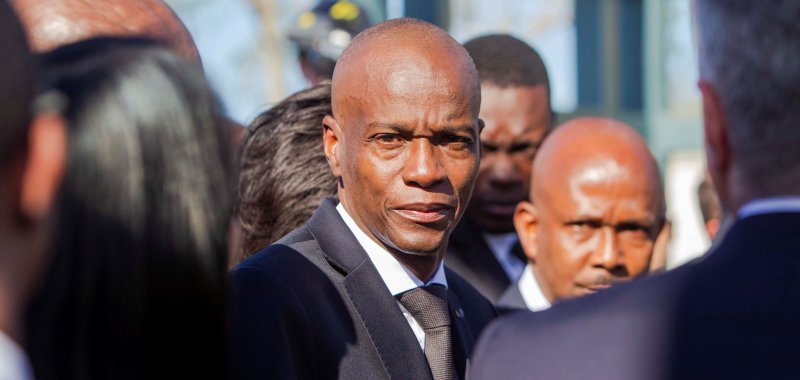 There have been intermittent periods of protests and street violence and a rise in gang violence, some of it tied to political parties.
Earlier this year amid allegations by Moïse of a coup attempt that planned to "murder him" and fresh protests, he moved to protect his position, ordering the arrest of 23 people including a supreme court judge and a senior police official, while declaring he was "not a dictator".
Opponents had also accused Moïse's government of fueling political violence by providing gangs with guns and money to intimidate his adversaries.
Read also: Reactions as South Africa's top court sentences ex-President Jacob Zuma