The growth of the ride hailing industry in sub-Saharan Africa (SSA) offers automakers and car dealers an opportunity to develop a new vehicle sales market on the continent, according to Fitch Solutions.
This is because the majority of markets in SSA are characterized by low incomes and high borrowing costs which tend to impede the development of a new vehicle sales market. In addition, liberal regulations covering the importation of used vehicles intensify the pressure towards the development of a new vehicle sales market.
"Ride hailing services provide automakers and car dealers an opportunity to tap into sub-Saharan Africa's new vehicle market. [This is possible] through rent-to-own and flexible vehicle financing options as ridership revenues provide an income stream for repayment arrangements."

Fitch Solutions
Based on the 'vehicle ownership per 1,000 people' indicator in the Autos Sales Risk/Reward Index (RRI), the SSA region scored 18.0 out of a possible 100, compared to the global average of 50.0.
Accordingly, only three countries (Mauritius, Gabon and Botswana) managed to achieve scores higher than the global average of 50.0 out of the 19 countries covered in SSA.
Meanwhile, different service offerings that meet the financial standings of SSA's commuters will positively impact a wide range of vehicle segments. These vehicle types include motorcycle, minibuses and passenger vehicles.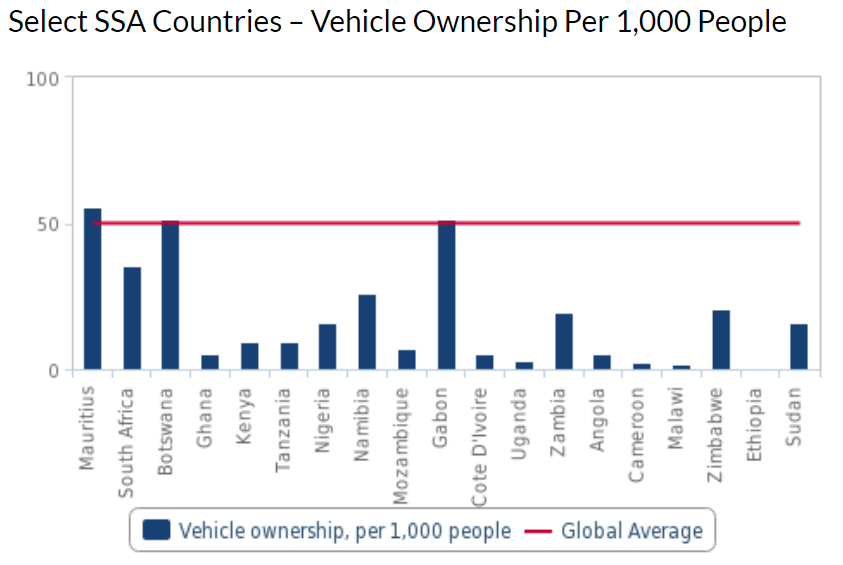 Flexible Financing Solutions for Ride Hailing Sector
Although burgeoning in the region, the ride hailing sector has the potential to become a key driver of a new vehicle sales market in SSA. This is likely the case, as it allows for income earned through rides to contribute towards down-payments for new vehicles.
According to Fitch Solutions, automakers and car dealers have an opportunity to tap into the sector. This could be achieved by partnering with financial intermediaries such as commercial banks and fintech start-ups. These financial institutions provide tailor-made vehicle financing solutions intended for ride hailing services.
Using very flexible repayment options, they offer a less risky way for the financial sector to extend loans intended to purchase new ride-sharing vehicles in the region.
However, vehicle financing in SSA is often marred by a lack of credit bureau databases that financial intermediaries cannot access for successful vehicle finance applications. Also, traceability concerns are prevalent as lenders have difficulties in verifying borrowers' addresses.
Despite the opportunities in the ride hailing sector in terms of the demand for a wide range of vehicle types, there are imminent near term risks.
According to Fitch Solutions, these risks are in the form of regulatory pushbacks from governments and retaliatory actions. Specifically, these actions include intimidation tactics by traditional transport operators that would feel marginalized by the entry of more fierce competition.
"We view these risks as being short-term in nature and only lasting until well-established players in the public transportation scene embrace on-demand and digitally enabled transport options for commuters."

Fitch Solutions
READ ALSO: Too Much Political Interference, Biggest Pain Point in Running TOR, BOST- Dr Acheampong