Aid organization, Save the Children, has indicated;that foreign aid cuts by the UK will put tens of thousands of children at risk of famine. According to a charity's analysis, Britain is set to spend 80% less on the feeding of children in poorer nations;than before the pandemic.
Last year, the UK government announced it would slash aid funding from 0.7% of gross national income to 0.5%. The cuts, experts say, are not split evenly, with some programmes funding reduced by up to 85%.
Save the Children noted;that, as a result of the cuts, the British government will spend less than £26m this year on vital nutrition;services in developing countries. This, it signalled, represents a drop of more than three-quarters from 2019.
Also, the organization revealed;that, the Foreign, Commonwealth and Development Office (FCDO) funding to nutrition which was £396m in 2019 is estimated;to be £218m in 2021, a 45% cut.
Additionally, UK aid funding to basic nutrition which was;£122m in 2019 and £111m in 2020 is now £26m in 2021, an 80% cut, it said. Pandemic-related increases in malnutrition could result in 4.4 million years in lost education the group warned.
The estimate of the effect of aid cuts on nutrition comes after the Global Report on Food Crisis, published;earlier this week, showed that over 155 million people are facing food shortages.
UK aid strategy 'incoherent and inconsistent'
Addressing the issue, Kirsty McNeill, executive director at Save the Children UK, described the UK's aid strategy as "incoherent and inconsistent".
"We are looking at the near-collapse of British help for hungry children in some of the world's poorest and most dangerous countries, including Yemen, Somalia, and Sudan. Ending preventable child deaths will never;be achieved;when we ignore the role prolonged malnutrition plays in the development of a child and their future quality of life."
Simon Bishop, the CEO of The Power of Nutrition, a foundation set up to tackle underfunding, added that it "simply isn't credible" for Britain to claim global leadership in tackling hunger while slashing aid.
"People see right through it. It amounts to 'hollow' global Britain – a slogan with nothing tangible behind it. What makes this so sad and self-defeating is that Britain has been a genuine global leader in this area for the last decade, saving lives and getting huge soft power from doing it. That's all now rapidly disappearing down the drain."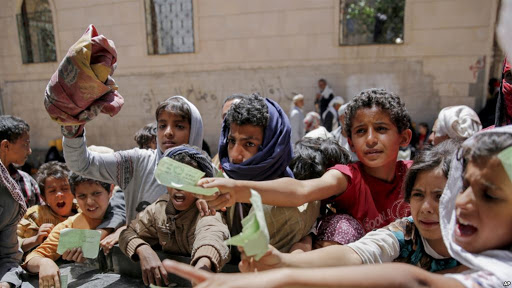 Other sectors have also been affected by the UK aid cuts. This includes the Tropical Health and Education Trust (THET), which revealed the government has cut £48m in funding for global health training.
The International Rescue Committee (IRC) has also indicated that the government had cut 75% of its funding for Syria, where more than 12 million people have been displaced by conflict. This, the committee said, has resulted in an immediate end to projects supporting tens of thousands.
The IRC added that it was particularly concerned about women and girls living in camps in north Syria who will no longer have access to safe spaces or services.
Read Also: Second batch of military force deployed to mining sites