President Joe Biden and House Speaker Kevin McCarthy are slated to meet at the White House on Monday, May 22, 2023, afternoon as the administration works to strike a budget compromise and raise the nation's debt ceiling in time to avert a devastating federal default.
During the President's Air Force One flight home from the Group of Seven summit in Japan on Sunday, May 21, 2023, Biden and McCarthy had a phone conversation.
Negotiators gathered for two and a half hours at the Capitol late on Sunday night after the call restarted negotiations, but they did not say much as they were leaving.
McCarthy told reporters earlier on Sunday that his conversation with President Biden was "productive" and that spending cuts had been the main topic of the on-again, off-again talks between his staff and White House representatives.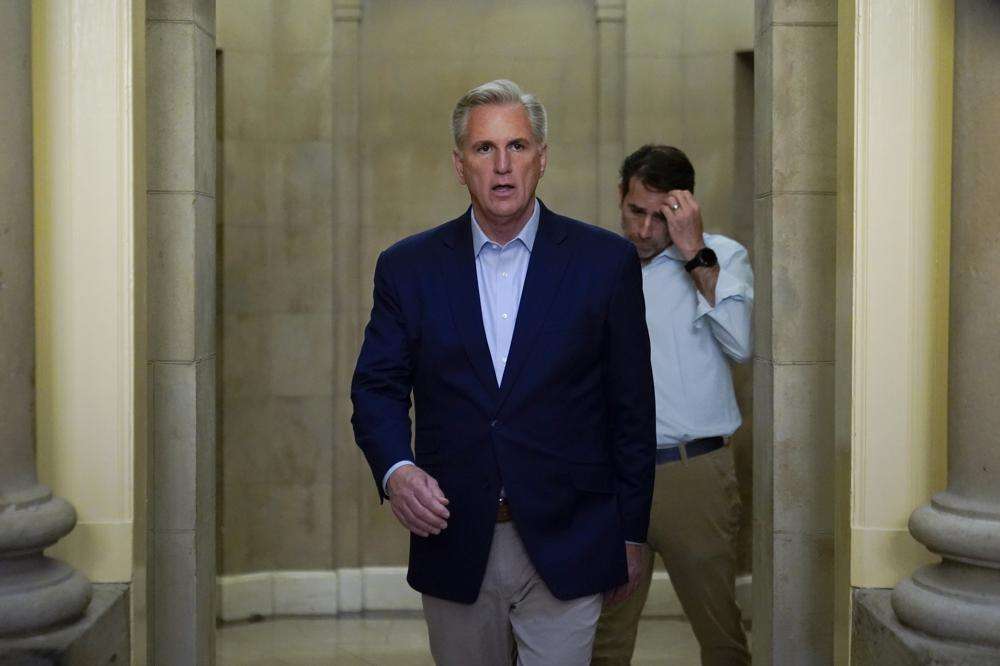 "I think we can solve some of these problems if he understands what we're looking at. But I've been very clear to him from the very beginning. We have to spend less money than we spent last year."

Kevin McCarthy
An agreement's general parameters seem to be within reach, and the focus of the talks has shifted to a budget year cap for 2024 that is essential for ending the standoff. Democrats have refused to accept the further cuts McCarthy's staff initially suggested, despite Republican demands that spending cannot exceed current 2023 levels in the upcoming year.
Republican lawmakers have refused to budge from their demands for significant spending cuts and restrictions on future spending, rejecting the White House's alternate suggestions for cutting deficits in part with revenue from taxes.
Republicans want to roll back next year's spending to 2022 levels, but the White House has proposed keeping 2024 the same as it is now, in the 2023 budget year. Republicans also want work requirements on the Medicaid health care program, though the Biden administration has countered that millions of people could lose coverage.
Republican lawmakers are also seeking cuts in IRS money and, by sparing Defense and Veterans accounts from reductions, would shift the bulk of spending reductions to other federal programs.
The White House has countered by keeping defense and nondefense spending flat next year, which would save $90 billion in the 2024 budget year and $1 trillion over 10 years.
A Separate Vote To Lift The Debt Ceiling
A budget deal will pave way for a separate vote to lift the debt ceiling, now $31 trillion, to allow more borrowing to pay bills already incurred bills. U.S Treasury Secretary, Janet Yellen opined on Sunday that June 1 is a "hard deadline."
Earlier, Biden used his concluding news conference in Hiroshima, Japan, to warn House Republicans that they must move off their "extreme positions" over raising the debt limit and that there would be no agreement to avoid a catastrophic default only on their terms.
Biden averred, "it's time for Republicans to accept that there is no deal to be made solely, solely, on their partisan terms." He said he had done his part in attempting to raise the borrowing limit so the government can keep paying its bills, by agreeing to significant cuts in spending. "Now it's time for the other side to move from their extreme position," Biden iterated.
Biden had resisted engaging in debt ceiling negotiations for months, claiming that Republicans in Congress were attempting to exploit the debt ceiling vote to gain concessions from the administration on other policy issues.
However, with the potential June 1 deadline drawing near and Republicans putting their own legislation on the table, the White House started negotiating a budget agreement that might go along with raising the debt ceiling.
READ ALSO: Forex Bureaus Association of Ghana Predicts the Cedi to Appreciate Against the Dollar Due to Creditor assurance of $3bn IMF loan