Former President Donald Trump's firm, Trump Organization was fined a whopping sum of $1.6 million on Friday, January 13, 2023 as punishment for an arrangement in which the top executives evaded personal income taxes on lavish job.
A fine was the only penalty a judge could impose on the Trump Organization for its conviction last month for 17 tax crimes, including conspiracy and falsifying business records. This is because the Trump Organization is a corporation and not a person.
The amount imposed by Judge Juan Manuel Merchan was the maximum allowed by law, an amount equal to double the taxes a small group of executives avoided on benefits including rent-free apartments in Trump buildings, luxury cars and private school tuition.
Trump himself was not on trial and denied any knowledge of his executives evading taxes illegally.
While the fine which is less than the cost of a Trump Tower apartment, is not big enough to impact the company's operations or future, the conviction is a stain on Trump's reputation as an astute businessman as he mounts a campaign to regain the White House.
Neither the former President nor his children, who helped manage and promote the Trump Organization, were in the courtroom for the sentence hearing.
Prosecutor Joshua Steinglass noted that the fine constitutes "a fraction of the revenue" of the Trump Organization and that the scheme was "far-reaching and brazen."
"All of these corrupt practices were part of the Trump Organization executive compensation package, and it was certainly cheaper than paying higher salaries to those executives."

Joshua Steinglass
Besides the company, only one executive was charged in the case; former Trump Organization Chief Financial Officer, Allen Weisselberg, who pleaded guilty last summer to evading taxes on $1.7 million in compensation.
Weisselberg has been sentenced to five months in jail.
Trump has argued that the case against his company was part of a politically motivated "witch hunt" waged against him by vindictive Democrats. The company's lawyers have vowed to appeal the verdict.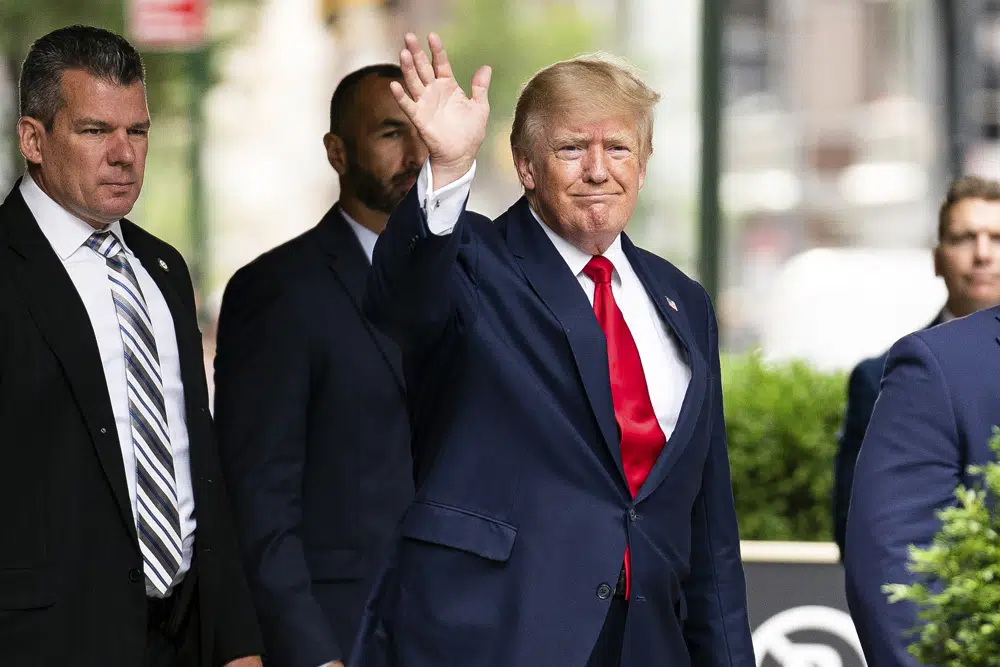 The criminal case involved financial practices and pay arrangements that the company halted when Trump was elected president in 2016.
Over his years as the company's Chief Financial Officer, Weisselberg had received a rent-free apartment in a Trump-branded building in Manhattan. He and his wife drove Mercedes-Benz cars, leased by the company.
Trump paid the tuition of Weisselberg's grandchildren when they went to an exclusive private school. A handful of other executives received similar perks.
When called to testify against the Trump Organization at trial, Weisselberg testified that he did not pay taxes on that compensation, and that he and a company Vice President conspired to conceal the perks by having the company issue falsified W-2 forms.
Trump Organization's Conviction Does Not End Trump's Legal Battles
The Trump Organization's conviction and sentencing do not end Trump's battle with Manhattan District Attorney Alvin Bragg, a Democrat who took office in January.
Bragg revealed that a related investigation of Trump that began under his predecessor, Cyrus Vance Jr., is "active and ongoing," with a newly hired prosecutor leading the charge.
At the same time, New York Attorney General Letitia James is suing Trump and the Trump Organization, alleging that they misled banks and others about the value of its many assets, a practice she called the "art of the steal."
James, a Democrat, is asking a court to ban Trump and his three eldest children from running any New York-based company and is seeking to fine them at least $250 million.
A judge has set an October trial date. As a preliminary measure, the judge appointed a monitor for the company while the case is pending.
Trump faces several other legal challenges as he seeks to pursue the seat of presidency in 2024.
READ ALSO: Japan: Man Suspected Of Assassinating Former Prime Minister Shinzo Abe Indicted