The U.S. Department of Justice announced on Thursday, July 27, 2023, that it is launching an investigation into the patterns or practices of the police department in Memphis, Tennessee.
This comes nearly seven months after the violent beating of Tyre Nichols by five officers after a traffic stop, which resulted in his death.
The announcement was made by Kristen Clarke, the Assistant U.S. Attorney General for the Department of Justice's Civil Rights Division. U.S. Attorney for the Western District of Tennessee, Kevin G. Ritz, was also present.
Federal authorities will use the investigative tool to look collectively at the Memphis Police Department's use of force and stops, searches and arrests, and whether it engages in discriminatory policing.
Clarke noted that even in the majority Black city of Memphis, the police department may be disproportionately focusing its traffic enforcement on Black drivers.
Clarke divulged that the probe will look into the city and its police department. Though she cited Nichols' death, Clarke stated that the investigation is not based on a single event, or a single unit with the police agency.
Clarke stressed that the Department of Justice has received reports of Memphis officers escalating encounters with people in the community and using excessive force; using force punitively when they perceive someone's behavior as insolent; and using force against people who are already restrained or in custody.
"City and police department leaders recognize the need to scrutinize the police department's practices to prevent such incidents from ever happening again."

Kristen Clarke
The Justice Department has briefed Memphis Mayor Jim Strickland, Memphis Police Chief Cerelyn "C.J." Davis and Michael Fletcher, chief legal officer for the city, Clarke said, adding that they pledged to cooperate.
"If there is reasonable cause to believe there is a pattern or practice of constitutional or statutory violations, we will issue a public report of our conclusions.
"We will then aim to work cooperatively with the city and the police department to reach an agreement on remedies."

Kristen Clarke
The DOJ "will work expeditiously" and hopes to have findings to share soon," she said.
If no agreement can be reached, the DOJ can bring a civil lawsuit to seek injunctive relief.
Government Has A Duty To Protect Citizens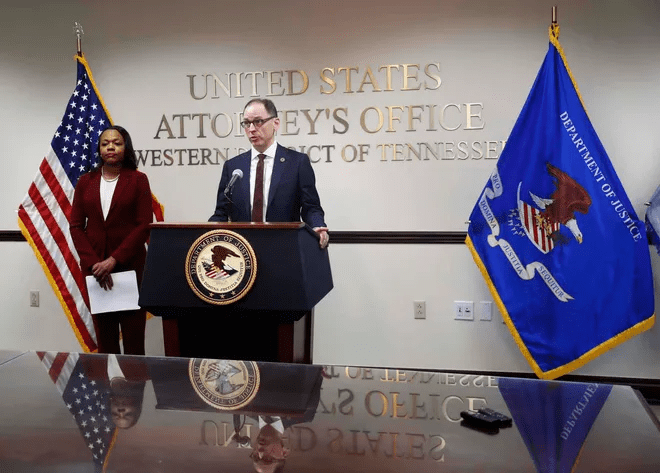 U.S. Attorney for the Western District of Tennessee, Kevin G. Ritz, stressed that government has a duty to protect citizens from both crime and civil rights violations.
Ritz noted that he and his colleagues "uphold the rule of law, protect civil rights and keep Americans safe."
"That work is predicated upon a fundamental principle that there is only one rule of law," he added.
"There cannot be one rule of law for the powerful and another for the powerless. There cannot be one rule of law for the rich and another for the poor and there cannot be one rule of law for people who look like me and another for people of color."

Kristen Clarke
Ritz disclosed that the investigation is separate from the Justice Department's criminal investigations and prosecutions.
It is also separate from the technical assistance provided by the Justice Department's Community Oriented Policing Services (COPS) office.
Activists welcomed the announcement as they have been calling for a pattern or practice investigation into Memphis police for years.
"This is a necessary step in ensuring the citizens of Memphis have our civil rights protected and that we moving beyond tacit political talking points regarding Criminal Justice Reform," Memphis activist, Earle Fisher opined.
READ ALSO: Ghana Hotels Association Calls For Regulation Of Airbnb Operations In Ghana