U.S National Security Adviser, Jake Sullivan has asserted that North Korea would pay "a price" if it sells weapons to Russia for its ongoing war in Ukraine.
This came after Washington warned that Pyongyang was in talks with Moscow about a potential arms deal.
Sullivan stated that the United States believes the negotiations between North Korea and Russia are "actively advancing."
"Providing weapons to Russia for use on the battlefield to attack grain silos and the heating infrastructure of major cities as we head into winter, to try to conquer territory that belongs to a modern sovereign nation – this is not going to reflect well on North Korea, and they will pay a price for this in the international community."

Jake Sullivan
The top White House official noted that Kim expects discussions about weapons to continue, including at leader level and "perhaps even in person."
Sullivan added that the U.S has "continued to squeeze Russia's defence industrial base" and Moscow is now "looking to whatever source they can find" for goods such as ammunition.
"We will continue to call on North Korea to abide by its public commitments not to supply weapons to Russia that will end up killing Ukrainians," Sullivan said.
Sullivan's statement comes after another official in U.S President Joe Biden's administration said earlier this week that Washington expected North Korean leader, Kim Jong Un to hold a meeting with Russian President, Vladimir Putin.
The Kremlin has refused to comment on the U.S claims, stressing that it has "nothing to say" about reports of potential direct talks between the two leaders.
Meanwhile, there have been public signs of closer ties between Russia and North Korea in recent weeks.
Russia's Defence Minister, Sergei Shoigu visited North Korea and met with Kim in July. Kim and Putin also exchanged letters last month vowing to bolster relations between their two countries.
Shoigu disclosed on Monday, September 4, 2023, that the two countries are discussing the possibility of joint military exercises.
U.S Department of State Spokesperson, Vedant Patel also warned North Korea against providing weapons to Russia, adding that Moscow's turn to Pyongyang for arms shows the effectiveness of U.S sanctions imposed over the war in Ukraine.
"Russia has been forced to search desperately around the world for weapons it can use in its war in Ukraine because of our sanctions and export controls and the effects that those have had."

Vedant Patel
Patel did not provide details when asked what potential consequences Washington would impose on Pyongyang should weapons be sent to Moscow, but remarked that the U.S would "take appropriate steps as necessary" in coordination with its partners.
"Natural Allies"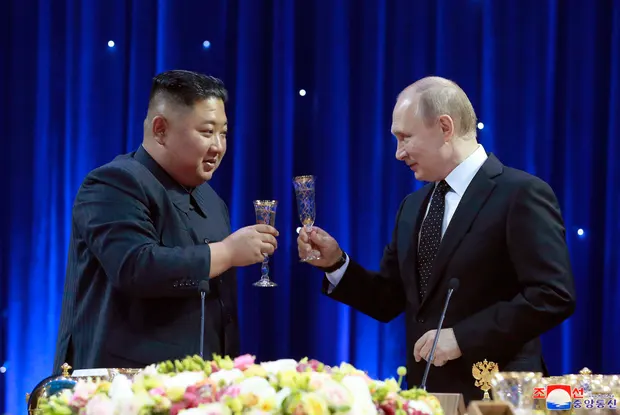 Pavel Felgenhauer, a defence and military analyst, disclosed that it is "possible" that Putin could meet with Kim next week when he travels to Vladivostok, a city in the far east of Russia, for an economic forum.
"Right now, it seems the relationships between Moscow and Pyongyang are blooming," Felgenhauer said.
"Both sides have things to offer each other, and both sides are under Western pressure and sanctions, so they seem to be natural allies."

Pavel Felgenhauer
Political analysts claim that Russia has seen increasing value in North Korea, as isolation over its war in Ukraine has grown.
For North Korea, relations with Russia have not always been as warm as they were at the height of the Soviet Union, but now the country is reaping clear benefits from Moscow's need for friends.
The U.S has been warning its competitors and adversaries, including China, against helping Russia in its military offensive in Ukraine.
READ ALSO: Leaked Tape To Oust IGP: COP Mensah Was Consumed By Inordinate Partisan Ego- Fuseini