Majority of international oil and gas companies (IOCs) operating in sub-Saharan Africa appear to have no development plans in prospects for their discovered reserves, according to GlobalData.
This is as a result of the global push for a lower carbon future and a shift away from high-risk investments. Thus, resources that no longer fit these characterizations risk being left behind by the IOCs currently holding them.
Conor Ward, Oil & Gas Analyst at GlobalData, commented: "The top five companies in the region with the largest volumes of unsanctioned reserves are all major IOCs, with TotalEnergies sitting at the top of the pack and four out of five being European IOCs.
"Much of TotalEnergies' unsanctioned reserves in the region come from the Prosperidade gas/ condensate development (discovered over 10 years ago) in Mozambique where final investment decision (FID) has been delayed many times already."

Conor Ward, GlobalData
Considering present market conditions and the huge additional LNG volumes coming from Qatar in the near future, the prospects of Prosperidade coming online any time soon are looking unlikely, Ward asserts.
Furthermore, TotalEnergies also holds significant resources in Kenya and deep-water Angola, which may no longer align with the company's emissions strategy.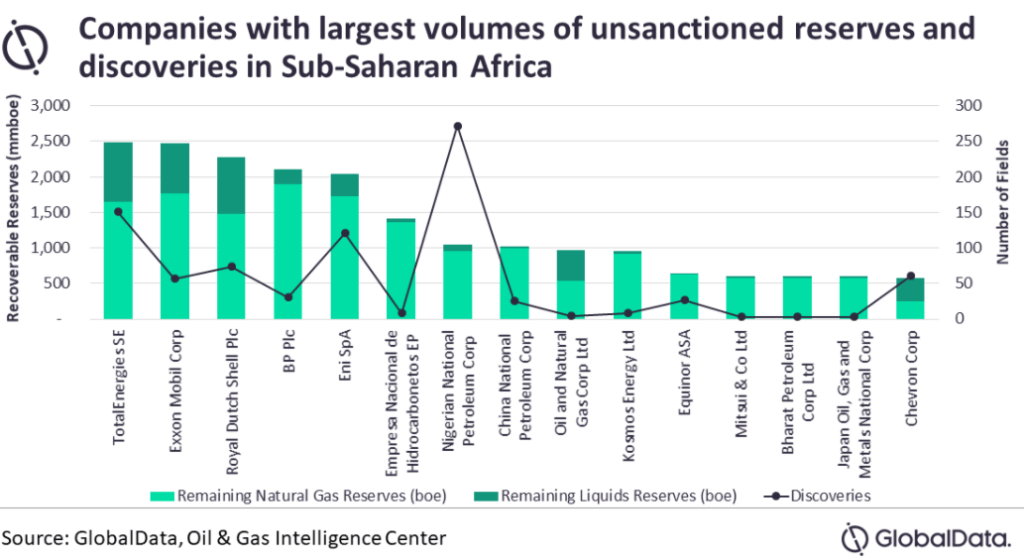 Oil Discoveries in SSA are sub-commercial and Standalone
Following this, more than 80 per cent of the undeveloped reserves in projects across the region come from natural gas. Years ago, the natural gas resource was considered to be uneconomic in the region; however, the growth of LNG demand and LNG export infrastructure in Sub-Saharan Africa provides opportunity for commercializing gas in the region.
"Despite gases longer-term potential, commercialization is still challenged due to limited domestic demand, above ground risks and lack of export infrastructure. These factors, coupled with a market which is inundated with new volumes from elsewhere, mean that the Sub-Saharan African projects continually face delay."

Conor Ward, Oil and Gas Analyst, GlobalData
According to GlobalData, many of the discoveries made across the region are considered as sub-commercial and standalone projects.  Even so, this is witnessed in countries such as Nigeria and Angola, that have recently altered their fiscal terms to encourage marginal field developments.
Ward pointed out that these discoveries still represent an opportunity for joint or clustered developments. For example, a planned merger opportunity of upstream operations between ENI and BP in Angola would streamline operations and make it more likely for smaller developments to go ahead.
Accordingly, ENI's success with Agogo and Cuica discoveries could fast-track production from both fields within nine months; this type of infrastructure-led exploration could be key to unlocking further resources, Ward notes.
Essentially, much of the resources held by the European majors are high risk and, in many cases, have marginal economics. Thus, questions are rife over whether these resources will continue to fit into the emerging strategy of sustainability and emissions reduction.
"In the case that these assets no longer align with company strategy, there could be swathes of impairments to come."

Conor Ward, GlobalData
READ ALSO: Ghanaian banks wrestle with increasing non-performing loans