Rocksure International, a wholly owned Ghanaian mining services provider is fast becoming a giant in the mining industry in Ghana, all thanks to Sanvik, which has since Rocksure's establishment, provided the company with 100 percent drill rig fleet, the official Equipment Manufacturer (OEM), Sanvik noted.
To be successful at the use of drill rigs in mining applications require keeping them in the very best condition throughout their working lives. Therefore, the manufacturer of parts of equipment and the service that comes with them– is of critical importance for these machines.
Following the trail of best work practices and latest premium equipment, Rocksure has gone from two drill rigs and eight employees when it was established in 2009, to its fleet of over 20 rigs and 1,200 workers. In the process, the company has been winning contracts that were once the preserve of Western multinationals.
Two years ago, Rocksure delivered some 50 million tonnes of material to its customers in the country's gold fields and is soon to be working on a $1.2 billion bauxite project in Ghana. These strides are in line with making the company a strong force in Ghana's vision of becoming a mining services hub for West Africa.
Rocksure's Partnership Drive
Part of Rocksure's strategy is to partner with leading equipment brands– and its fleet now includes 123 pieces of heavy equipment, all from the biggest names in the mining industry.
All of the company's drill rigs are from Sandvik, all of which have been supplied with comprehensive parts, service and training support bundles, Sandvik said.
The predominant machine used by Rocksure is the Sandvik Pantera DP1500i. It is a hydraulic top hammer drill rig designed for production or pre-split drilling in open-pit mines, drilling holes with a diameter of 89-152 mm. The company also has a Sandvik DE881 multipurpose exploration rig.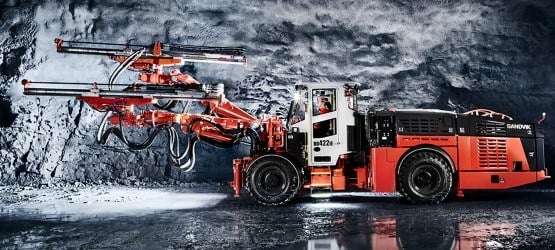 Daniel Korsah, Sandvik Business Line Manager for Surface Drilling in West Africa, said:
"We work closely with clients like Rocksure to understand their needs. We look at a long list of site variables, including blast efficiency, hole depth, length, type of rock, etc.– and that helps inform the type of equipment we recommend. But that is only half of the story– the aftermarket support package is also vital to customer success."

Daniel Korsah
Fellow Business Line Manager Parts and Services, Ricus Terblanche, added:
"It's our job to make sure the rigs maintain their productivity targets, reduce costs and help the customer be more profitable. To ensure this, we look at the site data and use it to build a comprehensive parts list of the supplies that are likely to be needed.
"These parts are then ordered in conjunction with the machine sale, and both delivered to site at the same time. For major projects we can put large parts stocks in place, from which Rocksure can draw using a vendor-managed inventory approach. But our support bundles are much more than parts and include machine operation and safety training."

Ricus Terblanche
Predictive parts replacement
Using Smart Inspections supported by years of accumulated analysis on component lifespan, Sandvik can calculate predictive operating costs and recommend a parts replacement service policy before parts fail.
Typically, when the machine has reached 14,000 hours of operation, the Sandvik Pantera DP1500i's operated by Rocksure undergo a comprehensive overhaul, which can include the installation of new engines, pumps, track frames and undercarriage parts.
Adding new technology can bring the machines to a better-than-new condition, with a significant reduction in fuel consumption, according to Sandvik. The fitting of new monitoring systems also helps to give much greater visibility of drilling performance – data that can further help boost productivity.
"Rocksure is the perfect customer. They are professional, experts in their local market and loyal towards Sandvik– as well as growing at a fantastic rate. We do our best to support them with all the tools at our disposal to maximise their production performance. It's a great partnership– when Rocksure is successful, Sandvik is too."

Rickus Terblanche
READ ALSO: Executive Instrument is in Breach of the Provisions of Act 925- Minority