The Government of Ghana has announced that it will aggressively mobilize domestic revenue in the next year by outlining some revenue measures in the 2023 budget statement.
Finance Minister, Ken Ofori-Atta, disclosed that government will increase the VAT rate by 2.5 percent to directly support roads and digitalization agenda.
Additionally, Government plans to review the E-Levy Act and more specifically, reduce the headline rate from 1.5% to one percent (1%) of the transaction value. However, this review will be followed by the removal of the daily threshold. This means any amount transferred that is taxable under the E-Levy Act will now be affected. Government also plans to Fast-track the implementation of the Unified Property Rate Platform programme in 2023.
Revenue mobilization forms a key component of the 2023 Annual Budget Statement and Economic Policy of Government which was laid before Parliament on Thursday, November 24, 2022.
Hon. Ken Ofori-Atta disclosed that the 2023 Budget is anchored on a seven-point agenda aimed at restoring macro-economic stability and accelerating economic transformation as articulated in the Post-COVID-19 Programme for Economic Growth (PC-PEG).
These comprise an agenda to: Aggressively mobilize domestic revenue; Streamline and rationalize expenditures; Boost local productive capacity; Promote and diversify exports; Protect the poor and vulnerable; Expand digital and climate-responsive physical infrastructure; and Implement structural and public sector reforms.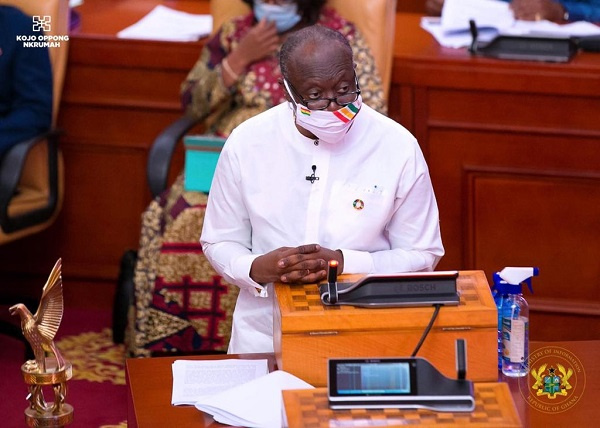 "To achieve these, there are three (3) critical imperatives: successfully negotiating a strong IMF programme; coordinating an equitable debt operation programme; and attracting significant green investments. This will enable us to generate substantial revenue, create needed fiscal space for the provision of essential public services and facilitate the implementation of the PC-PEG programme to revitalise and transform the economy."

Ken Ofori-Atta
Apart from revenue mobilization, government also announced some measures to boost local productive capacity. In line with this ambition, government announced that it will cut the imports of public sector institutions that rely on imports either for inputs or consumption by 50% and will work with the Ghana Audit Service and the Internal Audit Agency to ensure compliance.
Government will also support the aggressive production of strategic substitutes; Support large-scale agriculture and agribusinesses interventions through the Development Bank Ghana and ADB Bank; and also introduce policies for the protection and incubation of newly formed domestic industries to allow them to make the goods produced in Ghana competitive for local consumption and also for exports.
Fiscal performance in first nine months
Touching on the fiscal performance of the economy in the first three quarters of the year, Hon. Ofori-Atta disclosed that provisional data on Government fiscal operations for January – September 2022 showed a shortfall in revenue performance and a faster execution of expenditures.
This resulted in an overall budget deficit of GH¢41,699 million (7.0% of GDP), against a programmed deficit target of GH¢36,684 million (6.2% of GDP). The corresponding primary balance for the period was a deficit of GH¢9,597 million (1.6% of GDP), against a deficit target of GH¢5,794 million (1.0% of GDP).
According to the Finance Minister, total revenue and grants amounted to GH¢65,399 million (11.0 percent of GDP), compared with a target of GH¢67,307 (11.4 percent of GDP) and the GH¢49,108 million (10.7 percent of GDP) recorded in the corresponding period in 2021.
The outturn for Total Revenue and Grants, he said, represents a shortfall of 2.8 percent compared to the period's target and year-on-year growth of 33.2 percent. The shortfall in revenue stemmed from the less robust performance recorded in all the revenue handles for the period, he added.
Domestic Revenue for the period amounted to GH¢64,601million (10.9 percent of GDP), falling below the target of GH¢66,503 million (11.2 percent of GDP) by 2.9 percent. The outturn, however, represents a year-on-year growth of 34.0 percent and constituted 98.8 percent of Total Revenue and Grants.
On the other hand, Total Expenditure (including arrears clearance and discrepancy) for the period amounted to GH¢109,421 million (18.5 percent of GDP), above the target of GH¢103,992 million (17.6 percent of GDP) by 5.2 percent.
Compensation of Employees amounted to GH¢27,146 million (4.6 percent of GDP), 2.9 percent below the budgetary provision of GH¢27,947 million (4.7 percent of GDP). The Wage bill constituted 91.3 percent of the total Compensation and amounted to GH¢24,734 million.
READ ALSO: Government To Establish Export Trade Houses To Promote Made-in-Ghana Product Brands