The unemployment rate in Ghana has almost tripled in a little more than a decade with majority of the youth deciding not to seek for employment any longer even though they are available for work.
According to data from the Ghana Statistical Service (GSS), more than two in five (45.5%) unemployed persons, 15 years and older, are available for work but not seeking for employment of which the youth (15-35 years) constitute two-thirds. In percentage terms, the GSS stated that this constitutes 65.8 percent of all unemployed persons that are not seeking employment.
The GSS has not yet provided the reasons why a large number of people may decide not to look for jobs despite being unemployed. But it is expected that the full details will be made available when the full report is ready.
Nevertheless, the reasons for not seeking employment as an unemployed person are varied but one of such may be that the person has not found employment after a long job search without success. Such individuals who may have given up searching for job are normally described as "discouraged" workers.
Unemployment rate
According to estimates from the 2021 Population and Housing Census (PHC) conducted earlier this year by the GSS, Ghana's labour force, which is the economically active population, currently stands at 11,541,355.  Out of the country's labour force, 9,990,237 people are employed whilst 1,551,118 are unemployed.  This means the country's unemployment rate, number of unemployed persons divided by the labour force, currently stands at 13.4%.
Compared to the previous census conducted by the GSS in 2010, Ghana's unemployment rate has almost tripled within the past decade. Ghana, which doesn't produce regular data on unemployment, recorded a jobless rate of 5.3% in the last census undertaken in 2010. If the minimum age of 15 years is applied, the proportion of people without work currently stands at 7.8%, the statistical service said.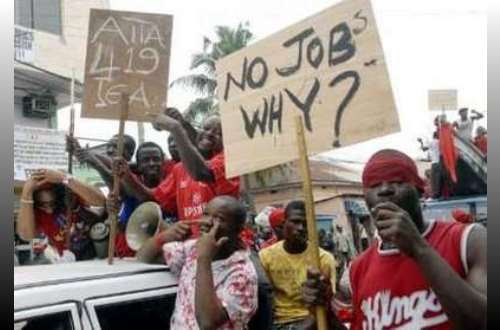 The 2021 PHC revealed that the gender gap in terms of women participation in economic activity still persists and remains a major concern despite efforts to empower women to be economically dependent.
"Economic activity among males (63.5%) is substantially higher than that of their female (53.0%) counterparts, with a more pronounced variation between males, (63.6%) and females (51.5%) in rural areas".

GSS
Children engaged in economic activity
Another important issue exposed by the data from the GSS was the number of children between the ages of 5 and 14 who are engaged in economic activity. According to the GSS, "close to 230,000 (3.2%) children (5-14 years) are engaged in economic activity with a substantially higher proportion in rural areas (5.7%) compared to urban (1.0%)".
Involvement of children in economic activity in Oti Region (20.8%) is more than six times the national figure (3.2%) and is also prominent in five other regions: North East (11.4%), Savannah (9.9%), Upper West (9.3%), Northern (8.6%) and Upper East (6.1%), the GSS disclosed.
Among children aged 5-14 years engaged in economic activity, almost 80 percent are involved in agriculture-related activities with the highest proportion in Savannah (89.8%) and the least in Greater Accra (26.2%).
Sectoral distribution of employment
About three-quarters of the employed population, 15 years and older, are engaged in skilled agricultural, forestry and fishery (32.0%), services and sales (26.5%) and craft and related trades (16.1%), with a higher representation among females (81.3%) than males (68.9%), according to Census data from the GSS.
Professionals, the GSS said, constitute less than a tenth (8.4%, 837,989) of employed persons, 15 years and older, of which four in five are in urban areas, and three in five are youth (15-35 years).
Ghana's population increased to 30.8 million in 2021 from 24.7 million in 2010, according to the census. Youth Youth
READ ALSO: Wounded Suspected Pirate Transferred To Hospital In Ghana