Controversial social media star, Abena Korkor has recalled how her bipolar illness started when she was in level 300 at the University of Cape Coast (UCC).
She recounted when she was contesting for the SRC Presidency and had to dance before her target audience listened to her while she campaigned, adding that she doesn't know if it is really bipolar she is suffering from because she remembers everything she does.
She revealed:
"I don't know if it's my intelligence or it's actually bipolar because I remember everything I do. And everything I do really want to do it and I do it".

Abena Korkor
She further asserted that she is tired of Ghanaians who claim she intentionally does what she does to look insane because she is aware of what she does.
Abena Korkor recounted when she visited the hospital and was diagnosed with bipolar by a qualified doctor, adding that she didn't place it on herself even though she is a naturally hyperactive person but sometimes shows bipolar symptoms.
The controversial social media star revealed that some pastors say she is suffering from witchcraft.
Also, she revealed how she tried all kinds of spiritual directions to curb the condition but all didn't work.
She disclosed how her bipolar works when it takes over her mind.
She stated:
"When I am in my bipolar state, sometimes I see visions, sometimes I go off, sometimes I am hyperactive, I am all over the place, and for a whole year I couldn't sleep even after taking sleeping pills".

Abena Korkor
Abena Korkor explained that life is an experience and one may face traumatic situations but one has to stand firm and learn how to cope with them.
She said she believes that a lot of people are becoming scammers because they are not getting value for their intelligence.
The social media star also attacked Ghanaians to focus on themselves, stop trying to pull people down, and stop talking about Efya Nocturnal's craft.
Abena Korkor speaks on her ban from Peduase Resort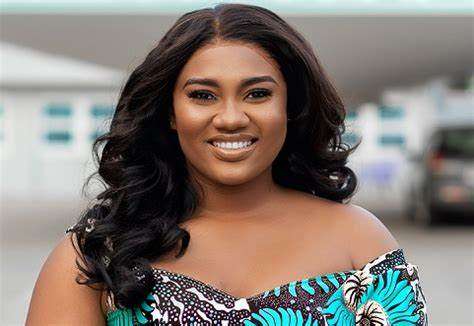 Ghanaian media personality and sports administrator, Ransford Annetey Abbey, is exposed by mental health advocate, Abena Korkor for taking advantage of her.
Abena Korkor decided to explain the issues behind her getting banned from a popular hotel, Peduase Valley Resort.
The controversial social media star revealed that Randy Abbey is the board chairman at the Peduase Valley Resort.
She stated:
"I was at Peduase Resort swimming one day when Randy sent someone to come for my number because he wanted to sleep with me. I went to see him and he offered to give me 20k dollars. But he started gossiping about Nana Aba Anamoah and then I decided to withdraw from him. I later went to complain about it on my IG page".

Abena Korkor
It can be recalled that it was all over the news a few months ago that Abena Korkor had been banned from entering a popular hotel in Accra.
Later, she said that she was planning to file a lawsuit against Peduase Valley Resort/ Peduase Lodge for unfairly banning her.
Abena also made deep revelations about how some big men in the country took advantage of her when she needed their help.
She disclosed that she needed money to pay off her fees after gaining admission to a school in Ukraine, where, media personality, Randy Abbey offered to help her pay the fees when she was still searching for means and ways to pay for it because her father had lost his job.
Abena Korkor further revealed how Randy Abbey used the money to lure her into bed and gave her only 8000 cedis after.
She added that Randy Abbey told her he wanted to enroll her in a law school but she refused because she was more interested in pursuing medicine.
READ ALSO: Mr. Eazi Brags Heavily In His New Single As He Reveals Album Titled 'Evil Genius'