Nigerian singer, Mr. Eazi has shared new music today along with the title for his long-awaited, decade-in-the-making debut solo album.
Mr. Eazi is the latest artist to be featured in Vevo's original content series control, with a stirring, defiant performance of the drill-infused "Advice" out today in support of the track's release.
"Advice" produced by Ghana's M.O.G. Beatz, is the latest single from the freshly named 'The Evil Genius', set for release on October 27, 2023. The 16-track album is now available for pre-order.
Recorded over a two-year period between Ouidah and Cotonou, Benin; Kigali, Rwanda; Accra and Kokrobite, Ghana; Lagos, Nigeria; London; Los Angeles; and New York City, 'The Evil Genius' features some of Mr Eazi's most personal work, as he dives deeply into subjects like love, betrayal, loneliness, and family, expressed through three distinctive acts.
The lyrically dense "Advice" namechecks a number of African martyrs including former Democratic Republic of the Congo president Joseph Kabila and Ken Saro-Wiwa, a Nigerian writer, and activist whose 1995 hanging inspired domestic and international outrage, adding that he was coming from a place having that energy.
For "Advice", he tapped Nairobi, Kenya-based artist Alphonse Odhiambo, known as Alpha ODH, whose acrylic painting speaks to the track's defiant lyrics.
Mr. Eazi personally handpicked 13 artists, representing eight African countries, inviting them to collaborate in a process he describes as 'informal and instinctual'.
Mr. Eazi said:
"Inviting artists to create for the album was from my passion for creativity and expression. The artworks visually unlock the ideas, emotion, and energy within my music".

Mr. Eazi
The artworks created for the album will be featured in a multi-sensory exhibition experience, which debuts in Accra, Ghana, from September 13 to September 17, before heading to 1-54 Contemporary African Art Fair at Somerset House in London from October 12 to October 15. Additional exhibition announcements in other cities are forthcoming.
Mr. Eazi's Pan-African rave returns to Ghana in December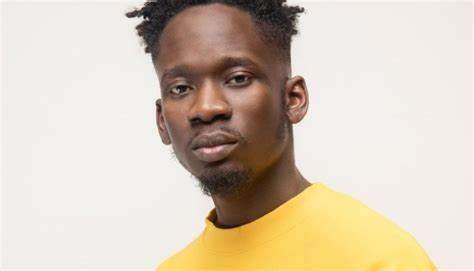 Detty Rave is the biggest Afro-enjoyment rave, which is set to take place on December 27, 2023.
Detty Rave has quickly become one of the most sought-after tickets on the Detty December calendar.
Detty Rave is renowned for bringing together not only the most talented and renowned DJs in the Afrodance scene but also the biggest superstars in the diaspora like Rick Ross, Machel Montana, and Koffee in its past editions. This year's lineup promises to be no exception full of surprises. The artists will bring their unique energy and style to the stage, creating an electrifying and intergalactic atmosphere.
The event is the most anticipated party of the year, following the success of the 2022 edition, which was celebrated as one of the year's best events in Ghana. The 2022 edition of Detty Rave featured Major League DJz (SA), DJ Neptune(NG), DJ Aroma(GH) and surprise acts like Shatta Wale (GH), King Promise (GH), Joeboy (NG), Ami Faku(SA), Joey B(GH), Uncle Vinny (SA), and others.
The rave is expected to attract party enthusiasts from all over the world, who will converge to experience the best of Afrodance music and culture.
Aside from the music, Detty Rave will offer a range of food and drink options, which will cater to all tastes and preferences. Organizers are committed to providing a safe and inclusive environment for all attendees so everyone can enjoy the party to the fullest.
The event will take place at Untamed Empire in Accra and will boast of state-of-the-art sound and lighting setups which the Rave is now known for. Fans can register for priority ticket information before the early Raver's tickets go live on September 15, 2023.