Entertainment pundit, Arnold Asamoah-Baidoo has expressed his disappointment in actor Adjetey Anang claiming that he never had sex outside his marriage despite admitting to cheating on his wife.
In his recently launched memoir, he wrote that he cheated on his wife in various emotional and physical forms.
In the memoir, he wrote:
"I have been in a very compromising situation with ladies. Yes I have cheated on my wife before in the various forms that cheating could be defined as, both emotionally and physically".

Adejetey Anang
He has however apologized to his wife and the ladies he was involved with along his life journey, telling them he is deeply sorry and that he is committed to rebuilding his marriage.
In an interview, the actor, however, refutes having sex outside marriage and explains that cheating in his book was about lust.
He added that the cheating had to do with him hugging another woman.
The entertainment analyst, Arnold Asamoah-Baidoo however thinks that the actor lacks the courage to tell the public the truth.
He said that the actor's excuse for saying he cheated by hugging other women is when he received backlash from the public for cheating on his wife.
Arnold Asamoah-Baidoo said:
"He shouldn't underestimate how discerning we are as a people. He should not belittle, our level of intelligence".

Arnold Asamoah-Baidoo
He also advised the actor to own his confession once he has penned it down there is nothing outrageous about it.
Independent filmmaker and Events Producer, Ola Michael, also slammed Adjetey Anang for his cheating escapades.
He said:
"You wrote a book because you wanted people to know about your story and experiences, however mistakes from the past cannot be rewritten but the lessons learned from that redirect our choices moving on. You wish to tell the story differently but note that we aren't dumb, you probably thought going by the saying, 'If you want to hide a thing from a man put it in a book' was your way out but gone are the days, now people are enlightened and read books.
"It's totally different to have an open marriage where both parties agree to involve external parties for advance pleasure to spice their relationship, but if you tie a bond to stay committed to one another and you go outside of that bond, it's cheating. so trying to say it didn't involve sex does not add up".

Ola Michael
There was no sex with any of the women I cheated with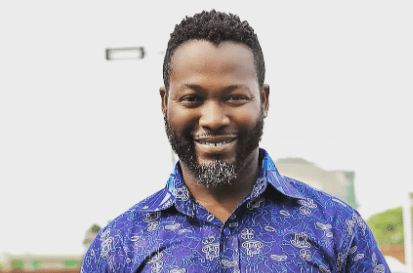 Actor Adjetey Anang cleared the air on what he meant when he claimed in his book that he cheated on his wife a few years into their marriage.
In an interview, the actor stated that he did not have any sexual intercourse with any of the women he had affairs with as people assume.
He said:
"When it's cheating, we conclude that there were sexual affairs but the good book (Bible) tells us that, when a woman walks and you look at them lustfully, in your mind, you have sinned, that's cheating. It is emotional, there's mental, and physical as well.
"So in my bid to explain, that covers a whole spectrum, of 'I hug you for example' and in my mind, I am thinking lustfully of you, that's cheating. You can't limit it, otherwise, we get away with some things".

Adjetey Anang
Adjetey Anang added:
"That thought should run through me with only my partner. I am not going to say that I slept with anybody in my thought processing".

Adjetey Anang
Parts of the book read:
"You could say I was naive from the start about subtle amorous hints and perhaps made a lot of assumptions about people's motives till it was too late. Soon, I got bolder, more daring, and more adventurous, and sometimes I initiated flirtatious conversations and led many on.
"I have been in very compromising situations with ladies. Some started as admiration and fun and after frequent chats, developed into flirting and occasionally went too far".

Adjetey Anang
READ ALSO: I Don't Shoot Cheap Music Videos – Efia Odo