Ghanaian media personality and marriage counselor, Akumaa Mama Zimbi has advised ladies not to be head over heels when a man tells them they love them.
She advised that a lady should know herself, should not get excited, and know her worth so that she does not melt into a man and allow themselves to be used by the man when just told how much they are loved.
"Don't go mad because somebody says 'I love you'. No, you should know yourself". Akumaa Mama Zimbi said.
"My parents told me when I was growing that 'You're a beautiful woman. Your eyes are beautiful. You have a beautiful nose. Look at your dental arrangement, your teeth are beautiful'. Look I have a thick lip. Yes, alright. So don't let anybody tell you because of this, they are going to sleep with you".

Akumaa Mama Zimbi
Akumaa Mama Zimbi further made a revelation that although her father was a Policeman, her mother educated her on the little that was given to her, adding that she wasn't jealous of another's thing.
"My friends will tell you. No. So why do you want somebody to waste you? You give that person all the styles. You even steal your parent's money for that guy and in the long run, that guy is going to leave you. It happens in the schools. In the Universities. So don't give in", Akumaa Mama Zimbi advised.
Advising couples not to assume parental roles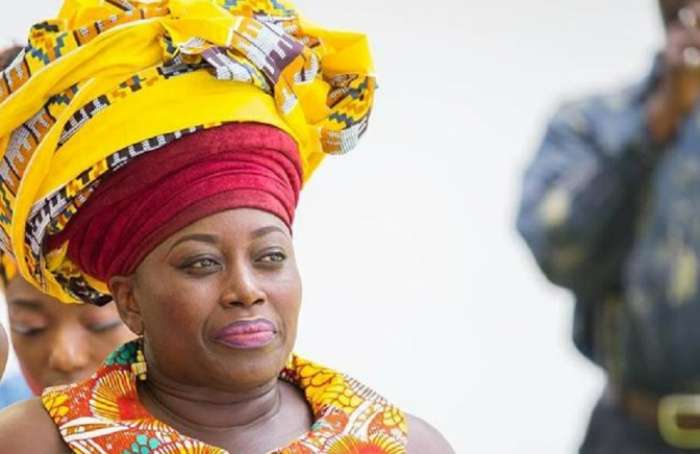 Akumaa Mama Zimbi advised couples not to assume parental or spousal roles unless necessary. She stressed that in relationships, spending on each other should only occur during special occasions like birthdays.
She urged individuals not to overstep their roles as partners and reminded them to maintain a sense of independence.
"In relationships, you don't spend on each other unless it's your birthday. So when you are giving it to me, it's a gift. So in the relationship, you don't assume the role of a mother or a father. Neither a husband nor a wife", Akumaa Mama Zimbi stated.
She advised couples to take the time to know each other's living conditions, especially as relationships grow more serious.
"So once in a while, because you are getting serious, You are falling in love with each other, You should know where the person stays. Is that person dirty? You can go to the place to see what he's doing", she advised.
However, she cautioned against sitting on the bed if there are no other seating options in the room. Instead, she suggested standing briefly and then leaving in such situations.
"If you visit a boyfriend and there's no chair in the room, don't go and sit on the bed. Don't sit on the bed at all. No. Stand for a while and then move out", she advised.
Akumaa Mama Zimbi, also known professionally as Dr. Joyce Akumaa Dongotey-Padi, is a Ghanaian television and radio broadcast journalist, women's rights activist, blogger, marriage counselor, philanthropist, and actress in Ghana.
Akumaa is known for her fascinating, yet sexually stimulating, ways of expressing "Medaase" (Thank you).
Her exceptional way of wearing her headgear also comes off as a distinct Akumaa brand. She revealed that she put the necessary things that she would be needing in her headgear.
The marriage counselor disclosed that she places her phones, car keys, and reading glasses in her headgear, adding that it is something that is part and parcel of her.
She revealed that she uses close to 12 yards of cloth for styling her headgear, adding that it has been 20 years since she started fixing the headgear.
However, it is known that her husband is a businessman to whom she has been married for over thirty years.
READ ALSO: Divorce Is Not A Sin – Brother Sammy