Deputy National Youth Organizer of the National Democratic Congress, Edem Agbana, has described as unfortunate how Abeiku Santana was trolled on social media during Dr. Kwame Despite's birthday.
After chancing on pictures and videos from Despite's 61st birthday celebration that went viral, scores of Ghanaians lambasted Abeiku Santana for being 'unnecessarily nice' and trying too hard to please the business mogul in a way that was found unpleasant.
Abeiku Santana topped Twitter trends, amidst trolls and ridicule from a section of Ghanaians, who purported that he was snubbed severally, and his efforts to please the 'big men' went unnoticed.
But Edem Agbana thinks otherwise.
He has joined the list of a few individuals that have defended the broadcaster on social media.
Tackling the perception that Abeiku Santana sold himself short, the NDC organizer has argued that the broadcaster is naturally a very pleasant person, and regardless of one's social status, he welcomes everyone with a broad smile, a hug, or a handshake.
According to Edem, he sees nothing wrong with Abeiku Santana serving his masters adding that, 'you attract grace when you respect the grace of other people'.
He wrote on Facebook saying;
"I have known Abeiku Santana since my undergraduate days. He is naturally a very pleasant person, and regardless of your social status, he welcomes you with broad smiles and a hug or handshake. You can write all the trash about him but hey, the gentleman earned a relationship with all these big guys through his decades of service. There is nothing wrong even if he chooses to even clean their shoes for them. You attract grace when you respect the grace of other people. I don't mind cleaning the shoes of people who have gone ahead of me".

Edem Agabana
Citing himself as an example, the young politician said served his way up the political ladder.
"I have served my way up into leadership. In level 100, I was excited to run errands for the SRC president, Mr. Benney Sumah. I considered it a privilege to even be in the company of the likes of Hamza S Suhuyini and Antonio Edem Asinyo. By level 300, I became SRC president because they rewarded my 'long service' to the student body. Our generation must learn the true essence of service and humility!!!".

Edem Agbana
Why Abeiku Santana trended on Despite's birthday
Some interesting moments captured during Dr. Kwame Despite's 61st birthday celebration, what was termed as Abeiku Santana over display of reverence, proactiveness, and acts of service became the talk of the town, more specifically talk of social media.
The popular broadcaster was at the 'beck and call' of his employer, Dr. Kwame Despite, as he facilitated the various activities on his boss' 'big day' but netizens believe Abeiku's efforts to impress the 'big men' particularly his boss went unnoticed.
Mr. Santana, in one of the videos from the event that went viral, tried to 'squeeze in' a handshake with Mr. Kwame Despite but went unnoticed.
This stirred mixed reactions on social media as some believed that it could perhaps, be an oversight while others insist that he was totally snubbed.
In a separate video from the event, Abeiku, who was spotted among Despite and his friends was the only one 'singing his lungs out' to a happy birthday song that was meant to be sung by everyone in a chorus form.
This amplified the trolls on social media, as many individuals who chanced on the said video lambasted the broadcaster for what they describe as selling himself short.
Interestingly, this isn't the first time Abeiku had faced an encounter of this sort, as earlier developments, including Despite's 60th birthday, he went through a similar fate.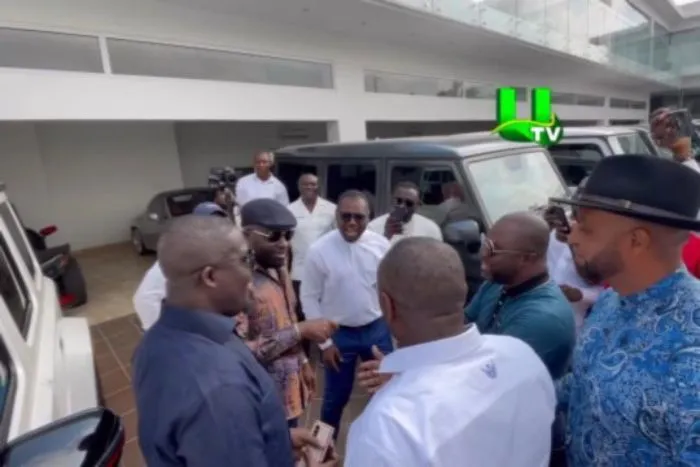 Popular business mogul, Dr. Kwame Osei Despite turning 61 years on Thursday, February 2, 2023, celebrated with his friends, mainly members of the East Legon Executive Men's Fitness Club.
Parts of the line-up took place at his friend, Dr. Ernest Ofori Sarpong's residence.
Dr. Kwame Despite, together with his entourage, paid a courtesy call to former president John Agyekum Kuffuor and also visited the Mampong School for the deaf where he donated GHC 200,000 and other items.
READ ALSO: Stonebwoy Releases Brand New Single 'More of You'