Kicking off the new year with a banger, Ghanaian Afropop, dancehall and beloved reggae artist Stonebwoy releases new single "More Of You".
The track was produced by GRAMMY-nominated American/Jamaican producer Supa Dups and is the third single since Stonebwoy's historic global signing with Universal Music Group (UMG) label divisions, Def Jam Recordings in the U.S., 0207 Def Jam in the UK and Def Jam Africa in early 2022.
A feel-good, sexy love song, "More of You's" lyrical tenderness comes with a message of longing and desire.
Aimed towards his homebrewed ladies, the song is soulful, yet uplifting making it a perfect dancehall track for hot nights on the dancefloor.
Stonebwoy always brings the love back to Africa and "More of You" remains true to his belief in lighting up his Ghanaian roots, with rhythm, beat and lyrics.
After the success of his debut single "Therapy" and follow-up of "Gidigba", Stonebwoy has been
relentlessly touring the globe, headlining festivals and selling out stadiums, whilst working with
established international producers.
He recently became the first Ghanaian artist to hit 100 million streams on the Audiomack platform.
Continuously trailblazing through the world of popular music, the award-winning artist is no stranger to success, and his new work continues to amass millions of streams while his social platforms are blowing up with nothing but pure love for the African music sensation.
Iconic in musical stature, Stonebwoy has raked in no less than 45 different types of awards for
his outstanding contribution to the industry, and continues to break new ground with everysingle, movie or video release.
With the status of BHIM (Bless His Imperial Majesty) coined by his ardent supporters, Stonebwoy keeps returning the love straight back to his fans and praising above all, God, for his catapult to fame.
Talented, humble and gifted with a flawless work ethic, whether he's headlining a stadium on international shores or singing a stripped down, unplugged set for an intimate TV performance, Stonebwoy has the world in the palm of his hand
every time he sings.
Stonebwoy spotted with American icon Jordin Sparks
The dancehall artiste has connected with the Hollywood star, Jordin Sparks during his visit to the United States of America.
This comes after he granted an interview on the Breakfast Clube Show in America, where he spoke about his music and personal life.
On his trip, Stonebwoy has met crème de la crème of International stars including, Charlamagne Tha God, Nene Leaks and Jamaican singer 10Tik except, for his most recent encounter with singer Jordin Sparks that has triggered conversations online.
American singer appeared star struck when she met Stonebwoy at a private event in Los Angeles.
She stared in awe with a wide smile on her face while Stonebwoy made some remarks she was agreeing with.
It is believed Jordin Sparks has knowledge of the BHIM president's music due to her affiliation with American singer, Keri Hilson, who was on Stonebwoy's Angloga album with a banger 'Nominate'.
Excerpts from the meeting and the excitement on the faces of both artistes have sparked speculations of a Stonebwoy, Jordin Sparks collaboration.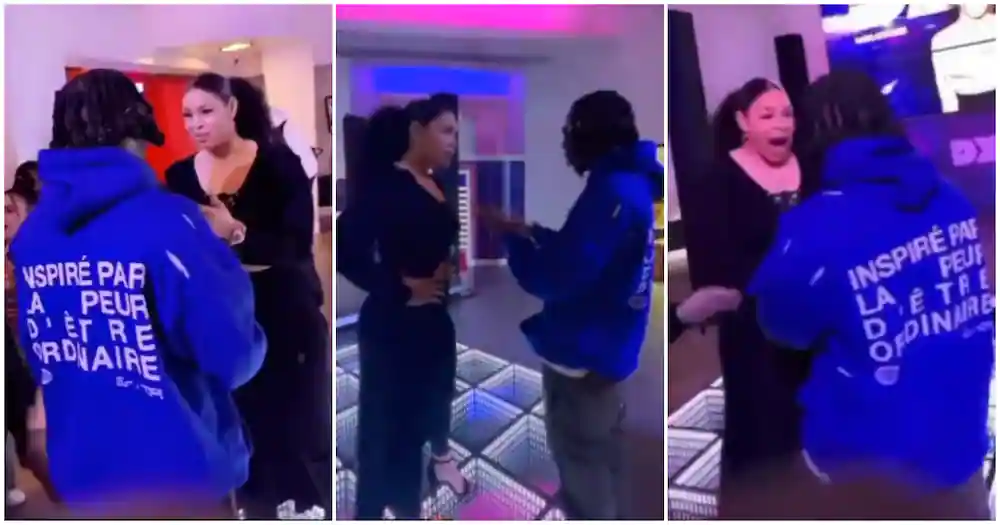 Meanwhile, on January 31, 2023, the award-winning dancehall musician, shared his thoughts on why Nigerian artistes are more successful than Ghanaians on the BreakFast Club Show in America.
He disclosed that the success of Nigerian singers is largely due to the size of their country.
According to him, Ghanaian musicians have just recently signed deals with major record labels like Sony and Universal Music, in an attempt to keep up with Nigerians.
READ ALSO: Bryan Adams, Crafting Albums Amid Grammy Award Nomination