Multiple award-winning artiste, Sarkodie has revealed that he won't be releasing any new song this year.
Sarkodie made this disclosure when he was having a question-and-answer session with his fans on social media especially on Twitter. In a response to a fan asking him [Sarkodie] to release new hits, he said "No man, we have to be able to for a minimum of one year [listen to] old material. Makes me appreciate it more… It's like you all done with those records?".
Yet, in another post, he lamented that his 'SarkNation' fans are really trouble since they keep requesting for a new song. He stated that: "I am not playing no new/ unreleased music on my live or anywhere again! Lesson learned… SarkNation trouble a lot, Jesus.
"Got loads of music out there, keep streaming… I'm not inspired yet"
Some fans and netizens who were involved in the conversation reacted to his posts. Clearly, Sarkodie's die-hard fans weren't happy about his decision and they kept complaining about it. They kept hammering on the issue and wanted Sarkodie to take a U-turn on his decision.
 But then, Sarkodie who seemed to have made his mind up in a response;to their grievances said: "Can we move from this release new music topic please…"
However, in a later post, a fan averred that they're already tired of the old songs since they have listened to them time and again. In a quick response to that, Sarkodie noted that "that's not a good thing to hear. Meaning the songs aren't that great… I need time to work on new material then…"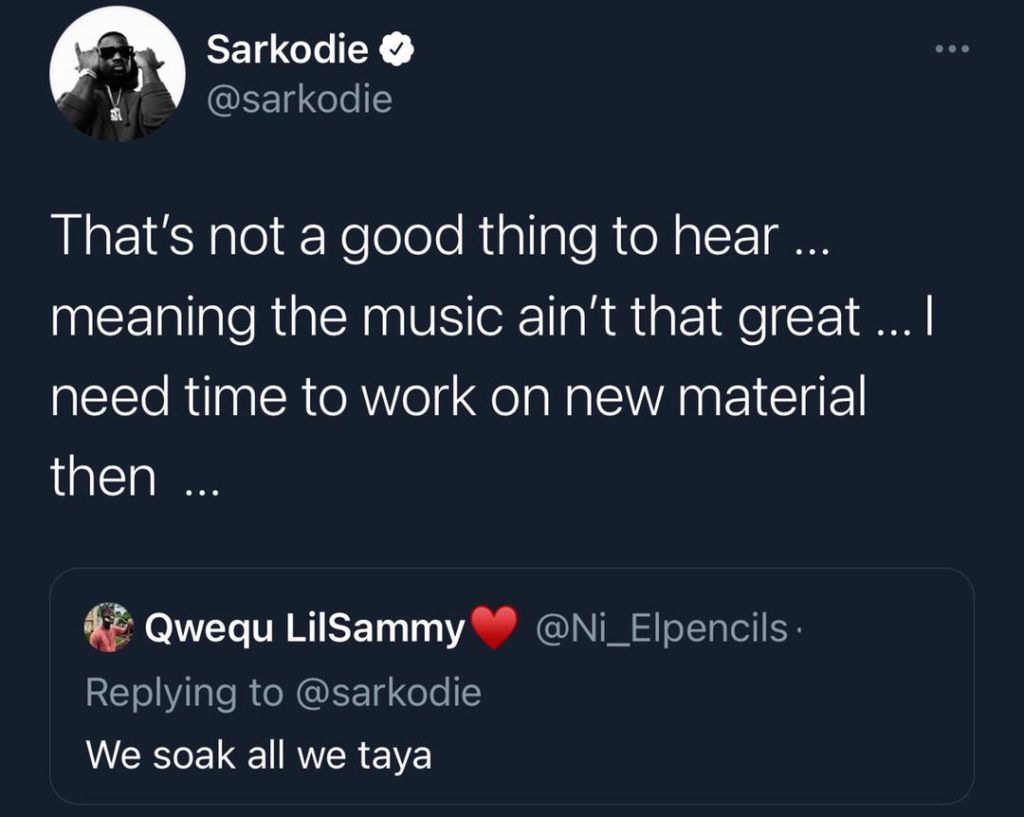 Sarkodie deletes all his pictures on Instagram
That notwithstanding, it can be recalled that recently Sarkodie deleted all his pictures on his official verified account on Instagram. This action got most of his fans worried as to whether his account was;hacked or if he was going through some emotional distress.
Most fans who were curious to know why he decided to take that action quizzed him about it. Sarkodie answered simply saying "I don't like them". He further stated that he will start posting new pictures when he takes some really good ones.
Sarkodie's latest track release
Sarkodie has been known for releasing back-to-back hits since his emergence into the music industry. It can be recalled that in January this year he released a song titled 'Come back'. It featured the outstanding British-Nigerian vocalist and songwriter, Moelogo. Also, it is worth noting that, the music topped charts as it was number one on Apple Music's 'Hot Tracks' chart.
Nonetheless, the official music video which even though doesn't capture the African stars [Sarkodie and Moelogo] in the visual, still gives a strong artistic interpretation for the track. That notwithstanding, the video since it's premier on Sarkodie's official YouTube page has garnered over five hundred thousand views.
Read also: Sarkodie Reacts to Akuapem Poloo's Conviction. Therefore,. Similarly,. Meanwhile,. Also,