South African singer and songwriter, Nomcebo Zikode has taken to her Instagram account to announce she is embarking on a new journey in humanitarian work.
She posted a photo of herself and wrote: "I'm very excited about my new journey in humanitarian work with my partners, @aidonic.io @seviriyos @aramchief"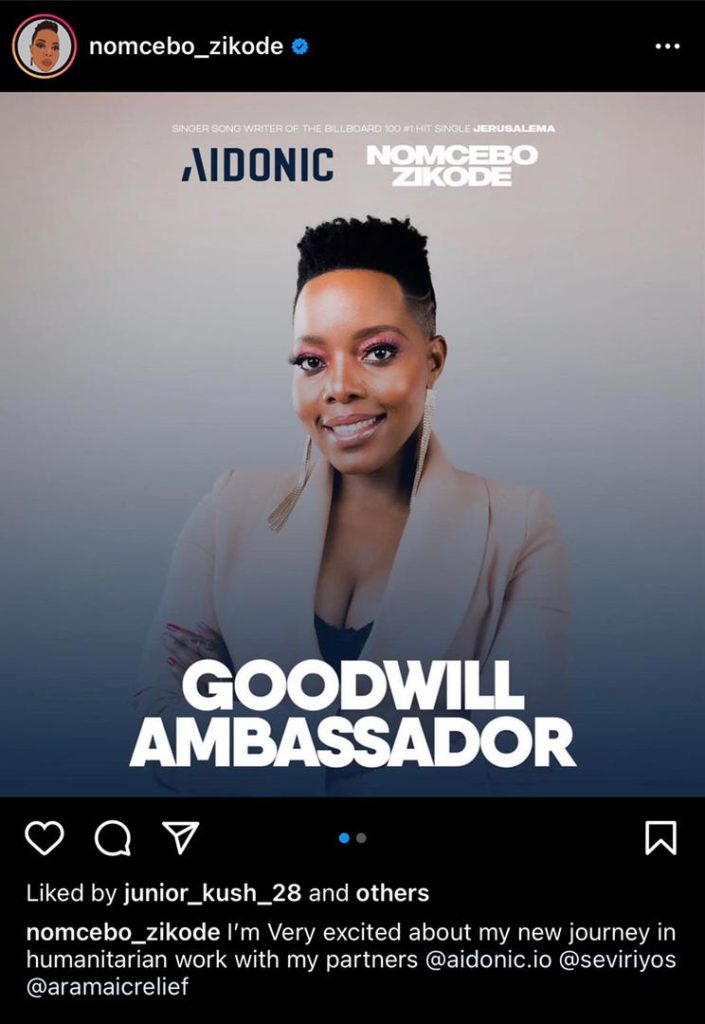 Nomcebo is the Ambassador of AIDONIC
The 'Jerusalema' crooner isn't only embarking on a humanitarian journey but, has also bagged an ambassadorial deal. She is now the new Goodwill Ambassador for AIDONIC. In a joint statement with the NGO, the singer announced that she would soon embark on aid projects in the weeks ahead in her hometown.
"Nomcebo Zikode plans to establish two aid projects in the coming weeks using AIDONIC's innovation platform and ecosystem that will be delivered in and around her home town Hammaersdale, KwaZulu Natal. Our efforts will be focused on aiding under-resourced children, elderly nursing homes, and supporting caregivers in less privileged communities".
AIDONIC in the joint statement further noted that: "We are very;pleased to announce the appointment of Nomcebo Zikode, the singer and songwriter of the global hit that debuted number one on the Billboard Music charts, 'Jerusalema' as the newest Goodwill Ambassador for AIDONIC".
According to the statement, AIDONIC is a social Tech Company based in Switzerland. It has developed an award-winning digital solution and ecosystem for the humanitarian and development sectors, by using blockchain and tokenization.
Also, the company ensures end-to-end transparency and accountability for social fundraising and international aid distribution.
"AIDONIC has been recognized for innovation in technology and how this is needed for the future of fundraising, efficiency, effectiveness, and impact to those that need humanitarian relief, aid, and assistance". Also,
Full Statement
It is worth noting that AIDONIC won the Reimagining fundraising award 2020 for;the 'Most Cutting-Edge Creativity,' for maximizing transparency and efficiency in digital fundraising and international aid distribution. They have also gone ahead to win other notable awards including the Europas Awards.
That notwithstanding, Nomcebo has been making steady strives ever since her entrance into the music industry. It is worth mentioning that Nomcebo Zikode, recently earned two nominations for the upcoming South Africa Music Awards. She has been nominated for the 'Best Female Artist of the year' and 'Best dance album of the year'.
Fans and colleagues have highly tipped her to win;both awards as her works for the year under review have been very impressive.
Also, at the just-ended International Reggae and World Music Awards;(IRAWMA), Nomcebo and South African DJ, Master KG bagged top honors in the 'Best Music Video;category', with their global hit 'Jerusalema'
Nonetheless, Zikode also bagged another award for the 'Best New Entertainer' at the IRAWMA.