Ghanaian controversial hiplife artiste, Patapaa Amisty has disclosed that he is no longer at loggerheads with the reigning VGMA artist of the year, Kuami Eugene.
It can be recalled that in 2018, Kuami Eugene described Patapaa's song as "noise". Patapaa who was not very pleased with Kuami Eugene's comment descended heavily on him for disrespecting his craft in such a manner.
Patapaa went further to record a diss song for the Lynx Entertainment signee for his comments.
Watch Patapaa diss track
Speaking in an interview, Patapaa noted that he is "now cool" with Kuami Eugene even though they don't communicate. According to him, he only had issues with him following his insensitive comments about his craft because, in as much as Kuami Eugene doesn't like his songs, others enjoy his songs very much. He also noted that music is what he uses to feed his family, therefore Kuami Eugene's statement hurt him.
"We are cool. Even though we don't call each other, we are on good terms. As artists 'beefs' are normal but you will still come together as one. Last year we all met together for a show. It was Kuami Eugene, Wendy Shay, and myself. So, we got together at the hotel.

"What happened between us was just a little brawl, nothing much. It was what he said that hurt me so much. Because for me, it's through the music career I make my money to take care of my family. So, when you make such remarks, I'll definitely feel hurt".
Patapaa no longer features underground artists
More so, Patapaa has had several cases of artists he has featured having issues with him, especially the underground artists.
When asked why he is mostly falling into such situations, Patapaa stated that he believes most people 'beef' him just for the hype. Due to this, Patapaa has decided not to feature any underground artist for the time being. He further disclosed how he wades off some underground artists who come to him for a feature.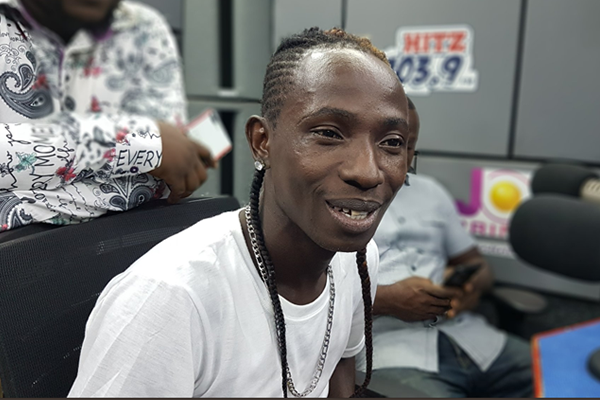 "I have stopped hyping and featuring underground artists. When I feature them and they become a hit, they will go somewhere and tarnish my image. So now when they call me, I tell them 'no, I won't do it'. But if they keep insisting, I intentionally quote a huge amount of money I know they can't pay".
Nonetheless, recently, there were several speculations concerning Patapaa's German wife, Liha Miller, expecting a child. Patapaa later came out to confirm the news as he disclosed that he is expecting a male child.
Touching on this, Patapaa revealed that he will never allow his first child to be delivered in Ghana.
According to him, the present conditions and hardship in Ghana are what motivated his decision to fly his wife Abroad to deliver their first child. Patapaa said that he will visit his baby and wife when she is about to deliver or after she delivers.
Nevertheless, Patapaa also noted that he will be naming his half Ghanaian half German baby 'Spinini'. When asked for the meaning of the name, he averred that he won't be disclosing it now. However, he disclosed that he will do so later.
Read also: PATAPAA TIES KNOT WITH HIS GERMAN GIRLFRIEND