Diamond Michelle Gbagonah, widely known as Michy, has revealed that she is in an okay relationship with Ghanaian rapper Sarkodie.
The Ghanaian actress shared her thoughts about her potential collaborations with various artists. However, she feels he has a sharp tongue.
Michy didn't shy away from acknowledging one characteristic of Sarkodie – his sharp tongue.
Michy expressed her interest in collaborating with three out of the four prominent artists often referred to as the "4S" – Samini, Shatta Wale, Stonebwoy, and Sarkodie.
The socialite and influencer expressed her admiration for his artistic prowess and acknowledged his contributions to the Ghanaian music industry.
For Sarkodie, she sarcastically stated that he would compose a song for her if she were not careful with her approach to matters concerning him.
She asserted:
"We're cool, but he has a sharp tongue. I don't mind doing a song with Sark, but then I don't know which of my songs he can fit on currently with the rap vibe".

Michy
She humorously commented that while she wouldn't mind collaborating with him, finding the right musical context for his rap style might be a challenge.
She further added:
"I'm more of a dancehall girl. I do have some songs in Twi and Ga that definitely we can blend in there but my foremost goal is to show Ghanaians that I'm back, permanent and bringing the fire. I'm not here to play".

Michy
The TV host and model in relation to her new song titled 'Hustle', points out how the most difficult aspect of journeys one goes through is coupled with lessons one can learn from. She takes advantage of the platform and informs her fans that her music is now available on all streaming platforms.
Some Ghanaians reacted differently to Michy's statement. While others disagreed with her, some fans of Shatta Wale agreed with her statements and referred to her as their mother.
The comments were:
"We want to know what she meant about his tongue is sharp".

oneal_offocial
"This girl is becoming talkative".

oficial_stl
"Only SM fans know her Code. She is still our mama".

spakkventures
"He has sharp tongue that's why he's the best and fastest rapper in Africa".

curryjones371
"If obide has a sharp tongue then your ex is ……".

theodaaredesilverjnr
Michy says she will discourage her son from doing music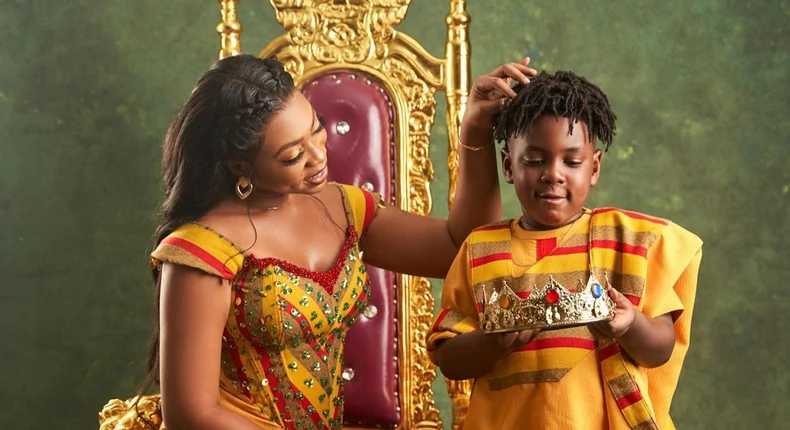 Ghanaian artist and TV presenter, Michy, expressed that the prevailing lack of discipline within the Ghanaian entertainment industry is a reason she would discourage her son from doing music.
Majesty, her son, is also the son of the acclaimed Ghanaian Dancehall sensation, Charles Nii Armah Mensah, popularly known as Shatta Wale.
Michy shared her thoughts on her son's future aspirations. She conveyed her preference for Majesty to pursue a career in soccer, citing both its structured discipline and higher potential for financial success in comparison to music.
According to Michy, the absence of discipline in the entertainment sector is disheartening. As a result, she is hesitant about supporting her son's potential involvement in the music industry.
Majesty displays an affinity for music, particularly the piano, and Michy is supportive of cultivating his musical skills.
However, she leans toward guiding him into a career in football due to the inherent discipline associated with the sport.
She expressed:
"Majesty is a remarkable young boy, especially when he interacts with people—it's truly fascinating. He's already showing an interest in playing the piano, and we're in the process of refining his piano skills. His inclination towards musical instruments and his desire to understand beats and rhythms are apparent. While I do recognize a potential future in music, I'd rather see him pursue soccer due to the strong sense of discipline that accompanies it".

Michy
READ ALSO: I Wanted To Be A Caterer But There Was No Money – Empress Gifty