An Accra Circuit Court on Thursday, October 21, 2021 has remanded Ghanaian dancehall artist, Shatta Wale, and three other accomplices in police custody for a week on their first appearance in court.
According to a statement by the Ghana Police Service, they were remanded following a request by the police for their continued detention due to ongoing investigations on their alleged involvement in the publication of false information with the intention to cause fear and panic.
The Police also disclosed that "Impartial investigations into the matter shall continue".
That notwithstanding, a third accomplice who is also a member of Shatta Wale's crew was arrested on Wednesday, October 20, 2021.
According to several reports, Shatta Wale pleaded not guilty to the charge of the publication of false news and causing fear and panic.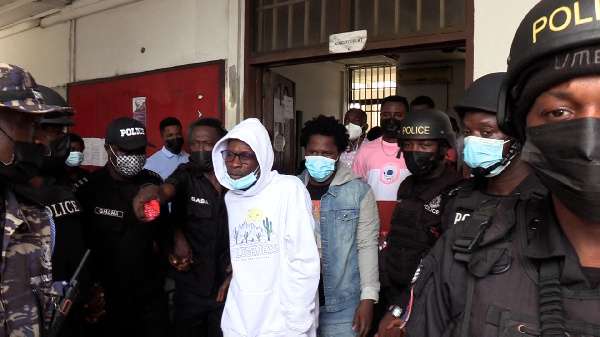 His accomplices, Kojo Owusu Koranteng, Idris Yusif, and Eric Venator, who have been charged with aiding and abetting the crime, will also spend the next week in police custody. They all pleaded not guilty to the charges as well.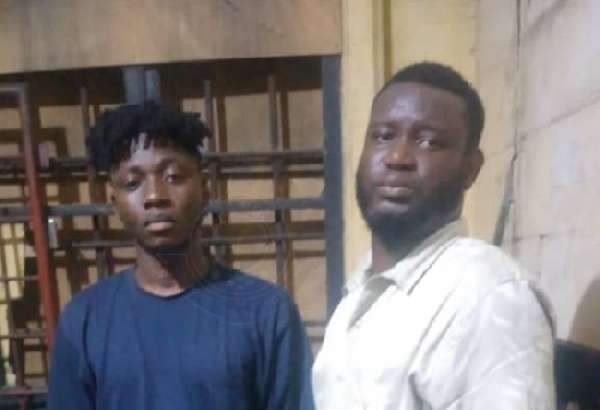 The four people are scheduled to appear in court again on October 26, 2021. The musician and his entourage have already been detained by police for two nights.
Meanwhile, Bishop Stephen Kwesi Appiah, also known as 'Jesus Ahoufe' of New Life Kingdom Chapel, who has also been arrested and charged with causing fear and panic, is scheduled to appear in court today October 21, 2021.
Currently, the hashtag #FreeShattaWale has gone up the Twitter trends as fans and sympathizers of the artist are calling for his freedom.
Ghanaian artist, Kwaw Kese reacting to the news wrote: "I hope this doesn't go too far as they did to me, I pray they release him soon".
It can be recalled that Kwaw Kese, was jailed for smoking cannabis in November 2014.  He was sentenced to a day in jail and ordered to pay a fine of Gh¢1,200.
Kwaw Kese paid the fine and served the one-day jail sentence. However, the musician was on remand for over a month at the Kumasi Central Prison before being bailed on December 30, 2014.
That notwithstanding, two groups under the name, Youth for Peace and Security Africa (YPSA) and Citizens Network for Peace and Security Africa (CNPSA) in a statement are calling on the Police Service to "release and apologize" to the dancehall artist.
According to them, Shatta Wale has the right to "protest the failure of the Ghana Police" to guarantee his right to peace, safety, and security.
The groups explained that Shatta Wale through "an act, 'Soft-Protest', rather than demonstrating on the streets" chose to communicate "the fear and panic he and his friends and family have been living through".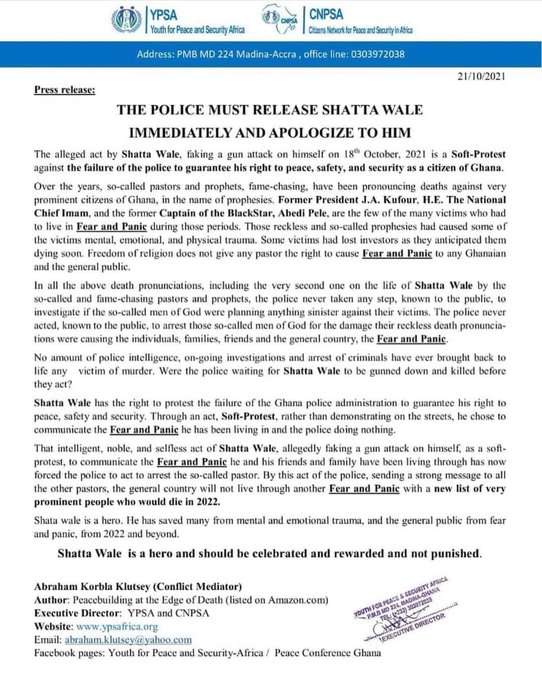 Describing Shatta Wale as an "intelligent, noble and selfless man", YPSA and CNPSA noted that rather than causing the public fear and panic, Shatta Wale has "saved many from mental and emotional trauma". Therefore, Shatta Wale should be "celebrated and rewarded and not punished".

Read also: Ghana: Energy Infrastructure Gains $64.7 million Facelift, Other Sector Challenges Persist