Ghanaian Highlife musician, KK Fosu, has revealed the last amount of money he made from the Ghana Music Rights Association (GHAMRO).
Speaking in an interview, KK Fosu disclosed that he once received an amount of GH₵1,800 from the organization as royalties for an entire year.
KK Fosu posited that musicians should be able to gain from their royalties at some point in time or else they might die poor if the music agency is not fixed. He mentioned that musicians will not always reign in the music scene. Hence, in the case of retirement, the royalties should be able to cushion their lives until they die.
"The last money I took from GHAMRO some few years back was about 1,800 Ghana Cedis for the whole year. I wasn't happy about it because it was work I have done for a whole year. Imagine working and being paid such an amount for a year. GHAMRO really needs to be fixed".

KK Fosu
KK Fosu further speaking about the organization noted that it is not a mandate for every Ghanaian musician to join GHAMRO because, there are other means by which musicians can make money from the songs they churn out, especially through digital means.
KK Fosu further speaking in the interview, explained his reluctance in not collaborating with some of the new crop of musicians in Ghana even though he has it in mind. According to him, he has heard a lot of complaints from some ace musicians about the reluctance of some of the new school musicians to collaborate with them.
KK Fosu stated that he would love to work with some of the new and young musicians currently dominating the music industry at the moment but due to the complaints from some of his colleagues, he has held back his intentions.
"Some of these young talents would end up disrespecting legends like me just because they are reigning in this era. Since I wouldn't want to tarnish my reputation, I wouldn't allow any young talent to disrespect me in such a manner".

KK Fosu
The highlife music artist suggested that he prefers to "stay in my lane" until he finds it appropriate to call on any young talent in the music industry to work with.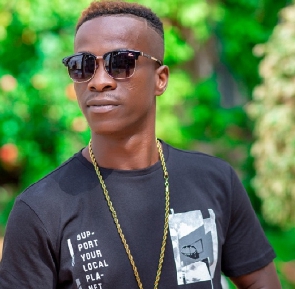 KK Fosu debunks claims of making harsh utterances against youth
It can be recalled that there were reports that the singer during an interview chastised Ghanaian youth for being lazy. It was reported that the musician stated there are a lot of ways for the youth in the country to make money for themselves but the majority have chosen to be lazy. Following this, the majority of Ghanaian youth took to social media to backlash the artist.
KK Fosu, however, has now clarified that he never made such utterances against the youth of Ghana. According to him, he respects the hustle of every Ghanaian youth and has always stood firm to defend and empower the youth in any way he can, hence he would never spew such offensive words against the youth in the country.
KK Fosu also disclosed that he had several people calling him to question him about the reports, but he explained to those that reached out to him that he believes some bloggers wanted catchy headlines for their news articles, hence the false statement.
Read also: Bono Regional House of Chiefs Commend Prez Akufo-Addo On Phase 1 Completion of Sunyani Airport