Member of parliament for North Tongu, Samuel Okudzeto Ablakwa, has commended First Sky Group for its generous housing project to relocate some displaced persons in the constituency following the Akosombo dam spillage.
According to him, the decision by the company to intervene and support efforts at alleviating the plight of the people will bring needed respite.
"Yesterday we cut sod for construction to begin on a First Sky Group housing project to relocate a good number of my 12,000 beloved displaced constituents… North Tongu shall never forget the generosity and humanity of the First Sky Group. May God bless you all bountifully. Together, we shall survive this man-made disaster."

Samuel Okudzeto Ablakwa
Mr Ablakwa stated that First Sky's subsidiary known as Construction Ambassadors is executing the project which the company has promised to complete in record time.
As part of the constituency's contribution towards the project, he noted that they will be offering "free land at all agreed three locations".
Additionally, the North Tongu legislator highlighted that residents are equally ready to provide communal labour support.
"The relocation will begin to restore the dignity of my beloved constituents, ensure they live in much healthier conditions, and free the 21 schools being used as safe havens so our children can return to school."

Samuel Okudzeto Ablakwa
Meanwhile, government has announced free medical care packages for persons affected by the spillage of water from Akosombo and Kpong dams.
According to the Ghana Heath Service, the situation is currently under control and does not require a health emergency.
Government announces free health packages
Director General of the Ghana Health Service, Dr Patrick Kuma Aboagye, revealed that the Ghana Health Service is monitoring the situation daily due to high probability of cholera and diarrhea-related diseases outbreak, although no cases have been recorded yet.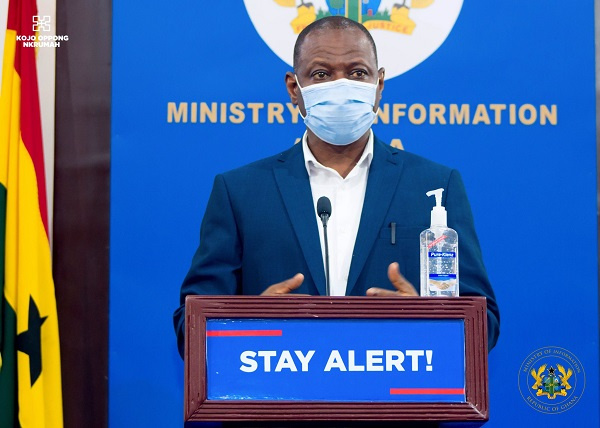 He further noted that displaced persons within those areas would be treated for free.
'' Nine districts have been affected. In the Volta Region, there are four districts; South, North and Central Tongu and in Greater Accra we have Ada East and Shai Osudoku. In Eastern Region, there are also three districts, Afram Plains North and South and Asuogyaman. So far, there are a lot of medications available.

"The Ghana Medical Association (GMA), Ghana Registered Nurses and Midwives Association (GRNMA) and others have all headed there to provide free healthcare services. I have also directed that anyone who comes to seek healthcare without the National Health Insurance (NHIS) card should be attended to for free, until we are able to address the situation."

Dr Patrick Kuma Aboagye
Furthermore, Dr Aboagye indicated that regional mobilization is being carried out, with national reinforcement to be deployed if necessary.
He explained that on the aspect of health however, the GHS has not reached any situation to call for a health emergency.
"I think the response is ok. There are enough resources available. We are monitoring the situation on daily basis. There's what we call the emergency operation centre meetings where we join every day. If there are any challenges, we will address it. We also have a promise from the WHO to support us with logistics."

Dr Patrick Kuma Aboagye
As it stands, more than 26,000 persons have been displaced as a result of flooding caused by spillage of water from the Kpong and Akosombo dams.
With the level of devastation, concerns about the health of the affected persons have been rife with demands for a declaration of a state of emergency intensifying. Seventy-eight communities have been affected, five health facilities immobilized, and 171 health workers displaced.
READ ALSO: Deputy Lands Minister Calls For Commitment To Ghana, Togo Joint Land Boundary Reaffirmation