Member of parliament for North Tongu, Samuel Okudzeto Ablakwa, has called for the dismissal and prosecution of Bank of Ghana's Governor, Dr Ernest Addison.
According to him, it does appear that soon "MisGovernor" Addison will join the list of infamous central bank heads from Nigeria, Slovakia and Lebanon who are either being prosecuted or facing sanctions from the US, Canada and the UK. This, he indicated, is another compelling reason why Ghanaians must all rise and participate in the Occupy BoG Protest.
"The wait is over. Darkness must give way to light. The conspiracy to conceal and resist accountability will always be defeated… Addison The Printer Must Go and he must be Prosecuted…"

Samuel Okudzeto Ablakwa
Mr Ablakwa revealed that the embattled Bank of Ghana Governor, Dr Addison and his colleagues have blatantly refused to disclose to Ghanaians the current cost of their controversial new head office project.
He stated that these BoG officials responsible for the "biggest losses" in the history of the hitherto profitable central bank have remained "tight-lipped, evasive and obstructive". He explained that not even direct questions from journalists have elicited any helpful responses.
"Their stonewalling and gross disregard for transparency and accountability has necessitated a Right to Information Request from my colleagues in Parliament — Hon. Kwame Governs Agbodza and Hon. Mahama Ayariga."

Samuel Okudzeto Ablakwa
Furthermore, Mr Ablakwa disclosed that today, August 21, 2023, he can humbly report that he has bad news for "Addison The Printer" and his concealment collaborators. In this latest exposé, he noted that he has been inspired by the supreme national interest and the people's right to know, which has led him to conduct special oversight operations that have enabled him to secure all the relevant documents the Bank of Ghana has been concealing and keeping away from Ghanaians.
"… I have great news for all Ghanaian believers in open, transparent and accountable governance."

Samuel Okudzeto Ablakwa
In his first document, titled: The US$222.79million Variation Bombshell, Mr Ablakwa explained that it is an explosive document which is a 17th January 2023 letter from the Central Tender Review Committee (CTRC) signed by its Secretary, Mr. David Quist. He indicated that the document is a really damning letter which reveals the latest variation figure for the BoG head office project at a shocking US$222,799,760.55.
"It takes exceptional recklessness and a fantastic appetite to cause financial loss for a project which commenced at US$81.8million to now be in excess of US$222.79million."

Samuel Okudzeto Ablakwa
Variation of figures in BoG head office project
Also, the North Tongu legislator pointed out that the latest variation figure of US$222.79 million, which he stated is without the cost of the land, insisting that the cost of land and its "dubious" acquisition would be the focus of another episode.
"Contrary to claims by some NPP propagandists that the skyrocketing cost of the BoG head office project is due to general inflation and in particular, rising cost of building materials — the Central Tender Review Committee exposes those claims as false."

Samuel Okudzeto Ablakwa
The damning CTRC letter, Mr Ablakwa revealed, highlights how the Addison-led BoG brought Ghana to this "sordid" point as a result of "Inadequate Project Design, Conception and Preparation of the Original Contract; An entirely new Scope in Design for the Revised Project; No detailed Project Milestones identified as benchmark for payment under the Project to protect BoG against any risk of financial exposure".
He emphasized that the CTRC further exposes the impunity and lawlessness of "MisGovernor" Addison when they note that: "Revised Scope of Works has already commenced prior to seeking approval from the CTRC".
"It is most instructive that the CTRC states in its letter that the BoG's responses to their concerns remain 'unsatisfactorily addressed'."

Samuel Okudzeto Ablakwa
In the second document which highlighted the strong reservations from CTRC, he noted that this is an intriguing letter from the CTRC to the BoG which reveals how the tender process was rigged, leading to the bizarre disqualification of Messrs Man Enterprise Ghana Limited.
The letter, Mr Ablakwa noted, further exposes the recent defence by Dr. Philip Abradu-Otoo, Head of Research at BoG, who asserted that the Bank's procurement processes in awarding the head office contract was above board.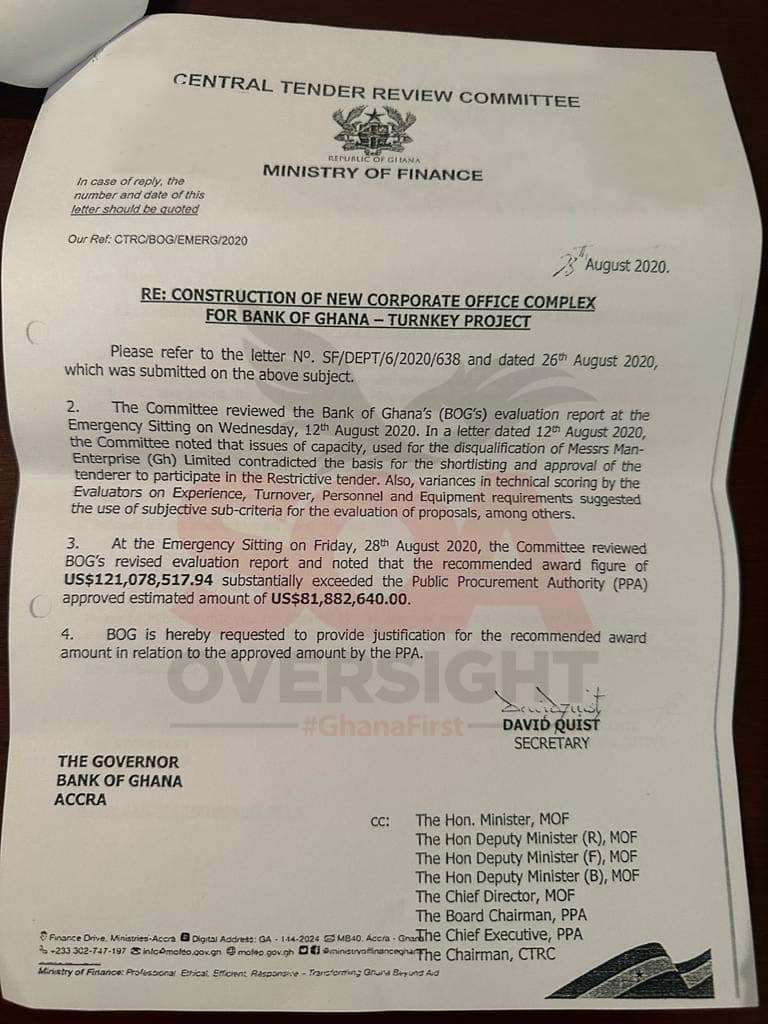 "The letter also demands explanations from the BoG on the strange cost escalation from the initial US$81.8 million to US$121 million. Ironically, at the time, the CTRC did not imagine that more egregious sleazy variations were soon to occur."

Samuel Okudzeto Ablakwa
Subsequently, in the third document, Mr Ablakwa expressed BoG's "belligerence", captured in an intercepted letter from Governor Addison's office dated 4th September 2020 and signed by Ms Sandra Thompson. He noted that it provides a rare insight into how BoG endorsed the strange cost escalations and did nothing to mitigate the spiraling cost.
"Indeed, the BoG was an accomplice and vehemently defended the price hikes at the disadvantage of the suffering Ghanaian people."

Samuel Okudzeto Ablakwa
Touching on the fourth document on CTRC Reluctant Approval, Mr Ablakwa revealed that the 4th September, 2020 letter, which is curiously, the same day the BoG wrote to justify its actions, speaks to the apparent reluctant approval by the CTRC to allow the BoG to proceed with awarding the head office contract to Gold Key Properties Limited at US$121 million which was some US$40 million more than originally estimated, and "which is now at an unconscionable US$222.79million – excluding land cost".
Interestingly, he noted that in the letter as well, the CTRC repeated its reservations about the rigged procurement outcome.
The image of a pathetically weak state institution continuously expressing serious reservations and yet lacking the courage and testicular fortitude to act while the BoG's nation-wrecking impunity continues makes for particularly depressing observation.

Samuel Okudzeto Ablakwa
Expressing his final thoughts on the matter, Mr Ablakwa indicated that from the documents under review, "Addison The Printer" has been "notoriously negligent and reckless in saddling" struggling Ghanaians under a failed economy he has been instrumental in mismanaging with the current colossal obligation of US$222.79 million which excludes other commitments such as the cost of the land.
Clearly, he stated that Dr Addison continued to vary his head office project which started at US$81.8 million with impunity. He noted that BoG Governor did so without first obtaining the necessary legal approvals as the Central Tender Review Committee has revealed.
"Why would a Ghanaian Governor of an ailing economy which is seeking an IMF bailout be on such a reckless and lawless trajectory? What does Addison need a new BoG head office which can host 6,500 people for? Why is Addison building a new BoG head office which parks a staggering 3,200 cars? Why exhibit this level of suicidal ostentation?"

Samuel Okudzeto Ablakwa
Moreover, Mr Ablakwa revealed that a careful reading of paragraph 4 of Document 1 offers strong caution that at this rate, there's no guarantee that the current scary figure of US$222.79 million would be the final variation.
In light of this, he urged President Akufo-Addo to urgently call his" MisGovernor" to order, suspend the "alarmingly escalating project", and without delay, institute an independent probe into what he described as scandalous quarter of a billion head office affair.
READ ALSO: Uncovering BoG's Pandora's Box